Comment: the resignation of Kevin Rudd
former Prime Minister resigns, at last.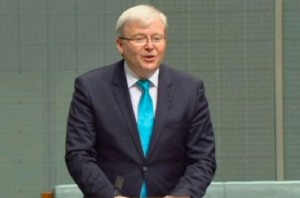 Last night I happened to be online when the former Prime Minister stood up in Parliament to resign and to leave office.
There were lots of kind words and some hinted at the troubles he had caused but most were polite and positive about his contributions in public life.
There were many things about his Prime Ministership that will remain as important milestones to our history.
But Kevin Rudd has always had a back story and has always worked against those he chooses to dislike. There is always an elephant in the room (why do we always pick on the elephant, it just happens to be standing there).
Last night he had obviously realised that there was just one future for him in federal politics and that was to be isolated as a back-bencher.  However even while this was to be an emotional speech about having to give up this high-profile life, and to retire on his generous Prime Ministerial pension and to enjoy a millionaires life without federal politics, he just could not resist throwing a barb just one more time at Julia Gillard.
Didn't anyone else notice that as soon as he stood up that he was wearing the most lurid blue tie that anyone could have found. That blue tie would have been chosen by his wife as a message to Julia. It was Julia who had commented on men in blue ties. Kevin seems to have worn one ever since. In this case he chose the brightest blue tie to send the clearest message via national television to Julia. So much for his statement about no malice towards anyone. As usual it is not what he says but his bizarre actions that count as the reality of Kevin Rudd.
We can only wonder where the country would be if he had not torpedoed the 2010 election and left Julia Gillard with the minority government (which achieved an amazing amount of change despite the Ruddites campaigns), and had as a consequence provided the ammunition for Tony Abbott and Murdoch to carry their negative and personal campaign over the next three years.
Bill Shorten must have slept well last night. No Kevin Rudd and his band of loyal Ruddites undermining his every move as they did to Julia Gillard.
Let's ban blue ties!—————————————————————————
An article has just appeared by Jonathan Green – a perspective I agree with.