Climate Change adaptation falters in the suburbs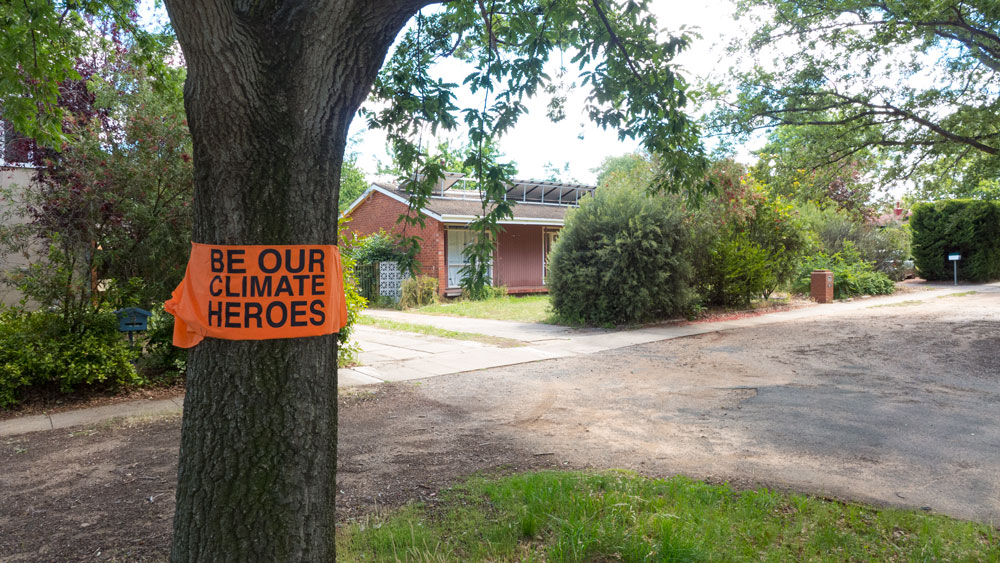 Dealing with the complex issues of climate change adaptation should by now have become a priority and part of the everyday for any local government in their oversight of design, planning, development and the re-development of our settlements.
Here in Canberra we have been the subject of a decade or two of pronouncements from newly appointed chief planners on how they are to oversee development that is sustainable and .. lots of other spin that always sounds so sensible!
In the last decade we have had three chief planners.  They are proven to be conservative in their thinking and their actions in working with the local communities are best described as being retrograde and dangerous. The nation's chief planners or equivalents have developed a rhetoric that encompasses many fashionable terms that should logically indicate that they would be delivery a revolution in the business of sustainable settlements, encompassing redevelopment, housing, health and amenity. Not so.
Our chief planners have become obstacles to achieving sustainable settlements. They remain leaders in the movement for 'business as usual'.
Here are the statements of the most recently appointed ACT chief planner as interviewed by a user-friendly local architect. It has been observed that many of the local architectural spokespeople are very user-friendly in the eyes of the reactionary developers and their compliant colleagues within the local planning authority. There are exceptions, but few.

The trouble is that the two previous chief planners to this new one had made similar statements. Despite all their stated commitments, the re-development of the inner suburbs continues to lack real evidence that the government is addressing climate change. In fact there is measurable movement in wrong direction. For instance the new local redevelopments tend to reduce the biodiversity and deliver far more hard edge surfaces. Almost none have any solar panels attached from day one. As for the newer suburbs, they tend to follow the international models of smaller blocks and miniscule room for substantial plantings. Most of Canberra's newer suburbs continue the trends of being susceptible to heat island effects during our hotter months.
New developments are dependent on the use of air conditioners. The subsequent use of energy must be increasing. In fact I would speculate the reason we are not seeing figures on this is that while all the badly designed units are increasing the overall use of energy, those in the traditional residential houses have reduced markedly the amount of energy through shading, double glazing, solar and insulation. One is being offset by the other.
Case in point. After years of consultations, involving a huge resource commitment and many meetings and submissions, the local ACT government agreed to changes in the building codes to make greater allowances for solar access. This involved some restrictions on the northern boundaries. I can assure anyone that the changes were not perfect. But at least we were moving in the right directions. Now it comes to light that over the last 12 months there has been behind the scenes lobbying by the building and developers to exaggerate the disadvantages of this extra 'red tape' blah, blah…. All he usual stuff.
Last week we were told that our visionary chief planner had agreed to have the solar requirement removed through a technical change and that any who wanted to object had a week or so to lodge a submission. So much for the chief planner's  'vision' and any commitment to work towards sustainability and to address climate change. As for community engagement?
However every now and then an intelligent voice makes it way to the surface. Last Saturday this opinion piece appeared in the local press. Here it is.
This whole development and planning thing as being run by our chief planners continues to be very frustrating for locals. I tend to agree with the first statement in the article mentioned above: I have a colleague who proposes that we should have a new law that would enable us to issue writs for vexatious and egregious infantilism and gross inanity in a public space.
Today while walking I collected the following photo-essay on the local suburb.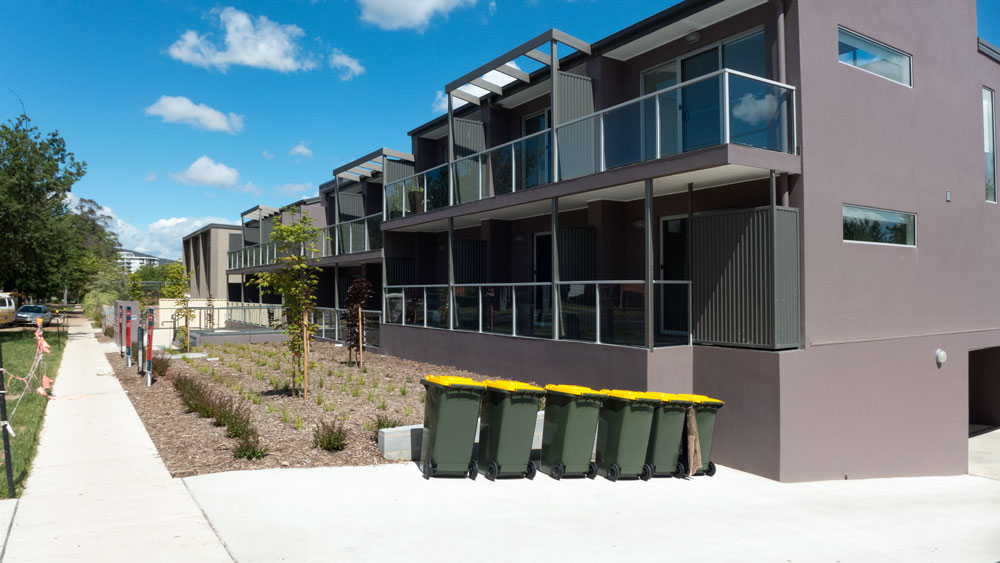 These are fairly typical of what is descending on our suburbs, all with the blessing of our chief planners who have such a wonderful 'vision' for our Canberra.
Here's an image of what will be using energy. Click on the image to see the row of air conditioners.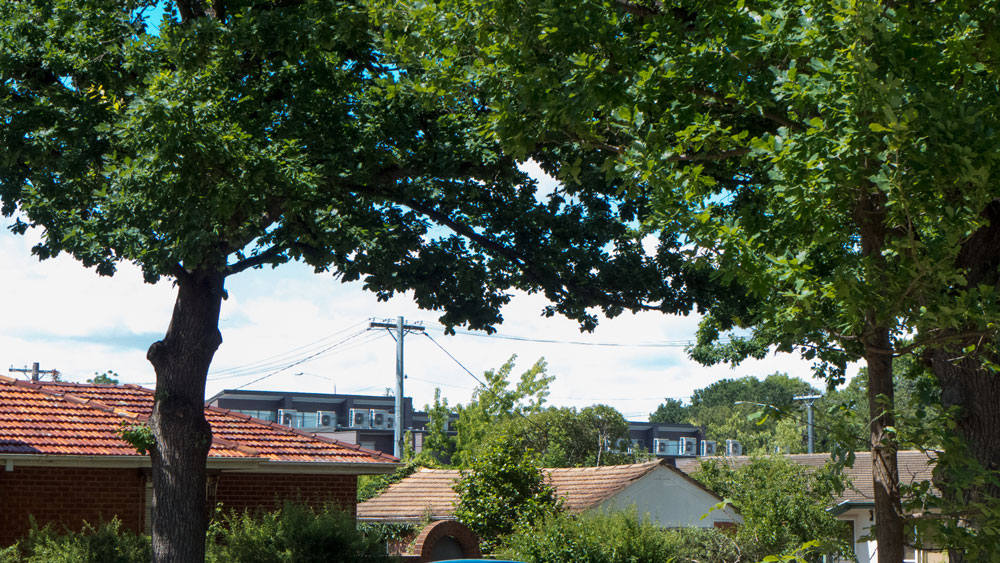 Across the road from this is an example of the local biodiversity in and around this house – and all these are doomed to being removed one by one.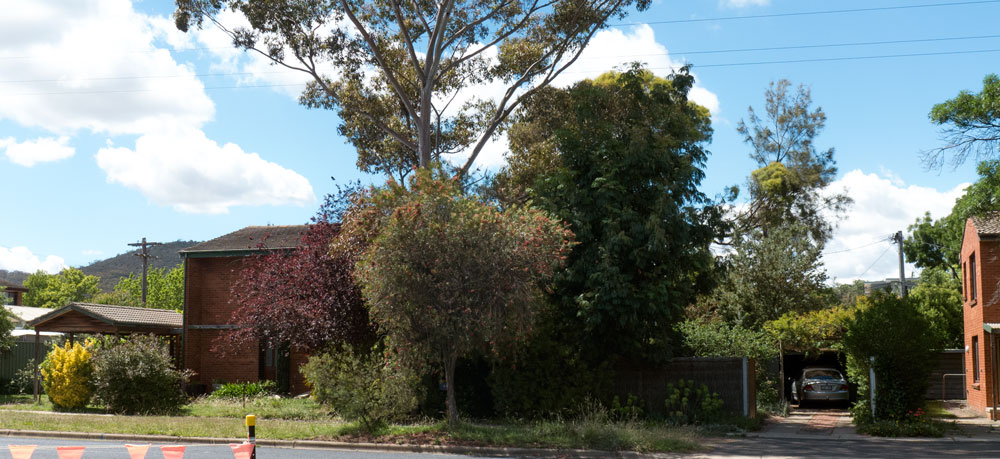 Around the corner, another about to go. These blocks are huge and would be wonderful for a small mews of two or three townhouses. No chance of that when the planning authority allows for tiny apartments that yield maximum short-term profit but long-term environmental disasters. What was that word again? Vision.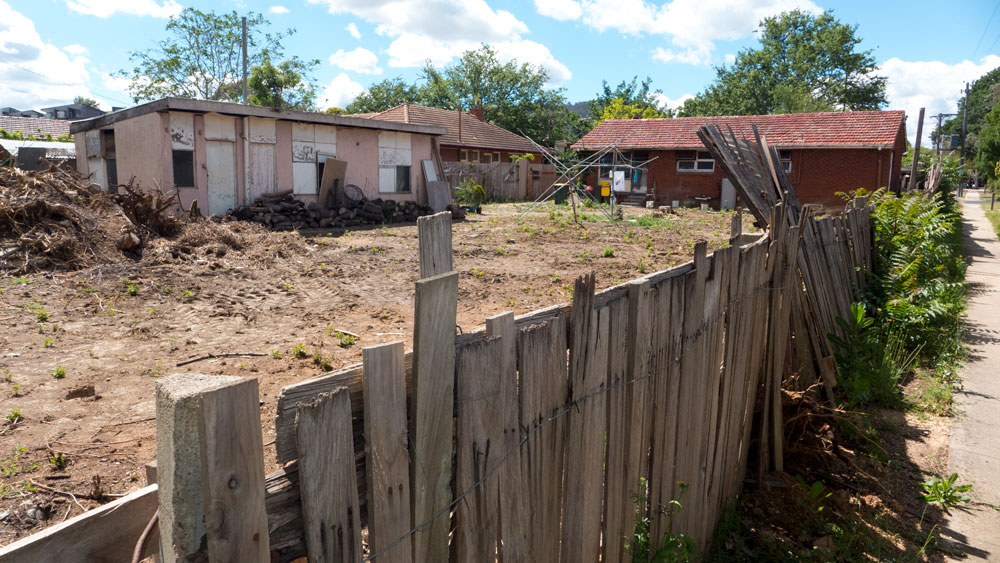 and I suspect another like this to appear soon. This one just behind the former.
Life Style? What life, biodiversity, will be left when they complete these new units?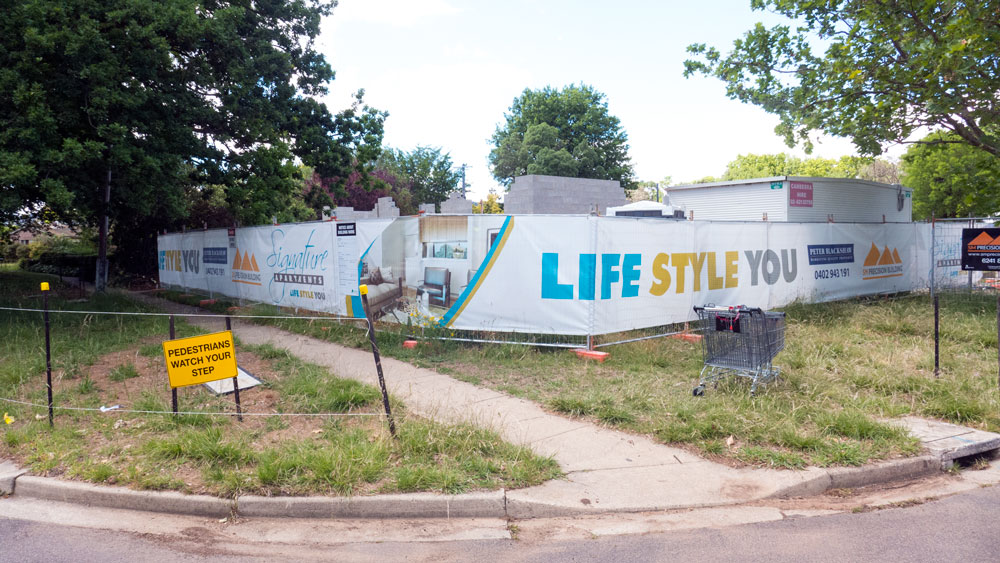 and just down the street is this pair (see next two photographs). Each across the road from each other. One well designed with three dwellings and there is evidence that the greenery is growing back. They look out across the street at that badly designed box of units.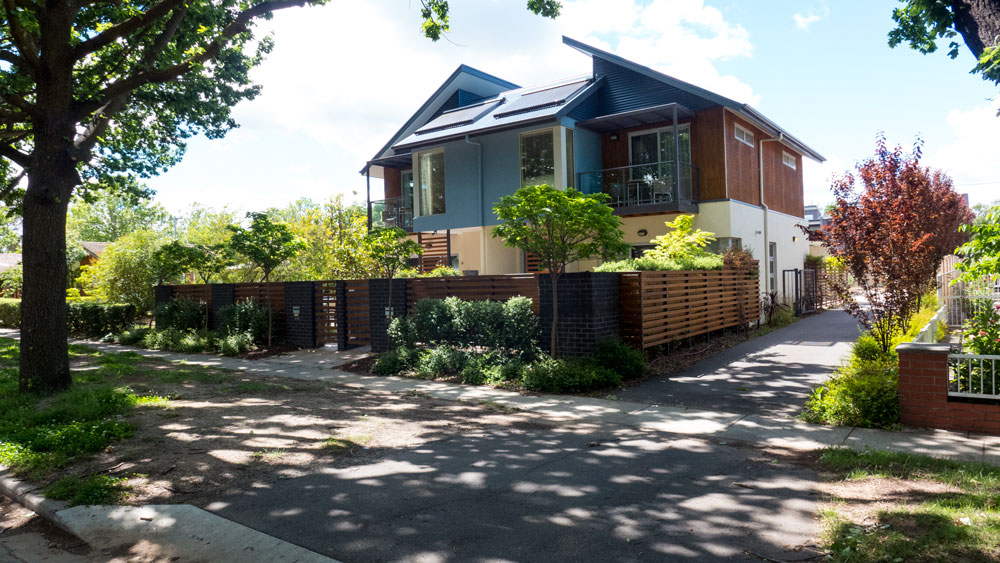 across the street – there is this!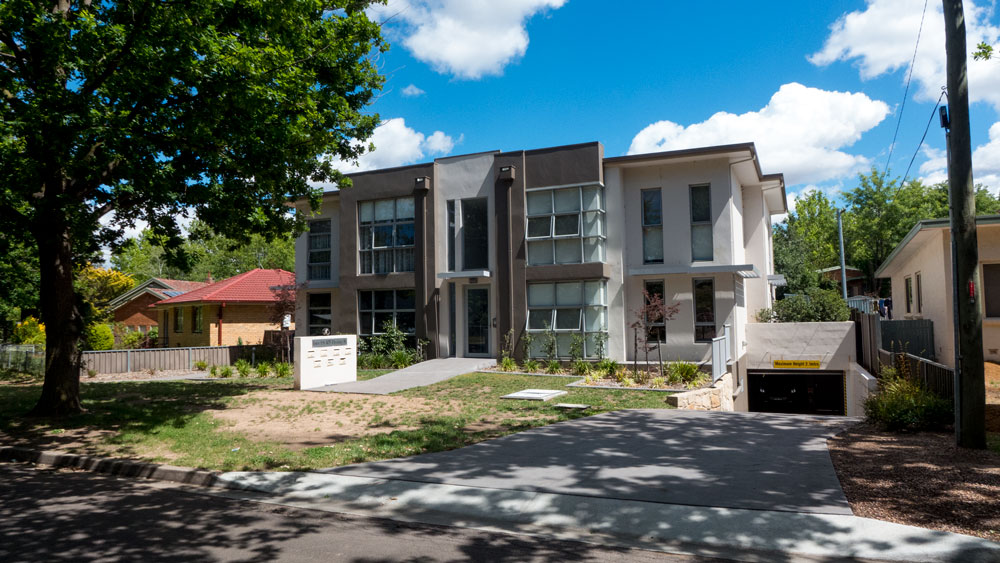 Usually there are  cars parked on the street here as there is not enough parking within the building.
I do not state that all present housing is great for the environment. Take this front yard.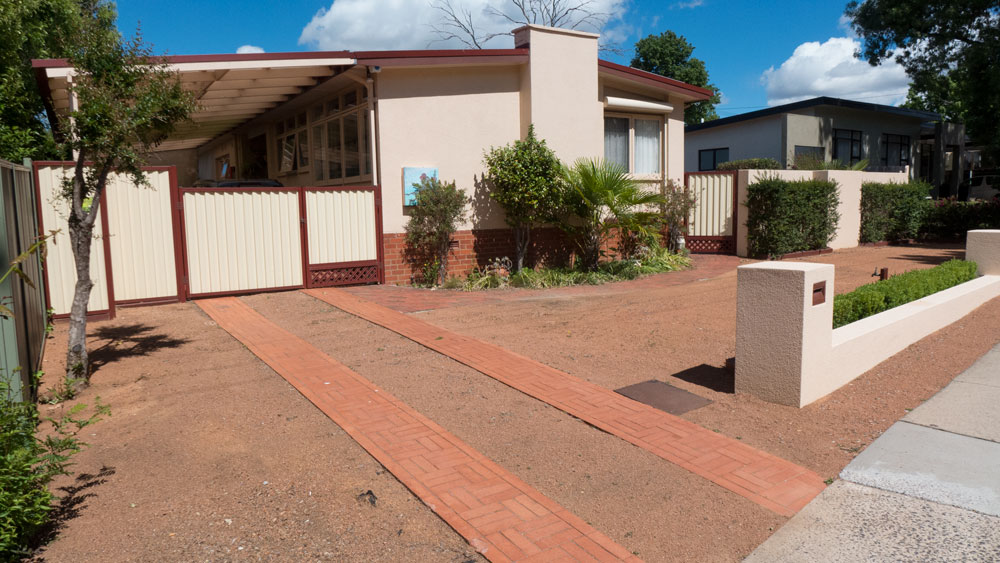 but just across the street from the above is the one below where the owner grows heaps of their own food.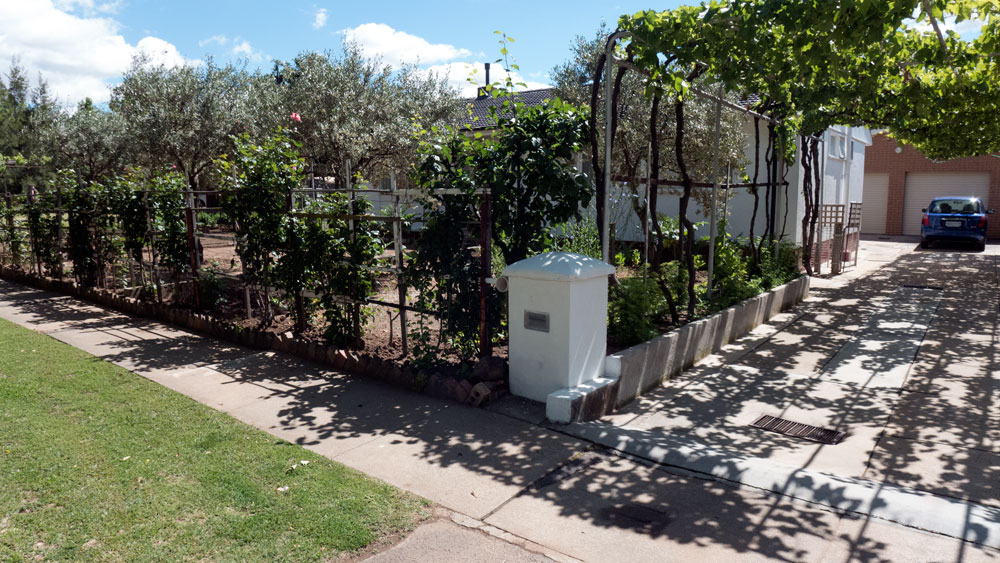 better than lawn any day.
and around the corner from this another new house that is about five years old. They know about adding to the biodiversity. They took down a west-facing house and built a north facing one and from day one had solar and other efficiencies built in.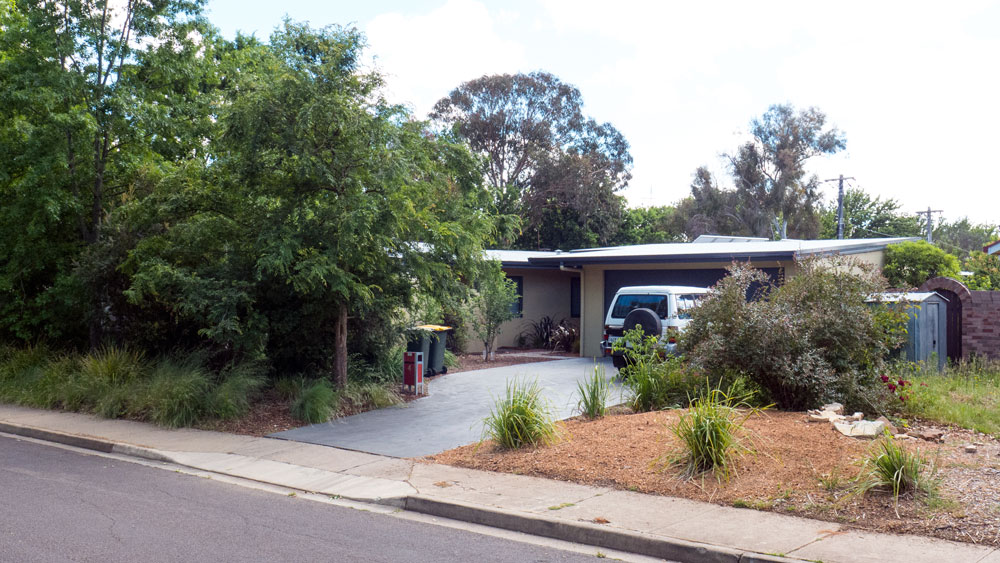 and then there is this sign of things to come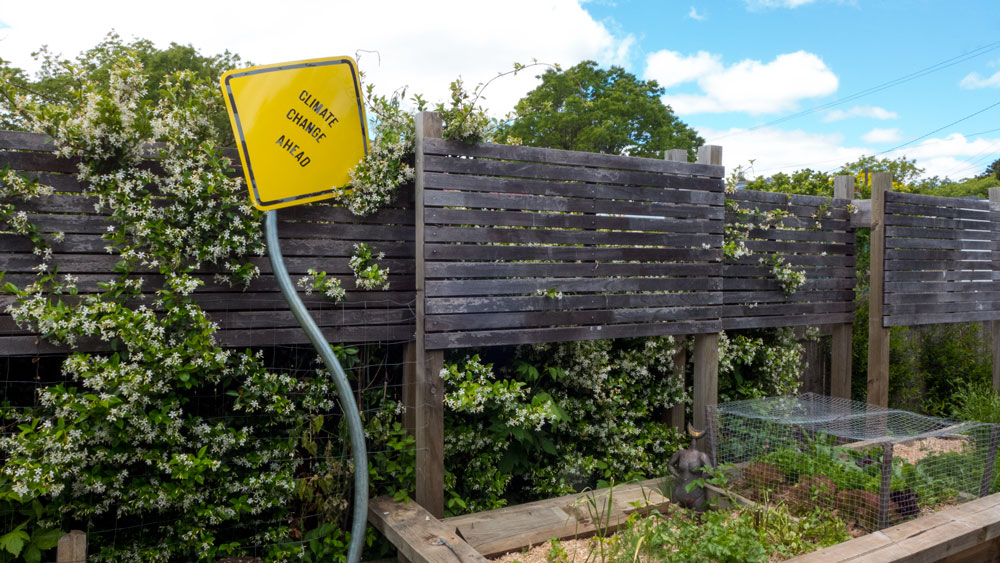 all photographs by Paul Costigan