It's About Seating
The visitor experience – seating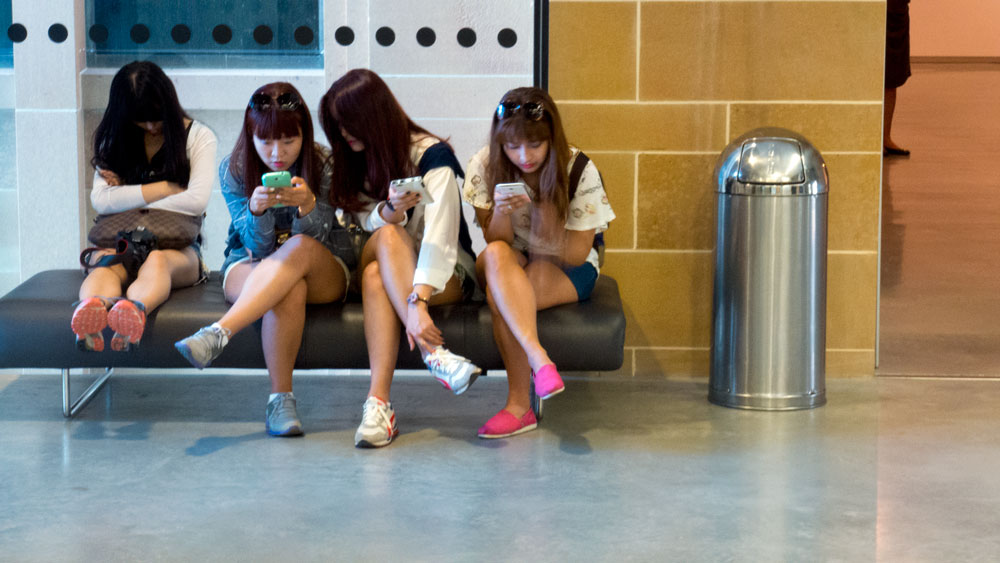 The entry spaces and seating within our major public galleries are not the most user-friendly. For reasons I cannot understand, most of our public art institutions have not made their foyers friendly spaces so that it could be easy to meet up and to have that initial chat before moving off to see what there is to enjoy.
The refurbished Museum of Contemporary Art (MCA) in Sydney has a new foyer. For some reason seating has been kept to a minimum. The former was not much better but the new version provides almost no seating. This means that if you are waiting for anyone, there is one option, the small bench just off the lift and this one seat is easily occupied – see the image above. The other option is to sit out on the main steps that come up from Circular Quay or to simply stand around.
As a bonus, the foyer now has a new commissioned work, The Journey to Australia, by Guan Wei.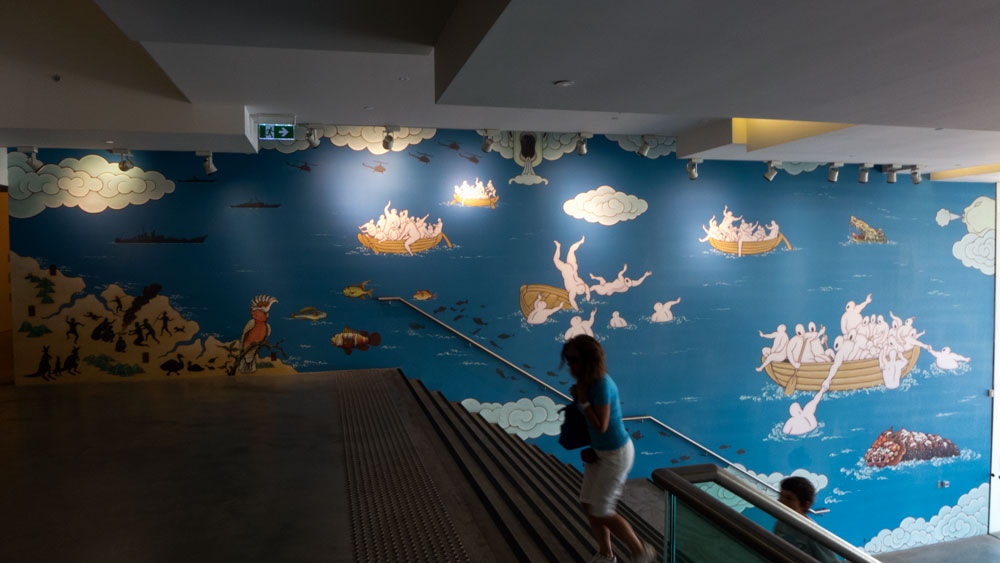 The Art Gallery of NSW (AGNSW) has a good round seat in the foyer and this is just in the right place to meet friends.
Up inside the gallery, the long foyer corridor has quite a few long benches. These are all popular and are often occupied. People love to roam through exhibition halls but it is important to provide a place to take a rest, to think, to observe and to chat quietly (phones should be banned). So bonus marks to the AGNSW.
All the other major public galleries vary greatly in their provision of seats both in the foyer as well as in the provision of break out spaces. I think the best I have seen was within Te PaPa in Wellington NZ where half way through there was a club lounge with a small coffee point attached. This was always busy, both with people chilling out and taking a rest before continuing on and I suspect quite a few meeting up for chats and social reasons. (not sure if it is still there)
I ask, how hard is it? How many times have I been wandering through an exhibition when the urge to sit and ponder has taken over. But the seating? If there is any, it is often not placed well so that you can view some of the major works.
The seating in the National Gallery of Victoria's (NGV) old European galleries is quite good and these spaces are usually peaceful so they make for very pleasurable experiences. And the collections are fabulous. People pay lots for major exhibitions that are the equivalent.
Here's an initial rating of the major public galleries that I know reasonably well? The rating is very general. Foyer rating is based on being user-friendly as a space to meet, to sit, and find your way in,  with seating high on my priorities. Exhibition space rating is about the provision of seats to sit, to rest, to ponder and hopefully to be strategically placed to take on selected works. Several of these have multiple entry points so I have provided a combined rating.
Queensland Art Gallery: Foyers 6/10; exhibition spaces 6/10.
AGNSW: Foyer 8/10; exhibition spaces 6/10.
MCA: Foyer 3/10; exhibition spaces 6/10
NGA: Foyer 7/10; exhibition spaces 6/10
NGV: Foyers 6/10; exhibition spaces 6/10
SA Art Gallery: Foyer 5/10; exhibition spaces 6/10
AGWA: Foyer 4/10; exhibition spaces 6/10
Some time soon I hope to provide a rating on the general visitor experience. This would not be about the exhibitions but about all those other things that matter: how you are greeted, the foyer experience, the navigation through the spaces, the seating and of course the cafe and shop. All that and more to come.