Paradise Is There: The New Tigerlily Recordings (2015)
It is the done thing for musicians to cover other musicians songs and to do new arrangements of those songs rather than just attempting to mimic them.
When the originals music was successful and popular, the artist doing the cover is taking risks as everyone will be looking to see whether the new versions do justice to the original songs and arrangements.
On Paradise Is There: The New Tigerlily Recordings (2015), Natalie Merchant has taken her own music and given it the full work-over. She has taken her 1995 first solo record, Tigerlilly, which was a huge success at the time and continues to be so, and has re-recorded and reworked the whole album.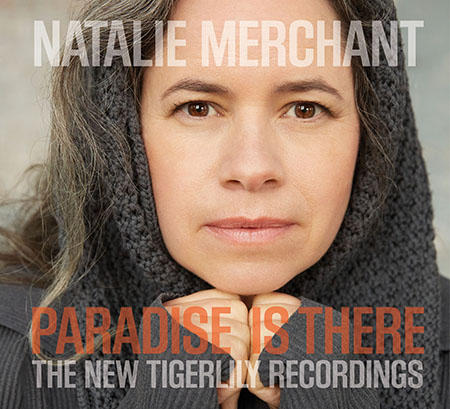 She has not remastered the songs as many do, but has gone back to the studio and reworked the whole musical arrangements. They are still recognisable but the results are quite different — and in most cases the new music is as successful as the former. Some of them are fabulous to listen to – and something to be enjoyed time and time again.
Natalie has re-ordered the songs on the album and this makes the whole exercise more intriguing to those, such as myself, who know the 1995 album very well and are used to moving from one song to the next.
The other difference is her voice. It was her voice that knocked you over on the original 1995 Tigerlilly album. On this 2015 album her voice has matured and remains quite powerful – and absolutely wonderful.
If there is anything that takes away from this being as great as the former, it is the over production on a couple of the tracks. For some reason Natalie has introduced a wall of violin music that at times dominates and is in competition with the real strength of these songs – being her beautiful voice.
Yes I am taken with this music (playing often in the car)  and I have been in love with most of her music since she left the 10,000 Maniacs in 1994. And as if admiring her music isn't enough, she actively campaigns against fracking and against domestic violence. She a busy person!
If you do not know her 1995 Tigerlilly album, then you have a choice to make. Which should you buy first – or should you buy both. They are both gems!
Buy yourself a Christmas present  – and – play it loud!
Have a listen – Carnival (2015).  And then Carnival (1995)
Natalie Merchant – Beloved Wife (live 2014)
—————————————————
Paradise Is There: The New Tigerlily Recordings (2015): Rating: 4/5
Tigerlilly (1995): 5/5
—————————————————
These reviews will reflect my interest and therefore will wander through many & varied genres, but mostly blues – americana – singer/songwriter and then the occasional tangent into grunge rock and blues rock by long timers such as Neil Young. I also like to revisit and talk about albums that may be decades old but that still resonate with me.