Review:
Visual Arts
Mike Parr at Anna Schwartz November – December 2013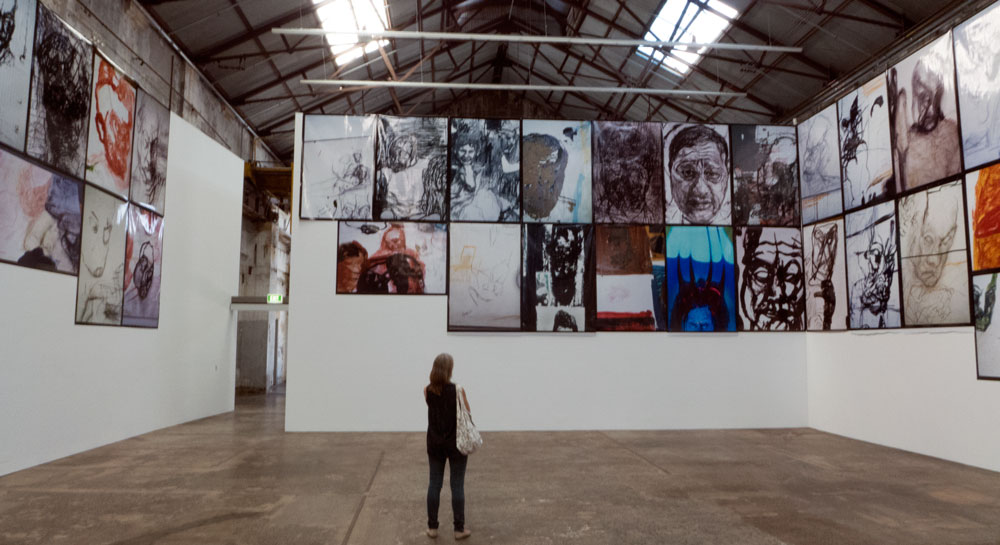 Wandering into Anna Schwartz Gallery at Carriage Works in Sydney, the first thing that happens is that you are forced to look up as you are swamped with these large images that completely fill the gallery. The images have been hung in two rows and with no spacing between each image.
The hanging style makes it very difficult to appreciate each image. You end up trying to take in whole sets together rather than as individual works.
I was lucky enough to see two individual works framed and hung out in the back room. They are wonderful images when seen as stand alone. Having seen these two and walking back into the main room, it was more evident just how crowded the room. It was hard work to stand there, to be looking up at times into the light coming from the ceiling and to try to appreciate each image.
This is an exhibition to be seen. Mike Parr is paying around with images again and it is great to see this translation of a large body of his work. There's some great images amongst the ninety-nine up on the walls.
The gallery's pamphlet makes connections between these self portraits and Easter Island. The exhibition has been titled to link to the Easter Island stone statue and to refer to the downfall of that civilization. His intention seems to be to present these portraits to look down at you as if you were confronting the Easter Island and you a reminded that just maybe the whole of civilization is about to repeat an environmental disaster. (and we are!)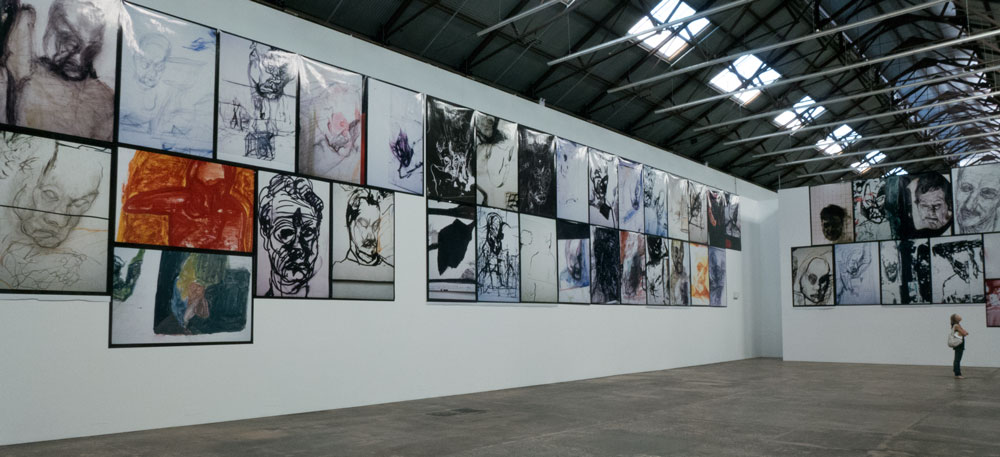 Now this exhibition brings on an interesting situation. The artist has photographed his own drawings and has printed the photographs large and has puts them on exhibition. Each photograph of a drawing is for sale as unique artifacts. Note that you will be buying the photograph of the work not the original drawing. Someone else owns the original drawing.
Putting aside these thoughts, I recommend a visit to Anne Schwartz in Sydney to see this exhibition. Make sure you allow time to stand and take in this mass of wonderful images.
Here's a review from the Sydney Morning Herald.
Review in Broadsheet.
A Review in the Guardian Australia
PS: Why don't these galleries have a set of seats down the middle?