Review: Book
Hobart, Peter Timms, 2012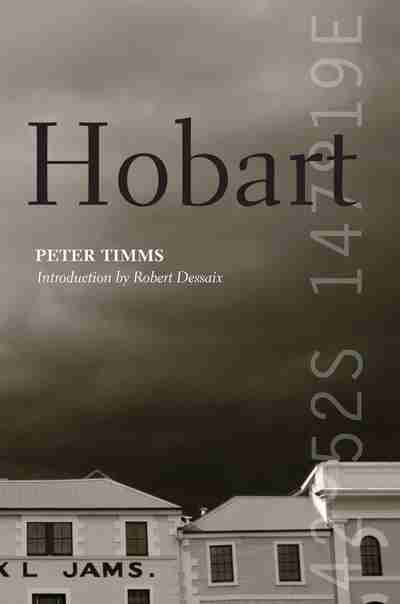 Please note this is the 2012 revised edition. The original 2009 edition was titled In Search of Hobart.
This smallish book I picked up for several reasons. I know Peter Timms, I have read and enjoyed his previous writing, I know several people who live in Hobart and it is a city that I have visited for many reasons over several decades.
Peter writes not as a historian or travel writer, or as one doing a tourism promotion. Instead Peter uses a reportage style, he tells stories about people, the places and events. All this is based on research of available documents and interviews and observations of a diversity of people. In summary, this is an interesting read. For whom is a good question.
The publishers blurb is not bad: In this updated edition, Peter Timms leads us on a journey through his adopted city of Hobart, Australia's smallest, most southerly, least prosperous, but arguably most beautiful state capital. He reveals a city in transition, shaking off its dark and troubled past to claim its special place in the post-modern world: 'going boutique, nice and slow', as one overseas visitor notes. From Hobart's convict legacy, its spectacular natural setting, heritage architecture and climate, to crime rates, economic hardship, the recent disfigurements of the developers, and the opening of MONA (the Museum of Old and New Art) Hobart's newest tourist attraction. Timms brings a wealth of fresh insights. He explores the city with a mixture of affection, admiration, frustration and sadness, interviewing a wide range of residents along the way. Those who have experienced Hobart as tourists will be surprised and intrigued by the lively, complex society this book reveals. Those who live here will surely discover their city anew.
OK? so the publisher said it is arguably the most beautiful state capital. I am not sure that was Peter Timm's agenda to cast Hobart into competition with other state capitals.
From reading about the book online, I get the message that this book was well accepted locally. I have known locals to use it as a gift to visitors and relatives.
Then there were these two curious reviews. The first from a local who just could not help remind himself and Peter, that Peter is a recent arrival from the 'mainland'. I sense a bit of a put down in this review.
Then there was this other review from another Tasmanian, but this time from the 'north'.  Those from the north still do not want to recognise that Hobart became the capital. At least the book seemed to have motivated the reviewer to go to Hobart and look around.
At the other extreme was this writer who did not finish reading the book.
The message that comes from reading this book is about taking your time to read this city. This is of course not a message you will hear from any tourism agency anywhere. Their message is about training people to expect the next big thing. There must but a significant item or destination or experience. Tourism fails to understand the message that Peter would promote, that when you go to any city, including Hobart, take your time, relax, walk around, and read the city. Tourism agencies would be promoting Hobart as a great place to come to, and then from here you can travel quickly to somewhere else.
The question. For whom? I suggest many locals would have enjoyed the book as it in the end very positive about the culture and complexities of their home town. I suspect people in other larger capitals would not be overly interested. Why would they? They are very assured that where they live is The Place to be. Nothing parochial about them!
I would agree that these inner city inhabitants were probably offended that someone of Peter's and Robert's statue within the arts community had moved away from their centres of the universe. So why would they want to risk finding out why. Reading this book just may threaten them.
I also agree with one of Peter's themes.  That people in Hobart have a strong tendency to be over concerned, even preoccupied, with what other people think of them and of their city. And apparently so many things that can happen elsewhere, just cannot happen in Hobart, because …. it is Hobart. .. and it's different here.
I admit to thinking at several stages of reading the book, is this too much detail?  Had I been too busy to have read the whole book in a short sitting or two, that by putting down for any significant length of time, it may have not been picked up again.
Peter Timms is telling so many stories that are of small significance. It is the total of these tales that makes up a city. In the end Hobart is portrayed for what it is. To enjoy this city, as I said before, this book provides the clues. You have to go there to take it in, and then take it slowly.
Recommended: Rating 8/10
Reviews of this series: Canberra / Adelaide / Hobart
——————————————–
Paul Costigan, 18 January 2014
———————————————
About the Author
Peter was for many years the editor of the journal Art Monthly. In 1986 Oxford University Press published his definitive volume Australian Studio Pottery and China Painting.  Peter compiled an anthology of essays on gardening titled The Nature of Gardens, released by Allen & Unwin in 1999.  Among the contributors to this lively and unique collection are Marion Halligan, Margaret Scott, George Sedden and Alan Saunders.
His next book, Making Nature, combines personal memoir and natural history to explore Thoreau's conviction that the whole world can be revealed in our own backyard. It was published by Allen & Unwin in 2001.
What's Wrong With Contemporary Art was published by the University of New South Wales Press in 2004. Australia's Quarter Acre: The Story of the Ordinary Suburban Garden was published by Melbourne University Press in 2006, and Private Lives: Australian at Home Since Federation was published in 2008. In 2008 Peter completed a book on history of Hobart, In Search of Hobart, for the University of New South Wales Press.