Review: TV (DVD)
Detective De Luca DVD (Four Episodes)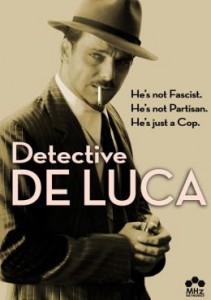 The bi-line more or less describes the issues here: He's not Fascist; He's not Partisan; He's just a Cop. I am not sure that the original author had this intention. The series is based on the real life of a policeman who worked for the fascist government, who arrested communists and partisans, then made it through the war to continue as a policemen who was not investigated for his previous activities but continued as a policeman who went on to arrest fascists.
Very Italian and very much in the genre of contemporary crime fiction and now translated to a short TV series.
This set is a good find. The story's structure is about Detective De Luca, the complications of being in the police during these turbulent times in Italian political history, from 1938 to 1948. The series provides some thoughtful insights into this chaotic period within Italy and how society was divided and is quite confronting in showing us how people suffered from the different forces at play.
So in the end, De Luca may have stated several times that he's not Fascist, he's not Partisan, he's just a Cop, but the perception of those around him was often different and he suffers as a consequence.
As with the genre, particular cases may be solved, but as with all things Italian at this time, the larger issues remain unresolved. There are no neat endings here. This is about politics, about human nature and about Italy.
One package: two discs with two episodes each.
I am getting to like these Italian Crime Series. more to come
Recommended: Rating 8/10.