Comment: Visual Arts
David Hockney, The Arrival of Spring, May-July 2014,
Annely Juda Fine Art, London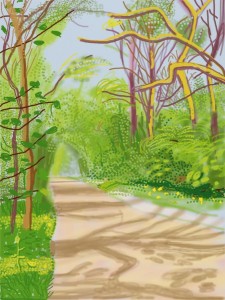 I have been a follower of David Hockney's work from the early 1980's, when I first read a book on his early UK works. Since then I have followed his merry career as he has switched medium and taken on a range of subjects.
In general I like most of his work and remain intrigued by lots of the other. It was with interest that I spotted this London exhibition, all done on the iPad, listed online. Have a look and open up the images in large format. There is definitely something interesting going on here. Hope one day to get to London again to see some of these.
Click here for the exhibition notice and then click 'full screen' for the slide show.