Announcement: New Book on Architecture
Toward an Architecture of Enjoyment, 2014, Author: Henri Lefebvre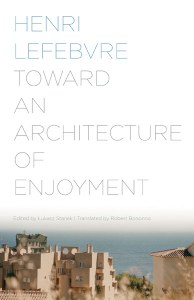 I'm about to get my hands on a copy of this book. Having read some of the commentary about the author and the concepts he is dealing with, the book reinforces the need for more discussion about the topic of enjoyment of architecture and urban spaces.
My life is already involved with dealing with planning bureaucracies that lack vision and any notion of good design. I have posted several times about the blandness of architecture in our cities.
Sadly most urban design and architecture in Australia is not delivering a sense of place and enjoyment. The architectural profession seems to have abandoned the field of good design and instead has been compromised by their too close associations with the property council types to deliver useful and profitable buildings, with most being glass walls or bland boxes.
There are so few architectural solutions today that honestly deliver resilient, engaging and healthy urban places. So many architects now embrace Green Wash and clichéd international design styles that clutter the skyline of our cities rather than delivering real innovative design solutions and a sense of enjoyment.
Because the current crop of planners and architects, we are in for very dull urban experiences for the next generation or two or three!
With all of the above in mind, I am looking forward to reading this book, Toward an Architecture of Enjoyment, by Henri Lefebvre
The publisher, The University of Minnesota Press has information online: click here
Plus there is an interview with the editor/translator of Lefebvre's text: Click here.
And click here for my previous posts relating to architecture.
My review of Toward an Architecture of Enjoyment is to follow.
The worry is that my pile of books to read and review  is getting larger by the day!
———————————-
for more on architecture – click here
Paul Costigan, 12 August 2014