Comment: architectural eyesores and failures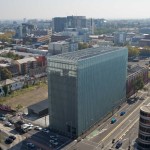 When it comes to architectural eyesores and mistakes, there are many. They are not mentioned by the professions.
Once when attending a conference on green roofs, an architect told the story of his first major green roof project. All sounded impressive, until he casually mentioned how it failed and that water penetrated the top floor of the office building.
He just passed this off as something unfortunate, lessons learnt and went onto the next story. A couple of us looked at each other and imagined how the people in the top floor offices felt about having water come into their office space, computer networks and all that!
Over the last decade the architectural high profile international firms have had their way with delivery all manner of weird structures – as if there was a competition to outdo each other despite the aesthetics.
The Chinese Government has decided that enough is enough! click here.
There's an article online about some of the more spectacular mistakes – click here.
I had mentioned a few earlier – click here.
————————————–
for more on architecture – click here
Paul Costigan