Notice about
Amazon not paying living wages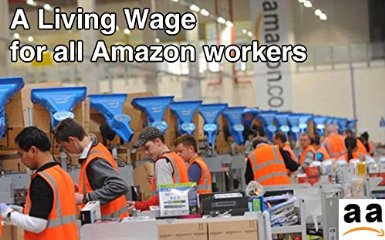 A campaign to get Amazon to pay living wages to their workers saw a fake book uploaded. It has been since taken down but last time we checked, this link was working. click here.
From the UK protest:
Over 62,000 people have called on Amazon to end poverty pay in 2014 – but Amazon has yet to take our demand seriously so we've brought it direct to amazon.co.uk.
£7.65 is the living wage rate across the UK outside London where most of Amazon's warehouses are located. That's all it needs to commit to paying to end poverty wages.
Why not review this product below and let Amazon know that its time to pay the human cost of its operations?
With billions in UK sales each year, Amazon has more than enough money to pay its workers wages they can live on. Amazon has been outed for treating its workforce like undignified robots, from unfair sack-if-you're-sick policies to allegedly warning workers off joining unions that could help them fight for their rights. Paying living wages won't solve all Amazon's problems, but it will mean workers across the country can afford the bare essentials of life.
———————————
Paul Costigan, 16 June 2014
Amazon, it's time to pay up!