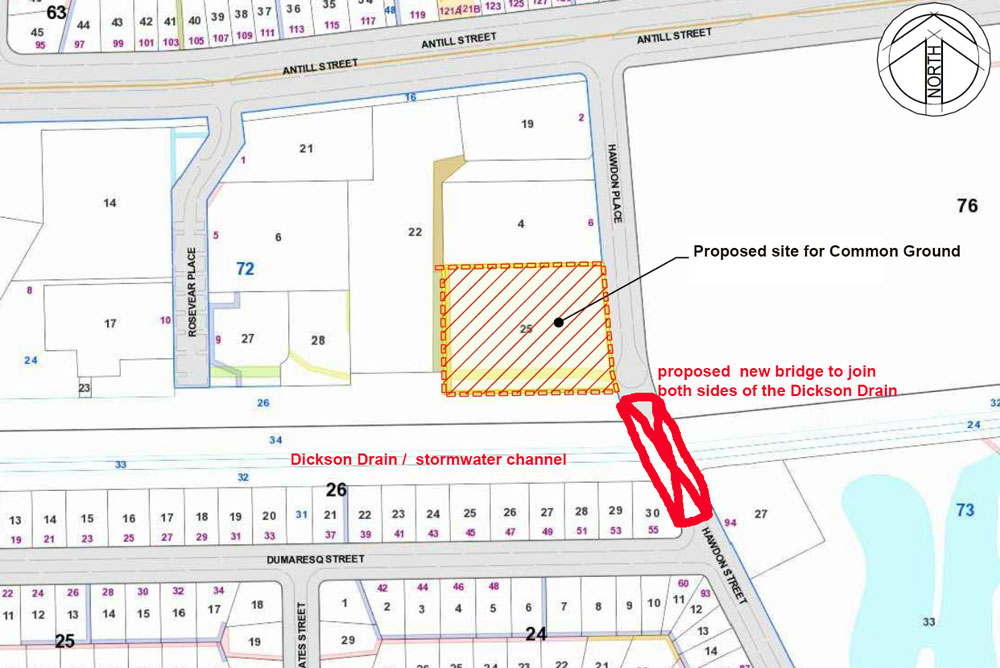 Meanwhile at a site I regularly mention, Section 72 Dickson, another piece of sneakiness has been uncovered by Jane Goffman, of the Dickson Residents Group.
Jane reports on her blog that, hidden among the appendices for the development application for Common Ground (the development opposed by locals – but what do they know?), is a line flagging an extension of Hawdon Street across the stormwater channel to Hawdon Place.
This would create a short cut /race track joining Antill Street to Majura Avenue through this quiet part of Dickson – alongside the Dickson Wetlands.
There have been no recent discussions about this. Years ago, it was rejected by the then ACT government and residents. So why is it back again?
In all seriousness (joking again!) locals are waiting to see our local politicians fall over themselves to be the one to put a stop to this stupidity.
Tricks and spin now dominate the planning processes. Residents have much better things to do than to be constantly on alert to see what the Planning Directorate is up to next.
It is unsettling to observe the ease with which the ACT bureaucracy sees this sort of behaviour as normal.
Again – a big thanks to those in community groups who give up their time to chase down the tricky actions of Canberra's planning bureaucrats.
——————————
This article was part of a piece originally published online with City News
Paul Costigan is an independent commentator and consultant on the visual arts, photography, urban design, environmental issues and everyday matters.