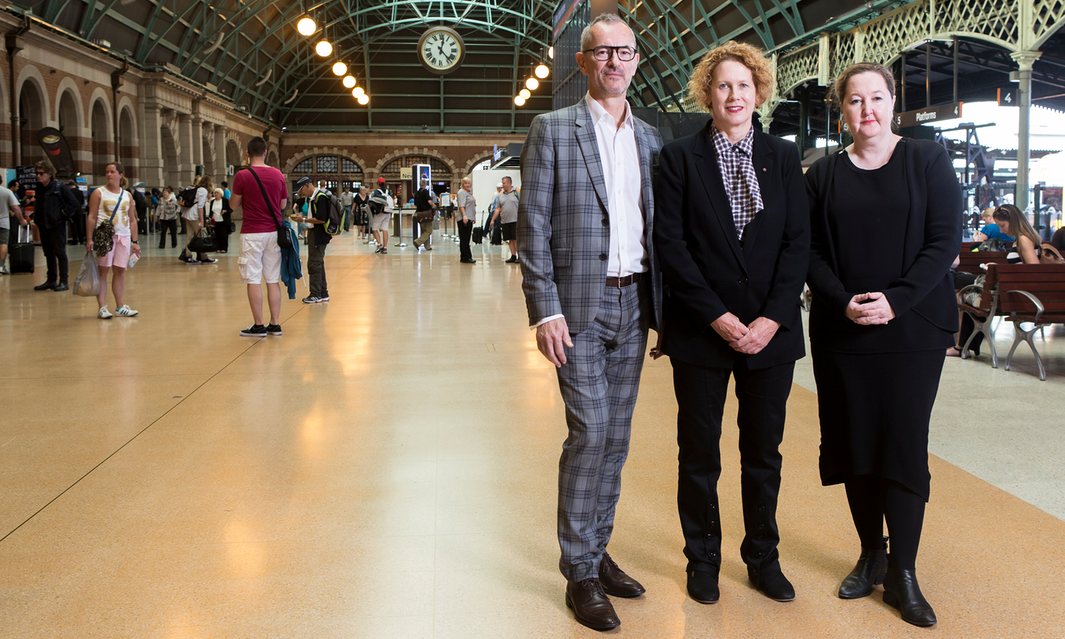 There's an announcement for a new biennale of Australian contemporary art. Good news – click on the image for The Guardian story – but..
First there is the photograph used for the announcement.
Why are they at Sydney's Central Railway Station? A wonderful location – but what had it to do with the announcement.
Was it a venue that was neutral ground? Which says something of the cooperation.
and – is someone going to tell Michael Brand that those american suits look very strange? Is he trying to be an american gangster or used car salesman?
We all remember well when Liz Anne (in the middle) arrived to take up the MCA job she wore Scottish style tartans all the time as if she was saying that she is really Scottish and not really here in Australia.
Maybe now she has at last landed.
Meanwhile Michael Brand is saying I am from America  – and by the clothes he wears you may  understand his style of (USA) administration at the Art Gallery of NSW.
and – not sure if this is confusing or to be celebrated – as now we have a biannale ever year in Sydney – with the Sydney Biennale on right now and this new one to start next year.
One hopes that their staff are being paid well as this will mean a heap of extra hours.
Any new visual arts activities are welcomed – so let's hope this new biennale is accessible and not just more exhibitions of the usual favoured few.
---
Paul Costigan