Notice: Local Visual Arts Gallery
Ruth Waller at Nancy Sever Gallery, Kingston, Canberra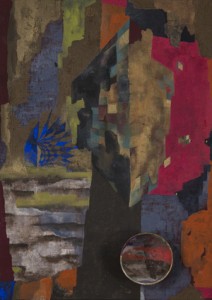 A note that the Nancy Sever Gallery, in Kingston, is worth putting on you list for gallery visits.
We attended a crowded opening there tonight for the opening of Ruth Waller's exhibition of recent paintings. Can I say that I would love to talk more about the art, but it was very difficult to see given the crowd. That's why I often avoid openings and get along later.
May I suggest at the point that those smaller works by Ruth Waller are really lovely and there's something about the surface tensions that capture the attention. I suspect they were works from her former series Insight Radicals that focussed on a connection between art and science, the patterns relating to that relationship and an interesting approach to paint on a rough surface. Very nice!
A link to the Nancy Sever Gallery – click here
A link to Ruth Waller (looking serious at the school of art) – click here
and a blog on Insight Radicals (hopefully the link will work) click here
and a link to an ArtLink review on a past exhibition  – click here
———————————-
Paul Costigan, 3 September 2014