Review: Public Art
Sculpture of Ben Chifley and John Curtin, Canberra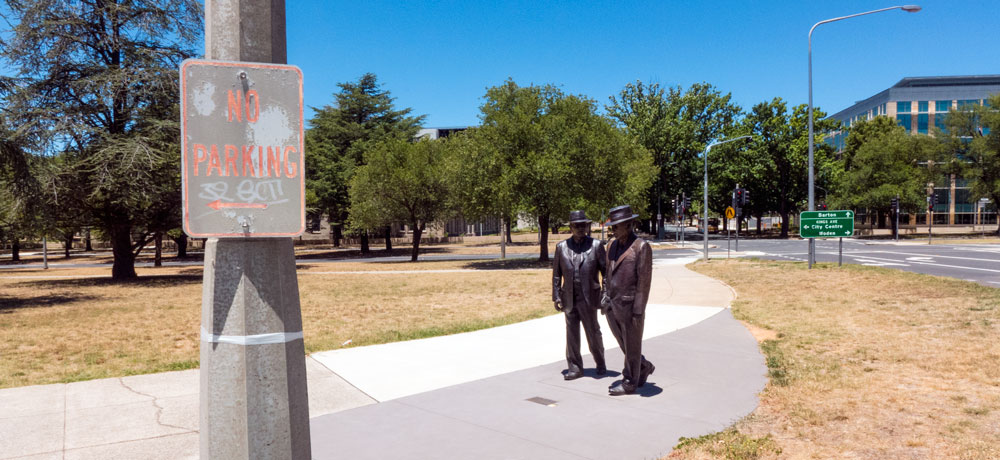 I have driven passed this sculptural piece, by Peter Corlett, many many times. The pair of sculptures look very natural on the corner to the extent that I dare say the casual observer and busy drivers may pass by and miss that they are bronze figures. There's no plinth. They have been attached directly onto the footpath.
I am not always a fan of these figurative public art sculptures. This one I now like even more having walked over to have a closer look.
From the ArtsACT website there is this background information:
This sculpture recreates an iconic photograph of John Curtin (1885-1945), Australia's fourteenth Prime Minister (1941-45), and Treasurer Joseph Benedict (Ben) Chifley (1885-1951), who would become Australia's sixteenth Prime Minister (1945-49). Curtin and Chifley routinely walked along this route to the Provisional (Old) Parliament House from the nearby Kurrajong Hotel.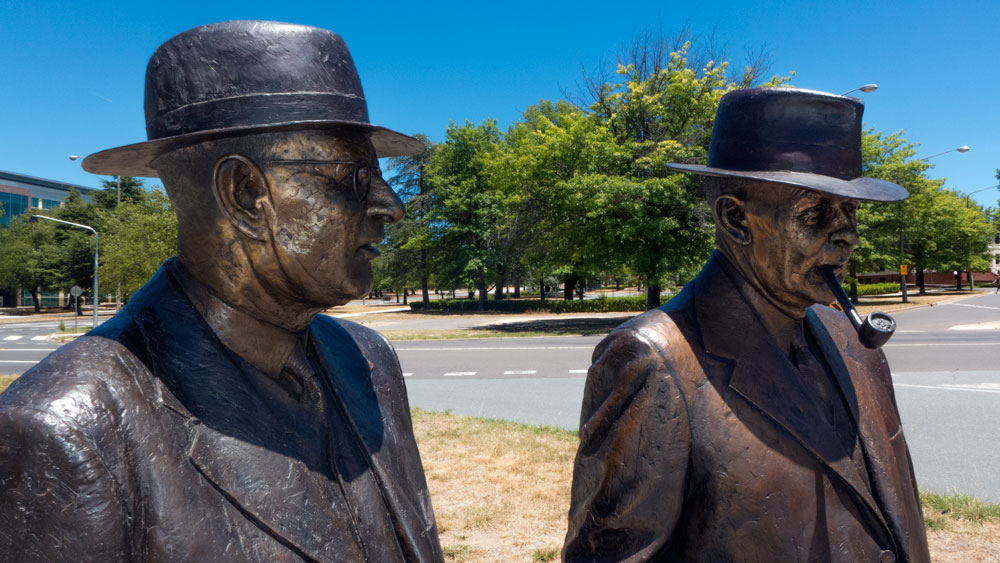 From my many observations, I thought that they were slightly smaller. But alas they are in fact just slightly larger than life. A big appeal, besides the obvious political connections, is that they represent an event that should be cherished more in a society that tries to make things happen faster. These two very important people are walking to work. They are having a conversation. The whole piece has the aura of being relaxed and taking your time, no matter how important or how urgent things are. For these two, they were dealing with World War Two and still had time to converse and to stroll.
The sculpture is situated roughly where the original photograph was taken. Unfortunately this has meant that the sculpture is in a position where very few people will see them. Tourist drive by on their way to or from Parliament House. It is not a tourist destination spot.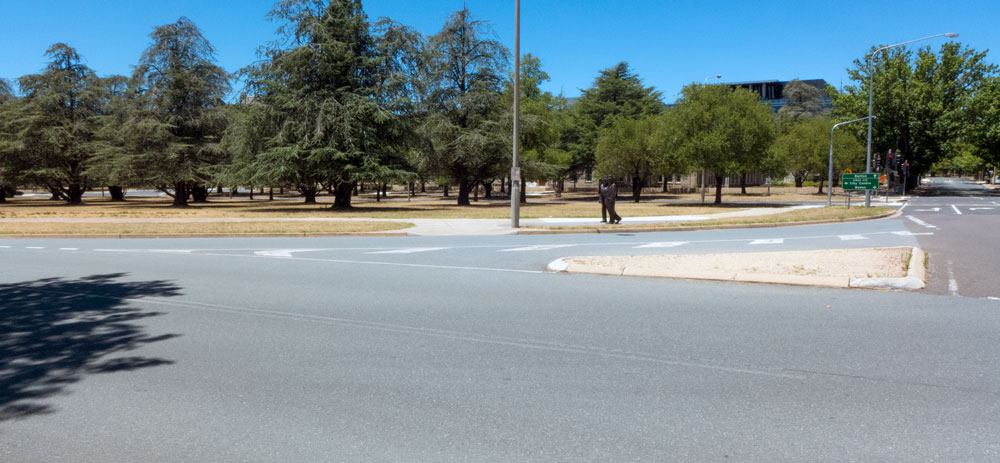 This corner has a few people walk past it during the business day. Being just off King Avenue, it is a busy corner for traffic. Probably the person who sees this wonderful piece the most is the person who mows the Parliamentary Triangle lawns endlessly.
There is one photograph that I missed several months ago. I was waiting at the traffic lights when I noticed a woman walking past the statues. She was very intensely involved in a conversation on her mobile phone. The arms were animated as she expressed herself. I enjoyed the moment whereby someone was totally engaged in a conversation (possibly argument) with someone not present and there was a good chance that she was completely oblivious to her surroundings as she walked. She was walking past two characters who were having what looked like a pleasant stroll and conversation.
I also noted the hats on both of them. When was it that people, or at least men, stopped wearing hats all the time in public? I wear a hat often but it is not usual to see men in hats. I suspect it was in the late 1960s and would have been around the time when the world became aware of the dangers of skin cancer. So we gave up hats?
I made the comment earlier that there isn't a plinth under these characters. This is in contrast to the not so successful sculpture of Edmund Barton that is just down the street. This is a modern version of the 19th Century style of political figurative memorial sculpture. This one was unveiled by Bob Hawke in the mid eighties and I think there was a scheme to have a lot more of these. Luckily this did not happen, so we do not have an avenue of boring statues of many great men.
Peter Corlett has another recent work on the other side of the lake.
This one is of Sir Robert Menzies taking one of his walks by the lake. I have yet to see this one, so I reserve my comments for the moment.
The thing that struck me most about my visit to these characters, was their isolation. I thought whether it was a mistake to place them where very few people go.
However after thinking about the location,  I have come to the conclusion that it is not the work or the their placement that is the problem.
I am now firmly of the opinion that what this work has done is to highlight that this corner of the parliamentary triangle is quite unattractive and overdue for attention.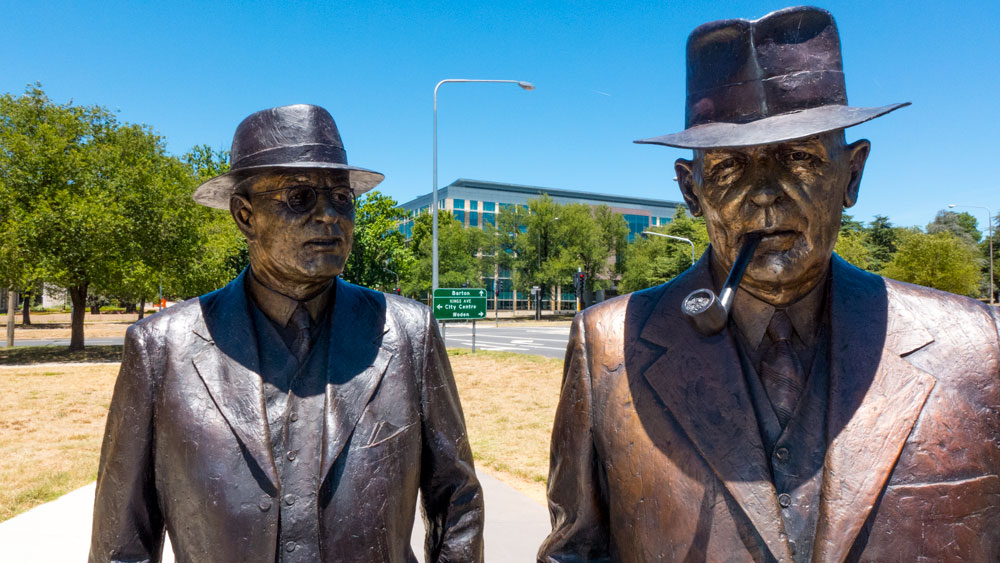 This corner is not alone in its need for a re-think. There are far too many monumental lawns in the parliamentary triangle. They are not climate friendly. They require regular mowing even when they are all dried up and brown as these ones are right now.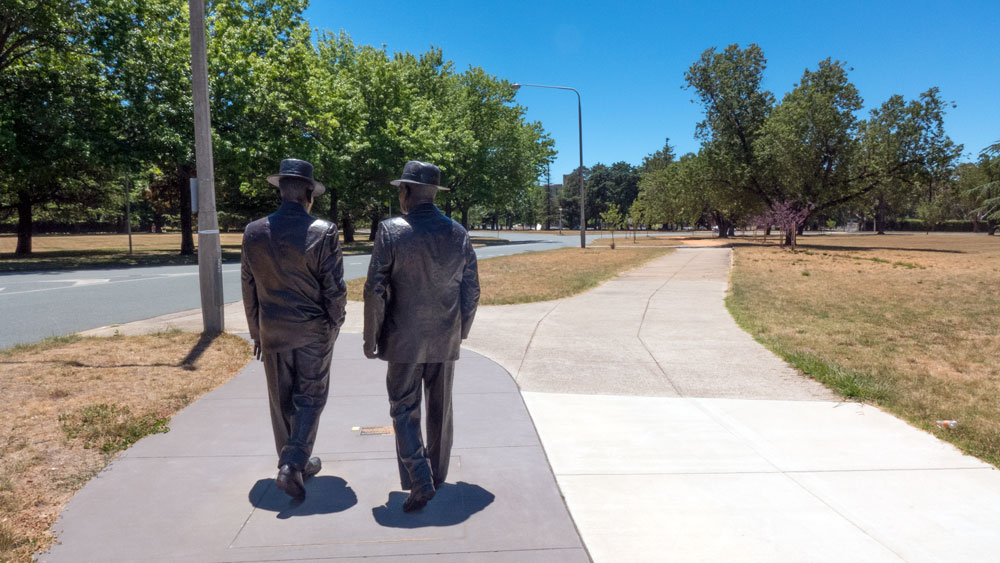 There's the challenge for the National Capital Authority. It is a wonderful and creative thing to place these pieces where they should be. The problem is that the landscape around it is not very welcoming and therefore the sculptures are isolated. So the question becomes what to do with these vacant, isolated and unattractive landscapes?
It is time to think again about having all these Parliamentary Triangle lawns as the great Australian monument to mowing and to wasting water. During the hotter months, most of the lawns are actually monuments to drought conditions (see image above). They are very unattractive places that do not encourage you to spend any time there. There must be a better landscape design solution for these open spaces.
I recommend that you have a look at these public art works by Peter Corlett. I suggest you park next to the old Parliament House, walk through the gardens to the east, and walk out into the open spaces and you will see them across the roads in front of you. Or park at the National Archives building, take in their exhibitions and then cross the street to these fellas.
Congratulations to Peter Corlett and to those who commissioned the work. I suspect this was done under Jon Stanhope's, the former ACT Chief Minister,  wonderful public art program. Big shame the program was cancelled because of bullying from a few stupid people who twisted his commitment to public art to make attacks through the media on Jon and his people focused government. I also blame the local media who were willing partners in this attack on public art in Canberra.
Here's a link to the ArtsACT public art database; most (not all) are on it. Click here.
Recommended: Rating 9/10
———————————————–
Paul Costigan, 2 January 2014