Art in Public Places
Comment on altering a piece of public art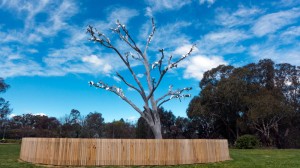 The ANU has wonderful array of public art throughout their very nice campus.
One of my favourite pieces has been surrounded by fence.
I visited the site today and walked around and pondered:
Why the fence? Its presence just did not make sense.
Here's a link to more on this topic, and more photos
Let me know if you can throw any light on this mystery.
———————————–
Paul Costigan, October 2013