Review: Music
Neil Young: CD  At The Cellar Door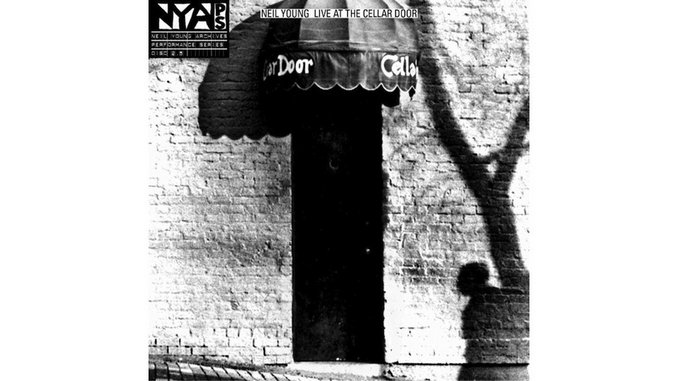 Here's another live set from Neil Young's archive. There's been a few of late and as before the critical response has been fairly positive. This one is a selection of live recording of Neil by himself over several nights in late 1970. At first I was not so sure but I have warmed to it with a few adjustments. Having heard so many of the songs in different versions, when I am listening to this stripped down early version, I suspect that my listening is layered with memories of the other versions.
Warning: I have been a fan of Neil's music from early 1971.
It was in early 1971 that I arrived for first rehearsal of a play and the theatre manager was playing, very loudly, the album After The Gold Rush (August 1970). The song that was playing as I entered the theatre was the track After The Gold Rush. I have been listening to Neil Young ever since. That song and Neil's music has been part of my life and remains to this day and earlier this year I at last got to one of his live concerts.
The album After The Gold Rush was not so well received at the time. Some of the reviewers must look back now and wonder especially as the album is now consistently listed as one of the top 100.
Just for contrast my most recent listening of Neil Young's music has been the heavier music from Albums such as he played during his recent concerts. These include Psychedelic Pill, Americana, Fork in the Road, and Le Noise. The delivery by the Neil, the king of Grunge,  plus the full blast backing of Crazy Horse is quite a different listening experience to that by the solo singer on Live at the Cellar Door.
Live at the Cellar Door captures the Neil Young who is part folk singer and who has only recently left that other band, Crosby, Stills, Nash and Young. After several listens, I warmed very much to the solo versions of the songs but was slowly becoming annoyed by the chatter and the audience. There are advantages to making another digital copy from the CD before uploading to iTunes. Sounds much better now.
I suspect that this one will mainly appeal to  Neil Young fans.
recommended: Rating 8/10