NGA visit with quite a few friends missing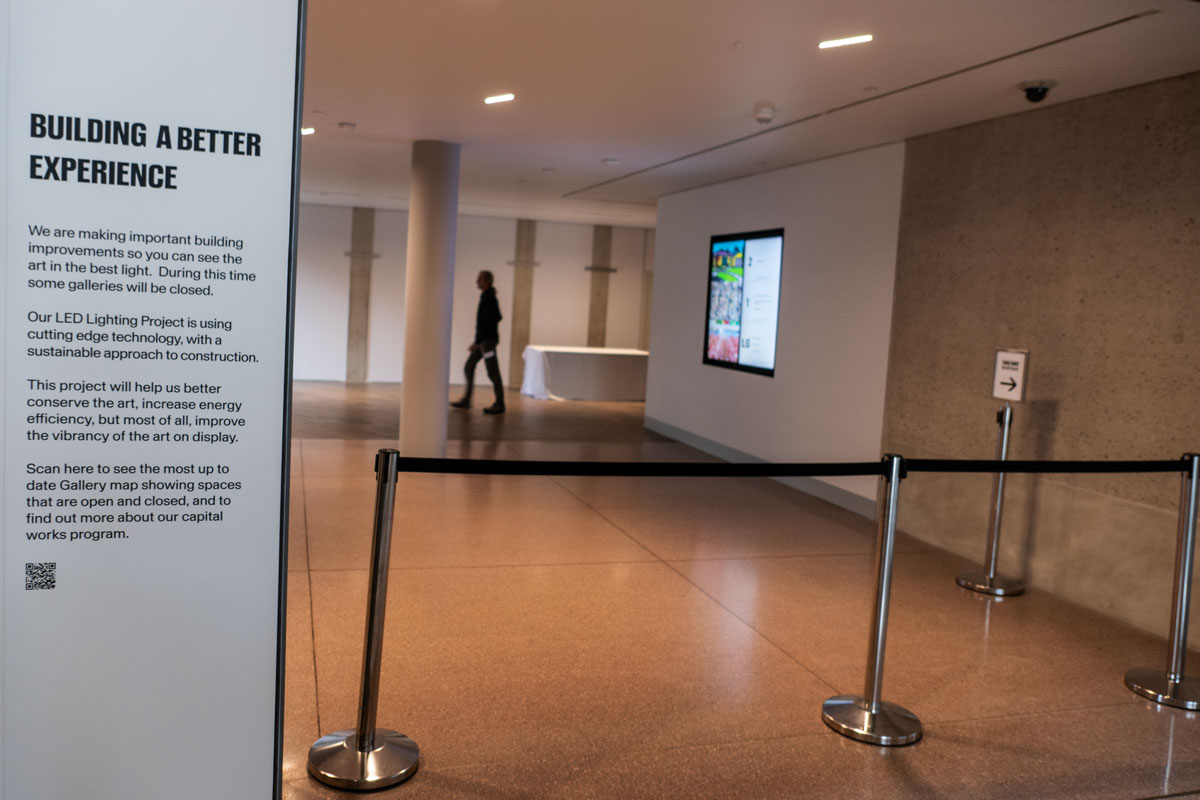 To more or less quote an art school lecturer, it is great to live in Canberra and to visit the National Gallery to see old friends.
Those old friends are the works of art on the walls of the NGA that you like to see again and again and you more or less hope to see them on each return visit.
Over time, there have been quite a few works that I will pause in front of and take the time to enjoy again – sometimes with a new reaction.
However, my recent visits have been a new experience. I would estimate that for various reasons, at least half of the exhibition spaces are closed off. This means that a visit is short when compared with the normal visit when choices have to be made as to what to see and what to leave for another time.
It does feel very strange to be restricted to a small selection of works. I am not sure how visitors to Canberra have reacted if they have travelled to Canberra and allowed the usual time to wander through to see the fantastic national collections.
I understand that exhibitions change over and that there is repair work and upgrades underway. But the amount of closures is significant for any major state or national art institution
However, there is always a plus side. It did mean that there were much fewer works and so it is possible to dedicate time with selected ones.
I have often mused that it would be great to have a significant work shown by itself in a room with adequate seating. This would allow visitors simply to take in the work and to have the time to go through a range of reactions, rather that glancing at the work for a moment or two and then moving onto the next.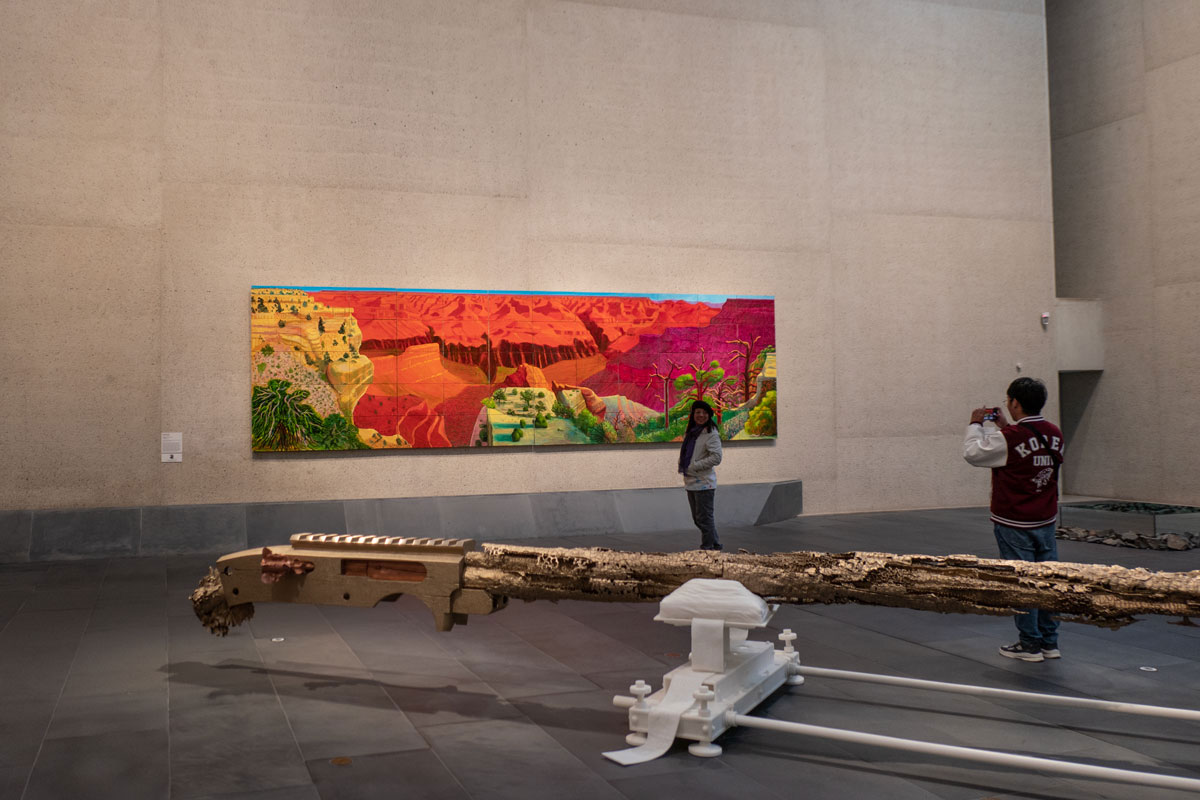 Down in the basement gallery, that used to be the sculpture court, now hangs a work that continues to intrigue. It is a work that I have enjoyed for many reasons. The work is David Hockney's 1998 A Bigger Grand Canyon.
Over the years this artwork has been moved around the gallery – sometimes in not very positive positions, such as when it was positioned above the escalators on the main floor. It definitely needs to be seen from afar, from different angles, and close up. This happens where it hangs now. Also, because that exhibition space has fewer artworks than normal, A Bigger Grand Canyon does make for a bigger splash.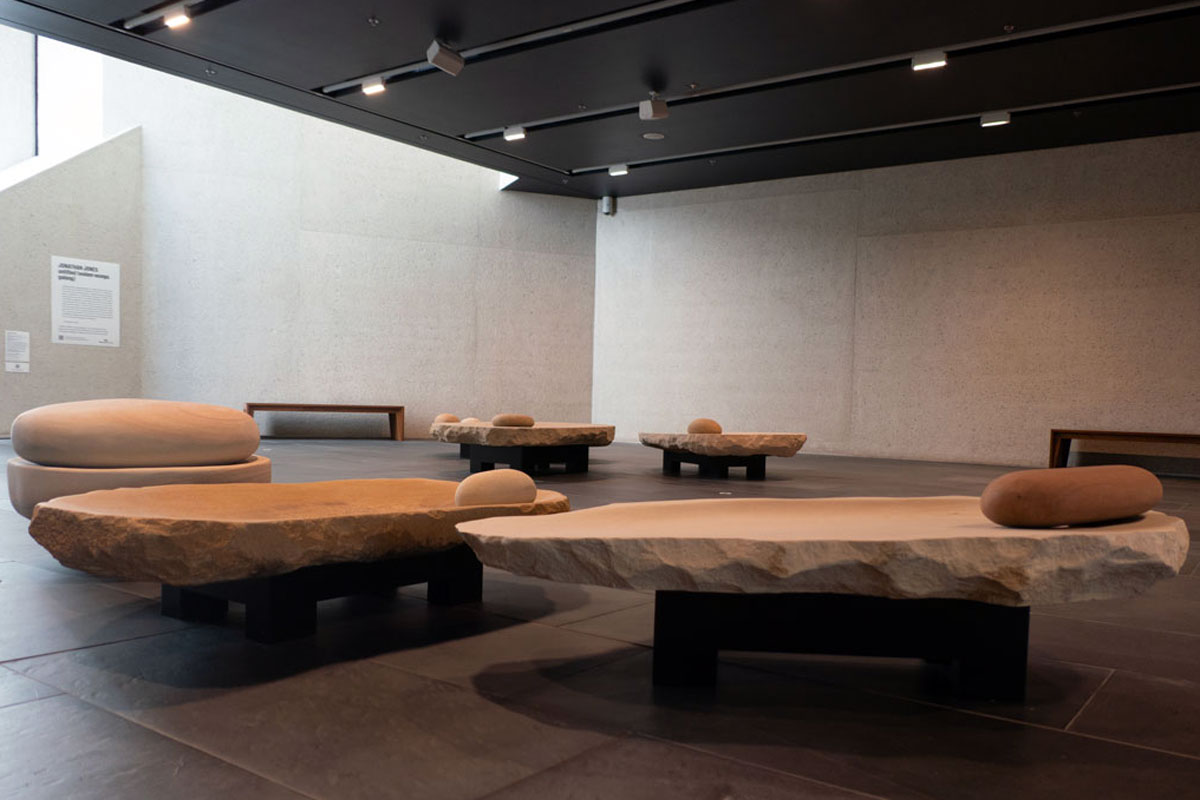 In the nearby room is a newly commissioned artwork by Jonathan Jones: untitled (walam-wunga.galang). These are beautifully crafted stone objects and it is worth taking the time to wander around them and then take a seat and take them in. I would have preferred that there was no audio playing – but that's a personal thing as a good artwork, such as these well-crafted objects, can speak for themselves without any extras or too much explanation.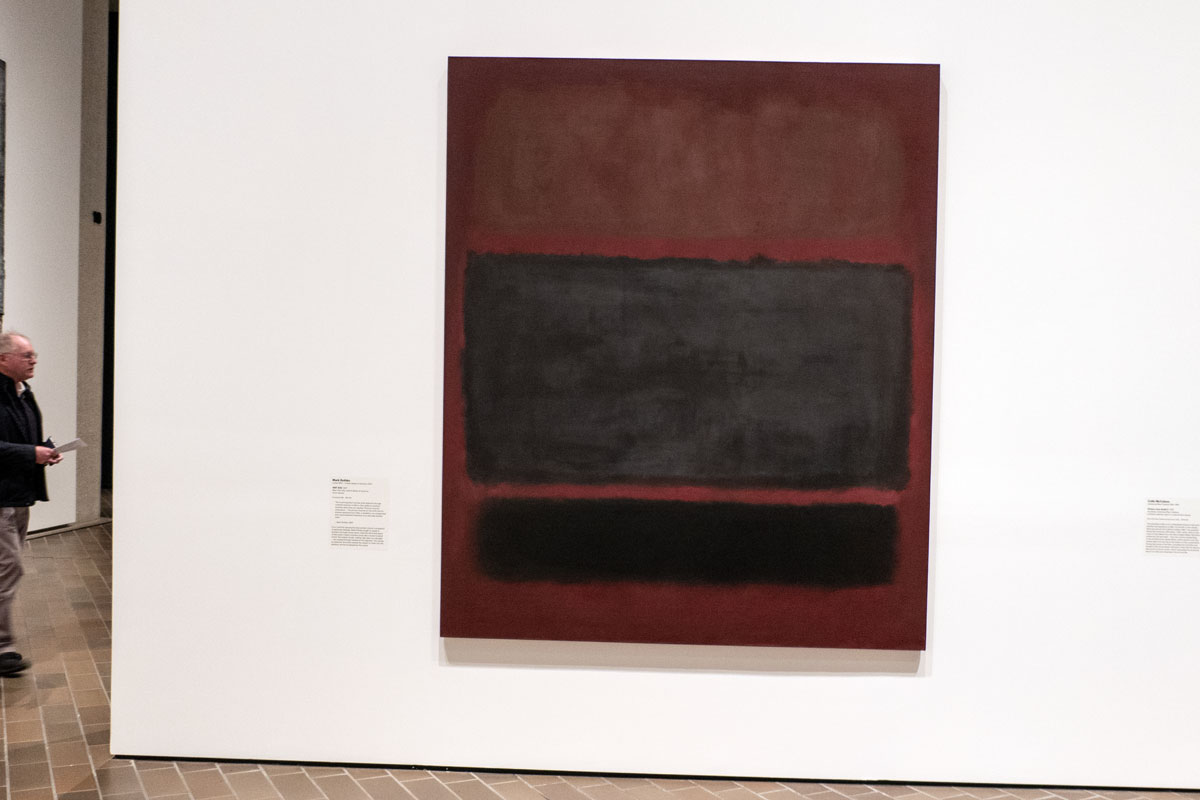 Other works to be enjoyed now – before they too get moved out, include the Mark Rothko (see above), and nearby are two wonderful Japanese screens, and inside the Indigenous Galleries are to sets of photographic works by Destiny Deacon that I had not seen before.
Another curiosity is that the NGA is no longer a place to meet up for coffee. Their main café was closed some time ago and the offering now is to be perched outside with a restricted menu from a tent. There's wonderful saying about some museums, that 'there is a great café with a museum attached'. In the NGA's case, this no longer applies. And given the weather on one of the Sundays we visited, being about 6 degrees, sitting outside was not exactly attractive – or sensible.
A visit is encouraged despite that the whole top floor is closed, the main exhibition wing is closed, one of the Indigenous galleries is closed, the original foyer area on level one is closed, a main gallery (previous Indian) is closed, the Indigenous Poles are missing and the project gallery to the rear of floor one is closed. Take a chance and visit.