Review: Magazine Article
The Monthly November 2013, The Power of One, Robert Manne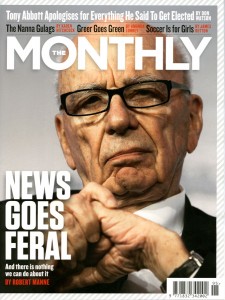 Before I picked up this issue of The Monthly,  I knew that the great democracy experiment was not doing so well. I appreciated that Australia, along with the UK and USA, is now dominated by the political views and priorities of one person, Rupert Murdoch. I knew that in Australia the governments that are elected are more likely to be those chosen by one man; or to be more accurate, those that fall are more likely to have been pushed, or destroyed, by one person and his empire.
I did not think I needed to read another article about Rupert Murdoch. I knew enough already. I was wrong.
Robert Manne has very succinctly summed up the progress to the state of politics across the UK, the USA and here in Australia. The article does not mess around. Robert does not revisit all the awful chapters that we all know too much about already. He concentrates on that which needs to be concentrated on.
Namely the key events that have led to the situation whereby one man's effective control of the media has delivered to him the values and future directions of this society along with those of the UK and the USA. And Robert poses the question: What can be done about this?
and the answer – not much.
Anyone with a concern for politics needs to read this simply to benchmark your current thinking. Australia is now completely under the influence of this foreigner.
Australia now finds itself with a Prime Minister effectively empowered to be an editor of Australian values in line with the owner of his position, Rupert Murdoch. So many of our Prime Ministers have done the deal with Murdoch. All of them eventually have fallen once he has decided that they no longer served his purposes.
Julia Gillard did no such deal and so was attacked from the moment she became Prime Minister. How angry Murdoch must have been when she effectively won government in 2010 through the deal with the Independents. That was not supposed to have happened.
The fact that The Monthly is currently one of the few if not only hard copy magazine that could produce this story and this level of criticism, probably says it all.
I wonder if Morry Schwartz, the publisher, has received any offers from the Murdoch empire to stop these 'left-wing biased' articles and/or is under pressure to sell.
One of my current annoyances has been the practice of the ABC morning programs to reflect the overnight newspapers and to read out the headlines. Fewer people read the newspapers, but the ABC assists the Murdoch empire to spread their words of hate and so much misinformation on things such as climate change. The ABC has become an agent of this foreigner.
And we pay the ABC to do this?
The Monthly November 2013, The Power of One, Robert Manne
Recommended Read: 10/10