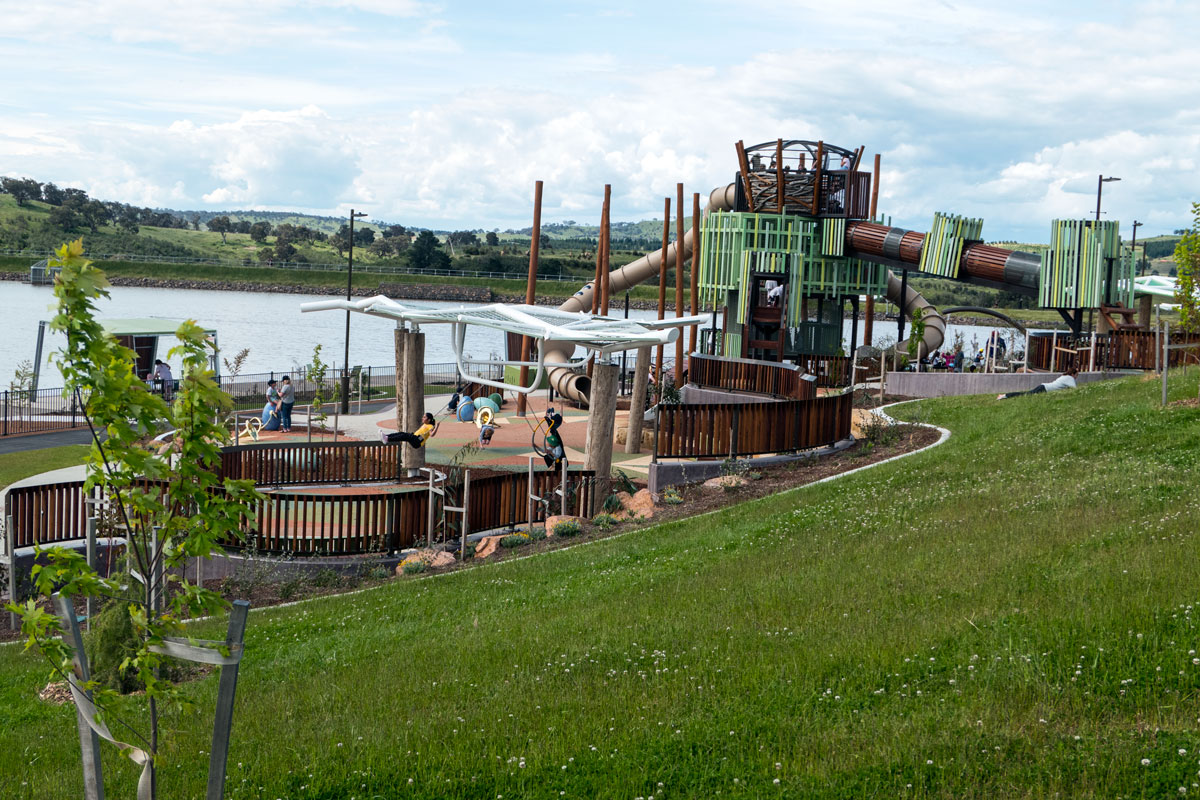 Thursday, October 27 was the day that ACT Deputy Chief Minister Yvette Berry officially opened the grand, designed playground in Coombs.
Ruth Park is named after the New Zealand-born, Australian author Rosina Ruth Lucia Park AM (1917-2010). There's a sculpture of a muddle-headed wombat in the playground to celebrate one of her children's books.
She wrote tirelessly throughout her life, producing novels, children's books, autobiographies and scripts for film and television.
This playspace will be listed for many awards and is already popular with families from across Canberra. The price has been declared to be around $7 million, although with many elements of the design and construction not disclosed, it is more likely around $10 million.
With the other elaborately designed parks in nearby Whitlam and Denman Prospect, these new suburbs have the most expensive and super-designed playgrounds in Canberra.
This playground is popular. The complexity of the design and layout has encouraged a huge number of families to spend time there with children who are swamped with choice. On the weekend, the immediate and nearby streets are packed with cars crammed into any available space on the streets or illegally up on the verges and footpaths.
In their wisdom, the government provided a few parking bays only, so narrow streets have become contested spaces and, at times, dangerous with kids running out to cross the street.
Then there's the obvious question – where's the toilets? There aren't any.
Parents are seen quietly walking with kids down the path towards the shrubbery. The issue of toilets for children and parents got scrambled thanks to the painful consultations and the weird decision-making processes involved with this park.
For all sorts of logical reasons and according to good playground planning practices, this playground should have been constructed on a site much larger than this 0.9-hectare green space squeezed between a suburban street and a pond.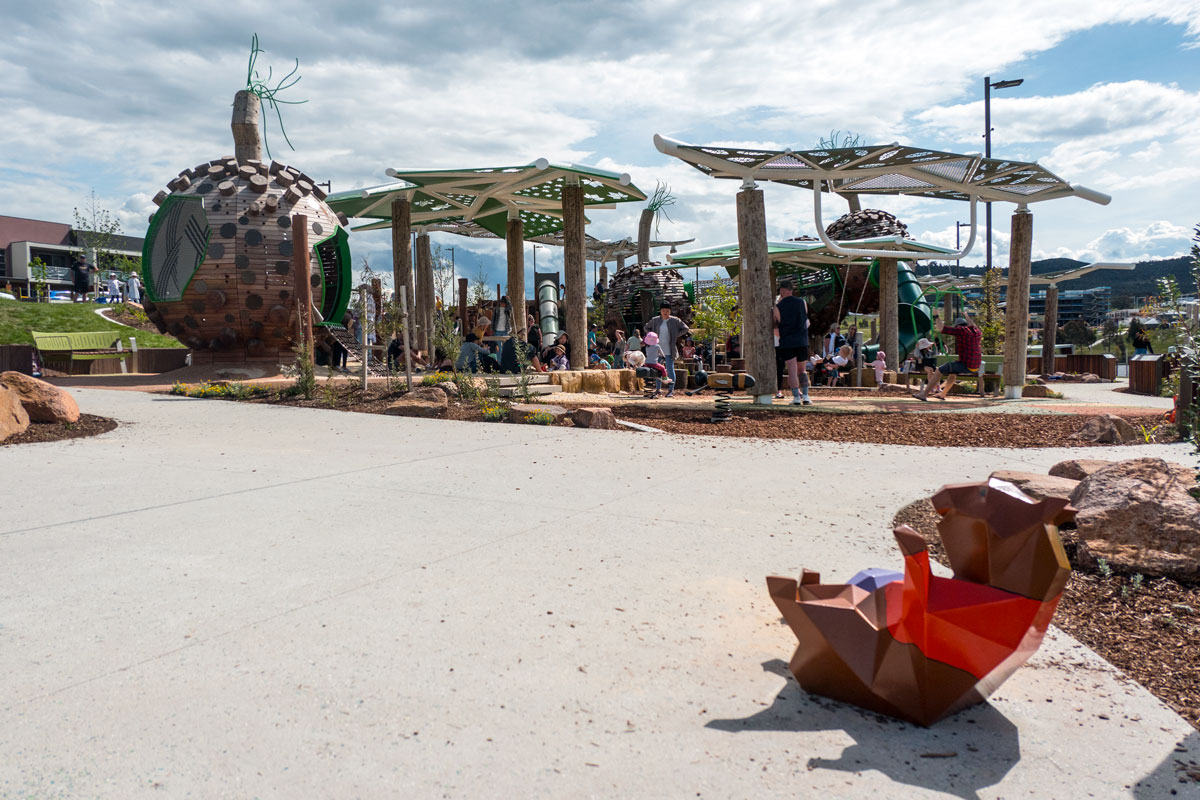 Why this site? That answer would involve the long and tortuous explanation of the opaque workings of the former Land Development Authority and the now Suburban Land Agency. There were other options.
The muddle-headed agency bureaucrats and their on-another-planet politicians had muddied the consultations so much that the nearby residents were forced to object to proposal after proposal that did not make sense. They were doing this while joining with others to advocate for community facilities and better playgrounds in the Molonglo area.
Residents who took up residencies nearby had done their research. The space beside the pond was originally designated as a thin linear green space with trees. Now, thanks to mentally confused politicians, it is a massive playspace that in a sensible world would have been built elsewhere – nearby.
If it was on one of those more suitable larger sites, it would have had toilets and ample car bays. The nearby residents are now dreaming of what used to be quiet weekends.
The planning minister who changed the planning rules for Molonglo was Andrew Barr. According to his professional naivety, developers (not government) are to provide community facilities, shops and parks (with toilets).
As a consequence of this neo-liberal, free-market approach to planning and the nature of his hollowed-out rules, the Molonglo developers were relaxed about selling houses on the promise that community stuff would come sometime in the future – maybe.
On top of that, the present mess being made by the agencies involved in Canberra's urban development, answer to Andrew Barr as Chief Minister and the grand poo-bah of ad hoc planning. This chief minister has continued to repeat the same planning blunders over and over again for more than a decade now – as if the results would one day be any different.
Ruth Park in Coombs is a great playspace. Just that it could have been so much better for everyone if someone intelligent had intervened and had a larger site selected.
Interestingly, someone knew about these muddle-headed politicians and chief bureaucrats, and so a monument to them was positioned in the playspace in the shape of that muddle-headed wombat. People have been left to wonder which grand pooh-bah the sculpture represents.
———-
This article is a version of the piece originally published online with City News
Paul Costigan is a commentator on cultural and urban matters