Announcement: Book – fiction
Mark Henshaw's The Snow Kimono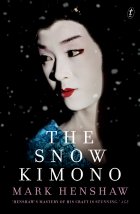 I have noted the very positive reviews of this new novel. Mark Henshaw is a local here in Canberra.
The Guardian has it wrong about his former career. Mark was a curator of prints at the National Gallery of Australia, Canberra. He led a double life for many years as curator and as an author.
The review from the Guardian – click here
A review from The Saturday Paper – click here.
You could order it from Readings in Melbourne – click here
————————————
Paul Costigan, 29 August 2014