Review:
TV on DVD
Inspector Montalbano on DVD – originally aired in 1999 and still being made.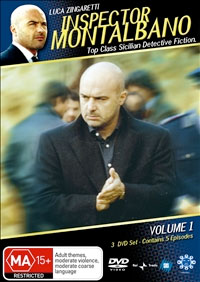 My viewing of the Inspector Montalbano first five programs follows having first enjoyed the wonderful series, The Young Montalbano. The 'Young' series, released last year, was meant to be a prequel to give viewers are look into how their hero ends up on the Sicily coast  as the local chief detective. For me, I saw the prequel before I saw the first of the original programs, which I am doing right now.
I came to the original series with an understanding of all the characters . All the characters continue, although the roles are played by different actors. It works for me. So let me be clear, I am really enjoying sitting back for the hour and 45 minutes for each. Once I have seen them all, I may come back to do a final review.
Inspector Salvo Montalbano enjoys his lifestyle. He does mix his work too much with his private life but enjoys his social occasions with his partner, Livia and others. He enjoys food. Seriously he knows about enjoying food. Usually seafood and pasta. What makes viewers envious is his house, being right on the beach. As a result, we see him often on the balcony with wine or coffee looking out, and on the beach as well as having his morning swim. (The house is available now as a B&B and lots of fans stay there and have breakfast on the balcony while other fans/tourists take photos of the house. It's true!)
Not by any coincidence, I am thinking more now about cooking pasta dishes than I have for a while. And I have thought about why I now live inland when I was born with a view of the south coast of NSW.
This series must have been a huge bonus for Sicily's tourism . I now appreciate so much more of this island and have put it on the list of places to possibly visit. I am not alone in this as there are a couple of travel agents that specialise in the Montalbano tours of Sicily.
I have observed that the streets are always clean. Where is the street litter? There is a complete absence of rubbish. All the building have a decayed look and are mostly white or slightly off white.
The plots are wonderful. Usually two or three stories together. The character development works away slowly All adding up to one hour and 45 minutes of entertainment, armchair tourism, laughs as well as dramas.
This whole series has been a success internationally. But.
A curious thing. The program was released in the UK in early 2012. The English reviewers just did not get it. They made all sorts of comparison to their own Inspector Morse series. Chalk and cheese (sorry, food again). They have been in the middle of the 'Nordic' police dramas and have made comparisons as if all these foreign programs should be comparable. The Killing and The Bridge and others are so different. Pears and apples! (sorry could not help that).
The subtly of the scripts seems to have been completely missed or at least misunderstood. I suspect there maybe some bias coming through with the UK reviewers about these 'Italian' police dramas. I do not think there is an equivalent in the UK so the difference maybe just too much for some UK reviewers. But according to the online chat, the viewers love Montalbano, especially the women.
In short, the Inspector Montalbano programs as available now on DVD, are highly recommended to those who wish to sit back and be entertained. They are great to watch which is always a challenge when you are also reading the sub titles.
Recommended: Rating 9/10
and we will see if this holds up after seeing the other twenty or so programs.