Review: TV program (on DVD)
Grand Designs Australia – season Three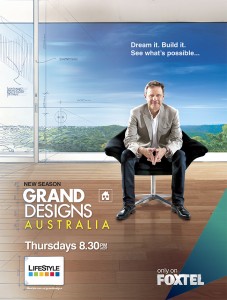 Occasionally it is good to sit back and watch a series of programs about how people are going about building their homes. In this case, the programs are based on the UK long running series, Grand Designs. The commentator, Peter Maddison, is an Australian architect who follows more or less the same lines as the UK presenter, Kevin McCloud.
Series 3 is dated 2012. However, despite its currency, the amount attention paid by architects, builders, the developers and the presenter himself to the need to address climate change adaptation is minimal in most of the case studies.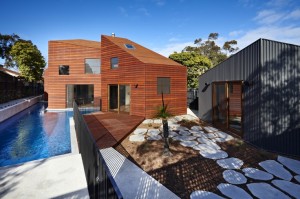 It is a fun series to watch if for nothing else because it causes you to think and to talk about architecture, houses, landscape issues as well as the greater sustainability matters. The other layers of the conversation are those about the people involved and in some cases trying to figure some of the missing information.
Art the times the jargon and spin gets a little carried away. For instance if anyone says that the house fits into the landscape when it simply does not. There is nothing wrong if the building is a contract to its surroundings, but please do not pretend that it somehow blends into its surroundings. Another case is when it is suggested that strikingly different house blends in with its neighbours. The one above was so different to its neighbouring traditional bungalows but still the presenter somehow saw it as blending in. This one also had absolutely no solar, no water saving devises or anything else environmentally friendly. All this overlooked and not mentioned. Architecturally it was a great look and innovative design. But a complete failure environmentally.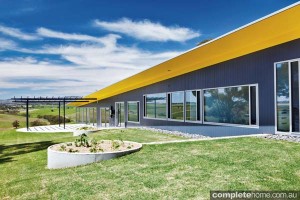 Others were also a marvelous architectural solution. But sometimes the stand out features were about to become a challenge to the lifestyle of the household. This one was 60 metres long. This meant that the trip from the car with the shopping was about 50 plus metres! Surely there was another solution. This house at least had a massive amount of solar on its very long roof as well as water tanks.
Of the eight house, except for two with a token one panel, this was the only serious solar use. Others had none and there was no mention of this. Sometimes one wonders whether or not we are in the 21st century.
Of course, except for one, these houses are usually at the high price end of the market. That's fine except you would hope that with so much money to be invested, that it would be possible for these people to have installed so much more sustainable features.
I suggest that the producers of these programs are part of the business as usual approach that is currently dominating our development, planning and building industries
I would really like to see some leadership here and for the program producers to select a better set of case studies. They should not simply rely on different and eye-catching architectural approaches. They could so easily be encouraging far more serious ways to address our environmental issues through both the design, the building methods and materials and how they make use of their landscapes to enhance the overall green infrastructure.
Rating is dependent on two factors – entertainment value – and – value to providing leadership in design
Recommendations:
Design Leadership: 4/10
Entertainment: 7/10
—————————–
Paul Costigan, 24 May 2014