Review: Book
Flat Earth News, Nick Davies 2009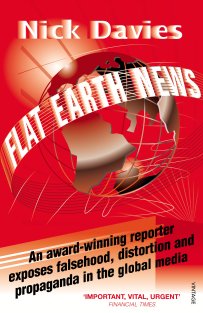 Just when you though the media and news reporting was crap, along comes a book that proves your worst thoughts on current journalism.
Nick Davies went out on limb as he has criticised his own profession. I suspect he did not win too many friends.
He was reporting on the facts based on his own research and experiences from inside the tent on what had happened to contemporary journalism and why we are now subject to so much 'churnalism'.
Here's text straight from the web site:
In Flat Earth News, award-winning journalist Nick Davies takes the lid off newspapers and broadcasters, exposing the mechanics of falsehood, distortion and propaganda; naming names and telling the stories behind stories.
Highly Recommended: 10/10
—————————————-
Paul Costigan