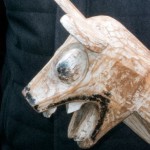 It was indeed a sad story to see serious journalists and scientists trying to debate with the latest of the Australia's right wing nut jobs on TV.
It should be known well by now that there is no use in using the usual polite and logical approaches with such people. It just feeds into their well practised weird ways of arguing or debating.
They have no interest in real logic or common sense – they just wish to tangle up everyone else's lives in their very sad and paranoid worlds.
I remember well one lawyer dealing with one nut job several years ago – one that we classed as a serial and vaxatious litigant. The lawyer provided one logical answer and then the nut job came back with a new set of illogical queries.
The lawyer simply responded by referring to his former email – 'read my words – they mean whet they say'.
And then refused to spend any more time responding to the nut job.
There's this summation of the current political situation – click here.
and there's this piece in Crikey – hope it opens for you – click here.