Visual Arts Review
Chinese Whispers at the Goulburn Regional Art Gallery
till end of January 2015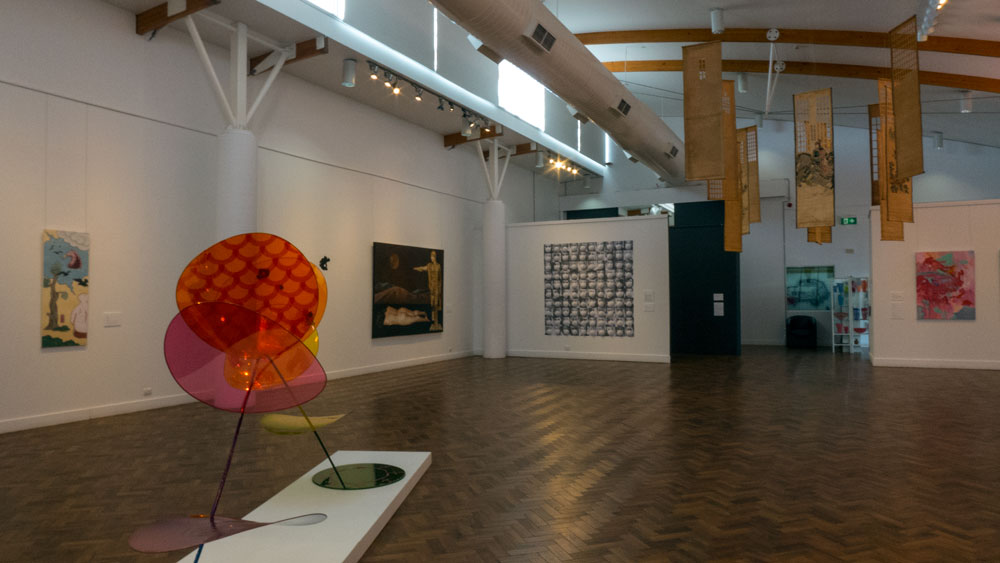 This exhibition is a good one. It is an inspired concept that has led to the engagement of a host of talented visual artists.
Chinese Whispers being when a sentence or two is passed from person to person and inevitably the words change as they are passed along. The end is always a little pleasant surprise.
In this case a 'whisper' was passed by telephone from artist to artist and what they think they heard is what they responded to in their artwork. Each artist's whisper is recorded with the work so you can trace the changes as the whisper travelled.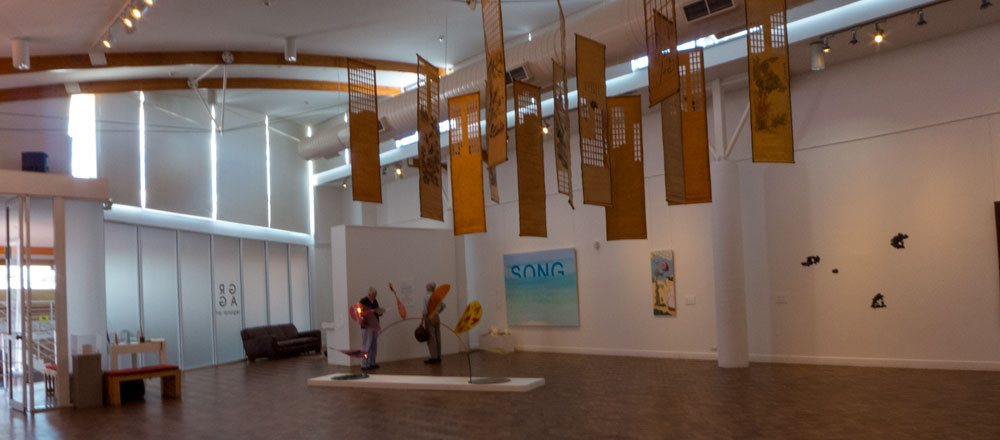 It was a visual pleasure to wander around the gallery taking in each artwork by itself as well as seeing how each linked in with the whispering.
The original whisper read over the phone to the first artist was: Over hills and dales, Through deep darkness and blazing light, Hide incredible creatures, Their patternings delight.
along the way this became: Over the hills, there is sun rising from the deep water, sitting on the balcony, I imagine incredible monsters.
and another: Up on the hill there is a big ocean. Comes out a beautiful sea monster mermaid.
So as you can see, these artists ended up responding to slightly different phrases and images.
Full marks to the curator, Angela D'Elia, for the concept and for engaging so many Chinese artists – including:  Kevin Chin, John Deng, Fan Dangwang, Li Cui, Tracy Luff, Kaye Mahoney, Pamela Mei Leng See, Guan Wei, Jason Wing, Huihai Xie, Louise Zhang, Tianli Zu
From my observations of a few locals in the gallery during our visit, this exhibition has captured the local imagination and therefore is a credit to the gallery for bringing together this original exhibition for local viewing. So for anyone within distance of the gallery – on your bike and get there before the end of January. For those traveling the highway – yes make the stop-over and see this exhibition. It is worth it.
and while you are there, spend $10 on a very nice catalogue.
We have called by the Goulburn Regional Art Gallery several times lately, and have been impressed by many of the exhibitions. This regional gallery is definitely in good hands. I highly recommend that if you are travelling between Sydney and Canberra that you check out the exhibitions online and see what is on and whether they are open. It may be worth your trouble to take a break and turn off into Goulburn and visit this gallery.
Here's a review in the Goulburn press – click here.
Recommended: Rating: 8/10
—————————————
Paul Costigan