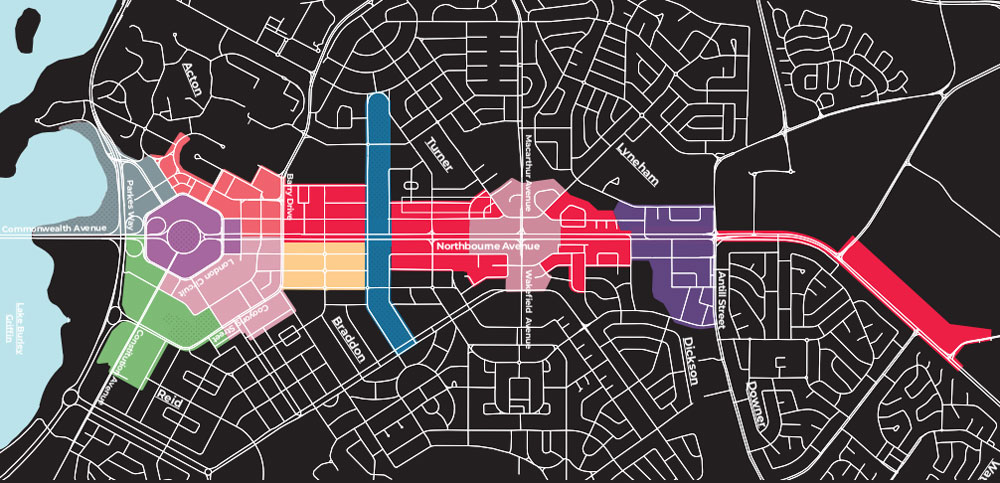 On the same evening, the North Canberra Community Council (NCCC) hosted a presentation by Malcolm Snow, the real CEO of the City Renewal Authority, on the authority's program for urban developments and infrastructure around Civic and north to Dickson.
"Utopia", which aired for about 30 minutes, was amusingly painful given it portrays too accurately how things are done or not done in 21st century government bureaucracies – especially authorities set up for major infrastructure and urban development. The fictional staff spend most of their time dealing with frustrating distractions, political games, marketing spin and bureaucratic self-interest. Not much gets done.
At the NCCC presentation, Malcolm Snow talked for about 50 minutes. For most of the time he talked at the 70 or so people present about the authority's previously circulated plan.
For those who had already read the documents, there was not much new. It was not clear whether this was to be a forum for discussion. It was not. It was mainly an exercise in talking about published information.
Questions were discouraged. People were instructed to keep those till the end. Unfortunately, because the presentation was long, there was little time for questions.
However, a couple of pesky residents mistook the presentation for a democratic forum and insisted on questions when their areas of interest were quickly glossed over.
One was about the future of the Civic pool. Those who use it regularly may have this healthy option removed to be replaced by Andrew Barr's pet infrastructure project (before he departs), being a football stadium. Mr Snow was vague as if someone else was deciding this; not one for his authority. No real answers were offered.
The other was about what is happening to the residential area of Braddon, north of Haig Park. This is often overlooked in favour of comments about Braddon's commercial precincts. Mr Snow seemed confused and said that the area mentioned was not within the authority's planning precinct. It is.
The other gem was about West Basin proposals. The current "Utopian" spin has not changed despite all ecological, heritage and sensible reasons why it should not happen. As for the numerous groups and the hundreds of people who go to meetings to voice opposition to the West Basin new suburb development – what are they talking about? According to Mr Snow, since 2002 there has been extensive consultations and support for residential developments on this lakeside site.
Those who have lived in Canberra through those times and were part of those debates, know that the NCA's development blueprint, the "Griffin Legacy", was always a tool to overdevelop and do away with some of the attractive elements of this city. It seems that Mr Snow's authority has adopted these alternative facts as their gospel to be delivered whether residents like it or not.
I have attended many forums and conferences where chief bureaucrats talk at those attending while limiting opportunities for useful debates. There are many authorities established by governments elsewhere that seem to have the function of going through the motions of doing stuff and launching plans while barbaric developments happen unchecked. Utopia is based on what we see happening – distraction, spin and loads of urban speak while the developers have fun.
Will this City Authority deliver for residents? The jury remains out because after two years we have seen few measurable long-term outcomes.
Residents have a high level of personal interest in the infrastructure and urban developments in Canberra's inner north and are desperate for good urban design and architecture that is respectful of our neighbourhoods and the city's heritage. We do not need any more distractions such as pop-up experiments.
As they left, I suspect the bureaucrats said to themselves: "That went well, tick the box on another consultation."
—————-
This piece was originally published in City News
Paul Costigan is an independent commentator and consultant on the visual arts, photography, urban design, environmental issues and everyday matters.