Commentary: Australian Gardens, Botanic Garden visit
Pondering a visit to the Melbourne Botanic Gardens at Cranbourne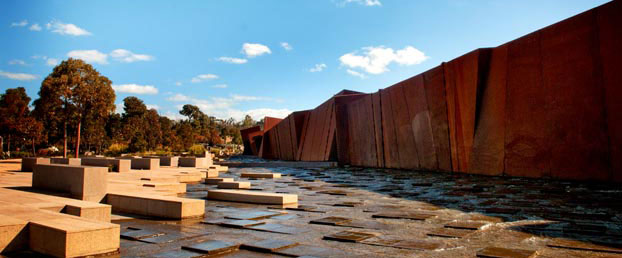 It was a cool and overcast Sunday in Melbourne. I had planned to drive out from St Kilda to the much-lauded Australian Gardens at the Melbourne Botanic Gardens at Cranbourne.
However something was holding me back. I had doubts about whether the effort would be worth it. This despite that I had seen most of the marketing around the work on this site dating back to around 2006.
In fact I suggest that there is too much marketing. So much so that one gets suspicious of the perceptions being promulgated. I am very wary of such project porn.
With this project, I had become concerned that there had been no real critical analysis of this work. It seems that the whole thing and everything to do with it had become a bit of a sacred site and it was not to be examined and assessed.
(The image below is by John Gollings)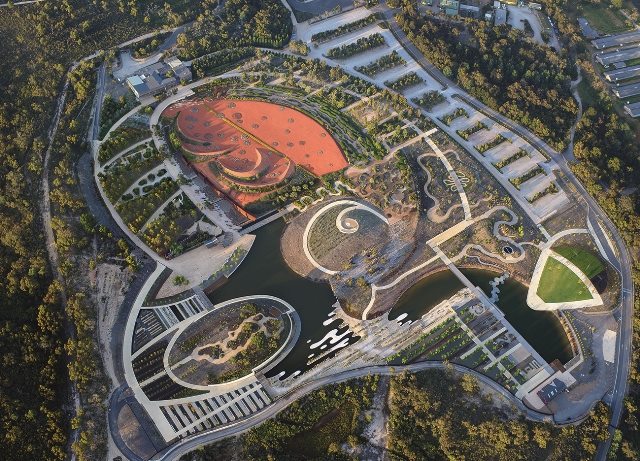 There are two significant stages spoken about.  Stage One won many awards and had much coverage in the trade/professional magazines as well as many carefully placed puff pieces in all forms of media. There was far too much project porn writing.
For anyone interested in garden design and botanic gardens and landscape design, it was hard not to miss that it was out there to be seen and visited. It was listed as if the world had changed due to the impact this project was having on our environment and our perceptions of botanic gardens. I happen to like wandering in botanic gardens.
Unfortunately for visitors to Melbourne there are so many really interesting things to do in and around the centre of Melbourne. The Cranbourne site is not that easy to get to without a car. And even then, it is about an hour's drive from the Melbourne, depending on where you start of course. If you have to drive through Melbourne, than you can add any time at all, as traffic can be congested.
The Stage Two completion received another burst of media releases and the associated awards. Again our world would never be the same. Apparently!
However I did note that one or two reviewers started to express some doubts about whether the design elements actually worked. For instance – click here
I happen to know that the main design firm involved is very good at their marketing and can spin out a tale of how wonderful things are. I am also aware that in such cases that once things get a certain level of momentum, that all manner of accolades flow easy from all quarters. I have noted that another architect author has aptly described this sort of in-house award process as the professions 'pissing in their own pockets'. (I will come back to his comments in another posting later).
The doubts were there on that cool Sunday morning! Would this site really be worth the effort to drive there and back? As I remained so undecided, I dedicated a little more time to going through the online information to see if something there that would convince me.
In the end I decided – nope!  I would not do it. I became convinced that there was something far better to do with my time on this quiet Sunday!
The little thing that turned me away was in fact some marketing spin from the designers' own web site where they had described the work with all the usual spin: I quote:
This garden builds on established design principles, construction practices, and community recreation patterns, while addressing contemporary environmental and cultural issues to bring a new type of garden experience to visitors. The garden seeks to create an environment in which specific qualities of flora are highlighted in a manner that will inspire visitors to further explore Australian plants. A common theme through the garden design is the exploration and expression of the evolving relationship between the Australian people and our landscape and flora.
Water is the mediating element between these natural and human derived gardens. The garden highlights the tension between the natural landscape and our human impulse to steadily change it. This tension is not eliminated; rather it is the driving creative impulse for exploration, expression and interpretation of the landscape and its flora.
By the time I finished reading that goobly-gook, I started to think that last bit was someone describing their sexual experiences! The poor thing!
Such marketing spin is so off-putting! Especially on a Sunday morning.
It actually says nothing much at all. Remembering that the main Melbourne Botanic Gardens has become water efficient, that people are inspired to see wonderful and beautiful plants and they are encouraged to wander and relax and enjoy themselves, that there is an abundance of landscape designed areas and flora – and there are a loads of birds as well.
So on this occasion there was to be no driving all the way down to Cranbourne and back. The decision was made to wander and enjoy myself in the Melbourne Botanic Gardens just a few kilometres away – and why wouldn't you?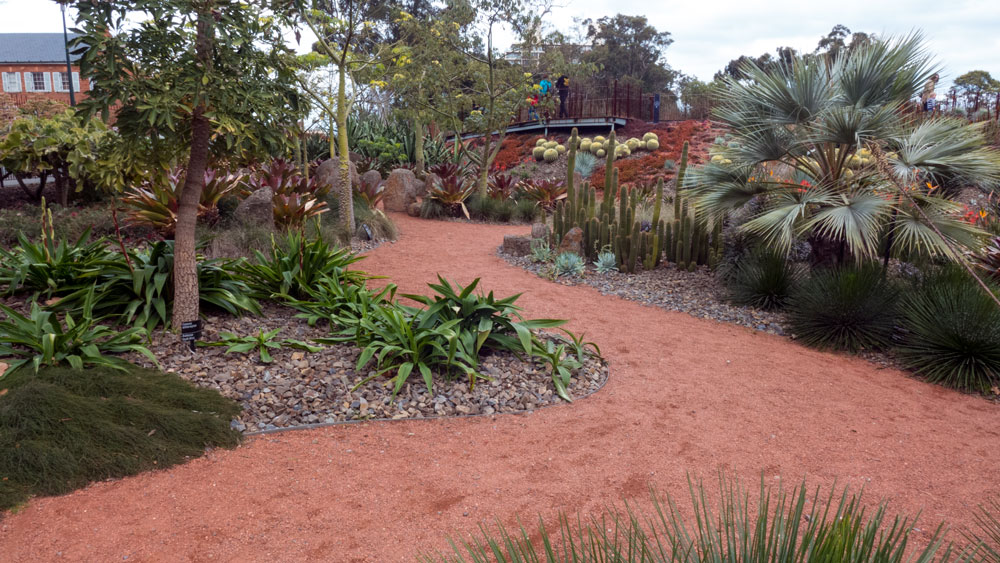 The bonus was that a year to two ago another designer, Andree Laidlaw, had completed some landscape design work on a historic corner of the gardens called, Guilfoyle's Volcano. And looking at the images and the text explaining this, it looked far more interesting that the Australian Gardens at the Royal Botanic Gardens at Cranbourne.
In fact all the associated information about the Australian Gardens at the Royal Botanic Gardens at Cranbourne has convinced me that it could be yet another over-designed elaborate theme-park folly.
Why drive all that way to see some architectural mish-mash of design ideas instead of some real heritage gardens that are absolute gems. Why not just wander around a large open parkland and allow the mind to rest and to enjoy the beauty of shrubs, trees, waterways and open spaces – and birds.
It all sounded good to me, so off we went to find Guilfoyle's Volcano, to see what the Botanic Gardens staff and the designer Andrew Laidlaw had achieved and then to meander about for an hour or so through the fabulous Melbourne Botanic Gardens.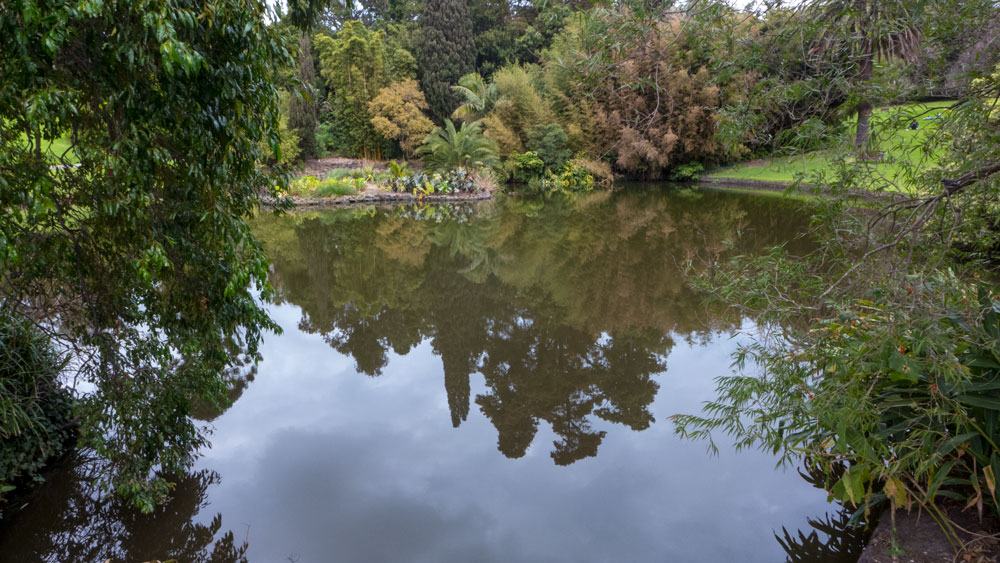 It was a day when over-designed gimmicky lost out to real gardens and open spaces, waterways and a peaceful walk – and don't forget the birds.
And yes, I will get back to the issues raised by that architect that some professions simply piss in each others' pockets when it comes to awarding each other such honours. And I wonder how much his quote about pissing in each other's pockets applies to the host of awards for the Australian Gardens at the Royal Botanic Gardens at Cranbourne.
There is a review of Guilfoyle's Volcano to follow – plus a photo-essay on my walk through the gardens (the real one that is). And – I will talk more soon about that architect who raised the issue of awards and pissing in those pockets.
————————————————
Paul Costigan, 27 August 2014.