Big Coal: It's time to celebrate (or not) Australia Day
meanwhile people in North West NSW, continue to battle Big Coal.
From the Guardian (Friday 24 January): ; an article by Phil Laird.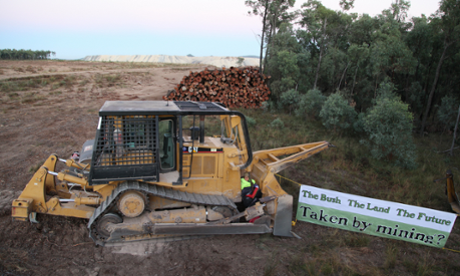 Protest at Maules Creek. Photograph: Kate Ausburn
This Australia day, us underdogs will fight Big Coal to save Maules Creek. In the battle that is gripping my community, my fifth generation farming family and I are siding with traditional owners and environmentalists against miners to save the land we love.
This Australia Day, many of us will gather to reflect on and celebrate what's great about our democracy. It's our good fortune as a nation to be blessed with abundant natural resources that are our common wealth. Our fertile land, clean air and water underpin our country's agricultural heritage, which has fed and clothed us.
Australia's native wildlife is unique, and the bush where Australians walk, fish, hunt and camp is habitat for the animals that are emblems of the country itself. Traditional owners of the country have the longest continuing culture in the world, and a connection to the bush that goes back tens of thousands of years.
click here for the Guardian Article by Phil Laird