Exhibition Review:  Home, 2 June – 20 June 2016
2016 Auckland festival of photography
The 2016 Auckland festival of photography was launched at an exhibition in the middle of a partly completed harbourside development about 30 minutes walk from the main part of the city. For the first time, an international curator was curating this annual exhibition.
The venue, Silo 6,  was not the usual white box arts space. Instead it was a disused silo that had previously stored the concrete bound for many of the city's buildings.
So what were our expectations?
We were expecting a specially curated exhibition, in a site on the edge of the city by the harbour and within a very unusual space. And yes, it was to be a photography exhibition.
We did not make it to the opening; instead as the next day was full of appointments, we dashed into a taxi and flew across town to make the exhibition before it closed for the day.
On that cold early winter evening we were greeted in the first chamber by a young volunteer who had wrapped herself completely around the lone heater. She did not look as though she was having much fun – even though she did her best to welcome us.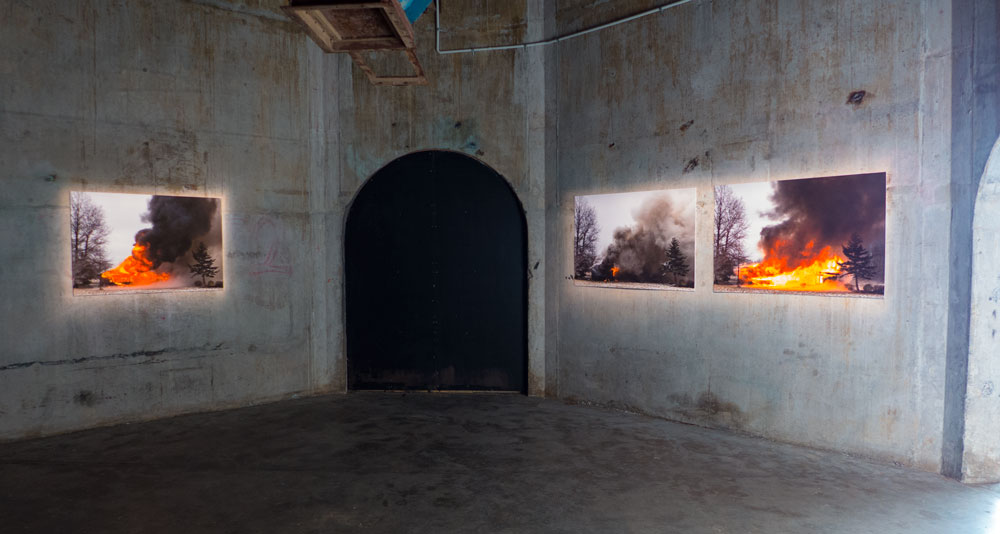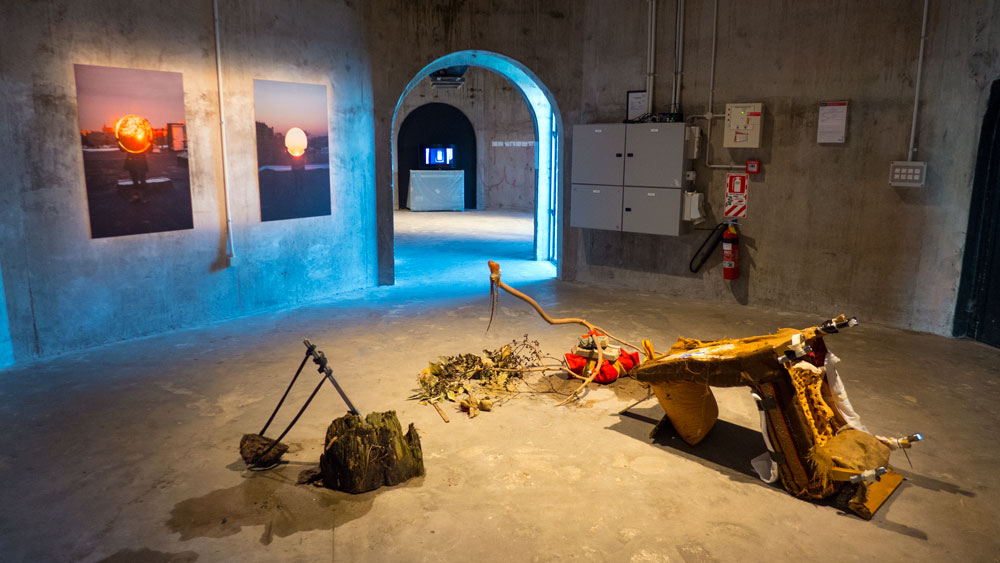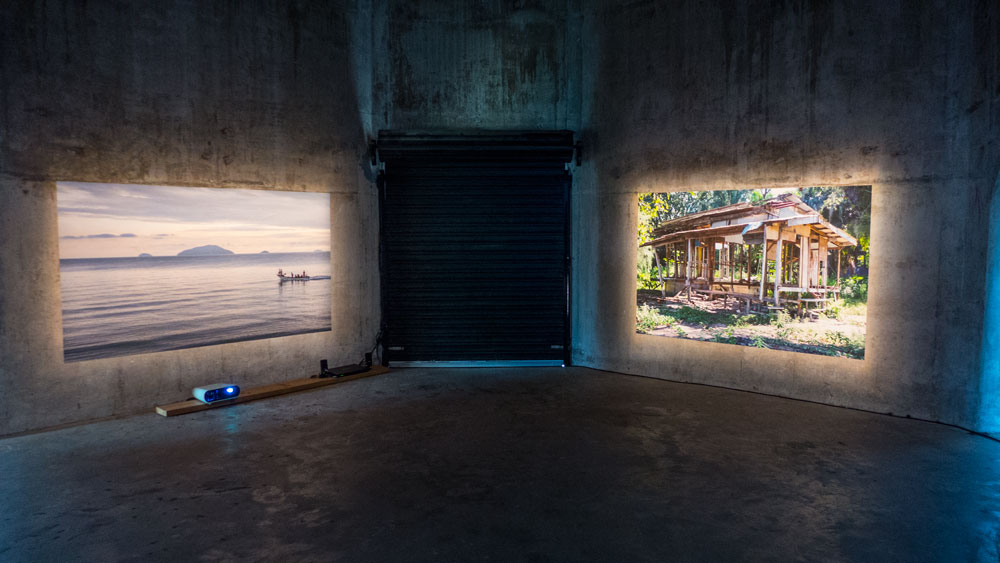 An initial stroll through all the spaces revealed a mix of work. I would class maybe two as being photography, with the remainder being photographic documentation of performances or being photographic evidence of various conceptual issues being pursued.
The first impression was that the photography was not well produced – they were dull. This especially applied to the large photographs by Anne Carey. I have one of these on my walls at home, so I know how wonderful they look when printed with care. The ones here were not.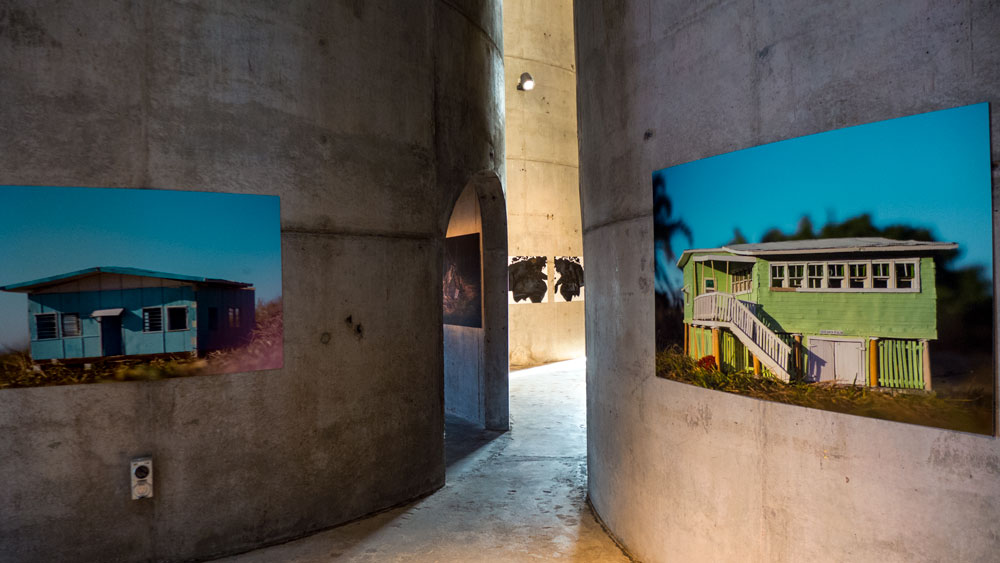 This is the compromise that such festivals make to get the work to the exhibition easily and at low costs. The artists agree to send the digital files and the festival gets them printed. In this case the photos were printed onto material that were then attached to the concrete walls by peeling off the back layer to reveal an adhesive. The quality would be fine for advertising posters, but it did not do justice to these successful photographs.
One artist, Russ Flatt, a local, had won a commission to produce a special series for this exhibition. He had wisely used well-lit framed boxes that worked well. His tableaux series, while in a style now well used by photographers elsewhere, was one of the more successful in the exhibition.
The work represented a series of works in which Russ Flatt has explored social, personal, racial, and gender issues based on his own life experiences and the people around him.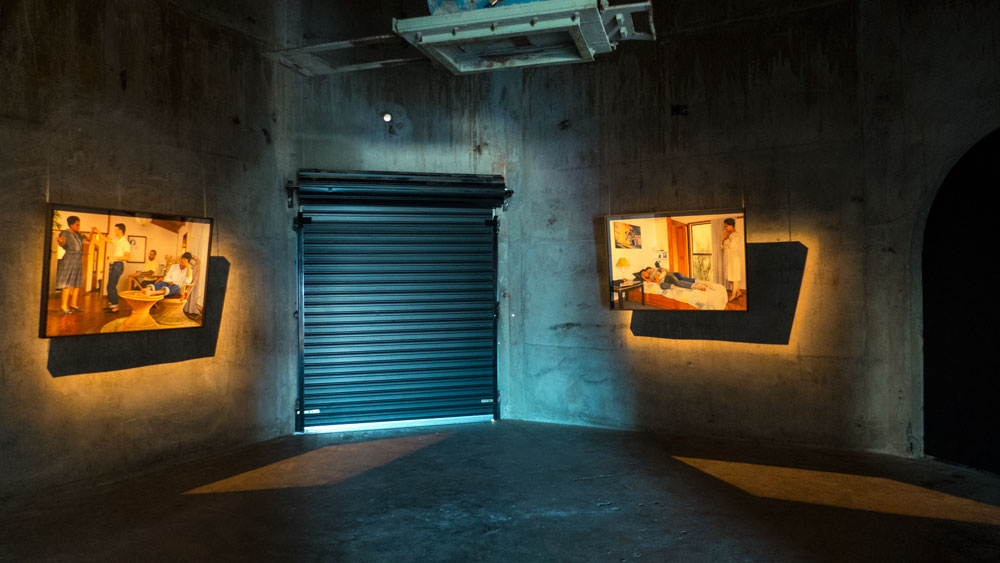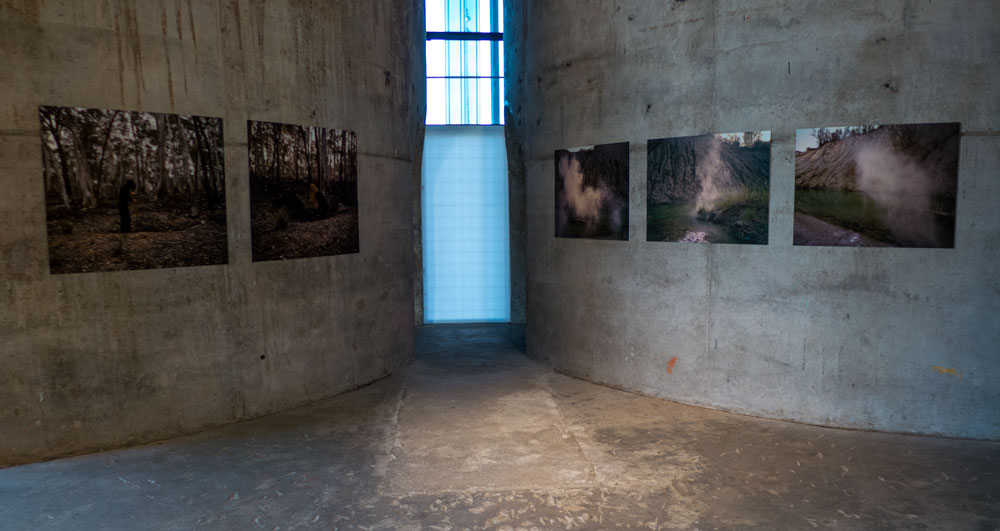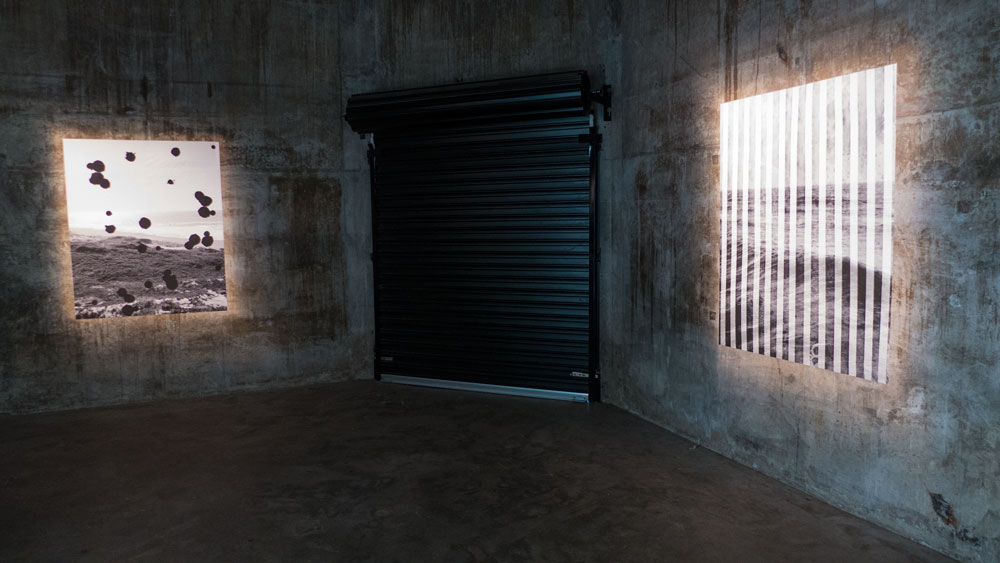 Included in the exhibition were works by Arthur Ou (USA), Shan Turner-Carroll (NSW), Ian Strange (USA), Lin and Lam (USA), Shoufay Derz, (Aus), Eva Morsey-Weide (Aus) and Sean Lowry, (Aus).
The venue was not a friendly one, it was cold and when it rains, water comes in under the roller-doors. It is a remarkable place that would suit a site-specific artwork. But this was a photography exhibition. A venue for photography should encourage people to enjoy photography. This venue, while novel, actually worked against the viewing of the artworks.
Whenever I come across an artwork that intrigues and provides enjoyment, I usually like to sit and ponder the work. Within the silo exhibition spaces, there were no places to sit and you had to keep moving to stay warm.
The major issue that this exhibition highlighted was the uneasy relationship between the contemporary photo-media arts and the world of contemporary photography. For several decades photo-media arts have occupied a place within contemporary visual arts practice as well as crossing over into mainstream contemporary photography.
For instance it is often the case within academia for the photography departments to be dominated by staff members that work to being accepted in the contemporary visual arts. They encourage their students to follow their lead and to work more in photo-media, undertake conceptual work and explore a mixed media practice rather than encouraging their students to develop a passion for the medium of photography.
Given that the curator and the exhibitors for this exhibition are associated with such academic programs, it is no surprise that most of the exhibition was of a conceptual the photo-media style. This was reinforced through a presentation a couple of days later whereby the artists were presented to a forum and their conceptual photo-media approaches were explained and promoted.
This was an interesting and at times intriguing exhibition. Despite my criticisms, I welcomed the opportunity to take in the artworks and to experience the venue. How it all fits within the framework of a festival that is about photography is where there are some tensions.
Unfortunately I doubt that this exhibition will visited by many as the emphasis in the promotions was about a conceptual reading of the theme 'Home' – not about the medium of photography. On top of that, the venue is not a user friendly one for the general public; it is located away from the city in a part industrial – part new development area, and anyone with an interest in photography would probably instead seek out the many other photography exhibitions that were part of the photography festival.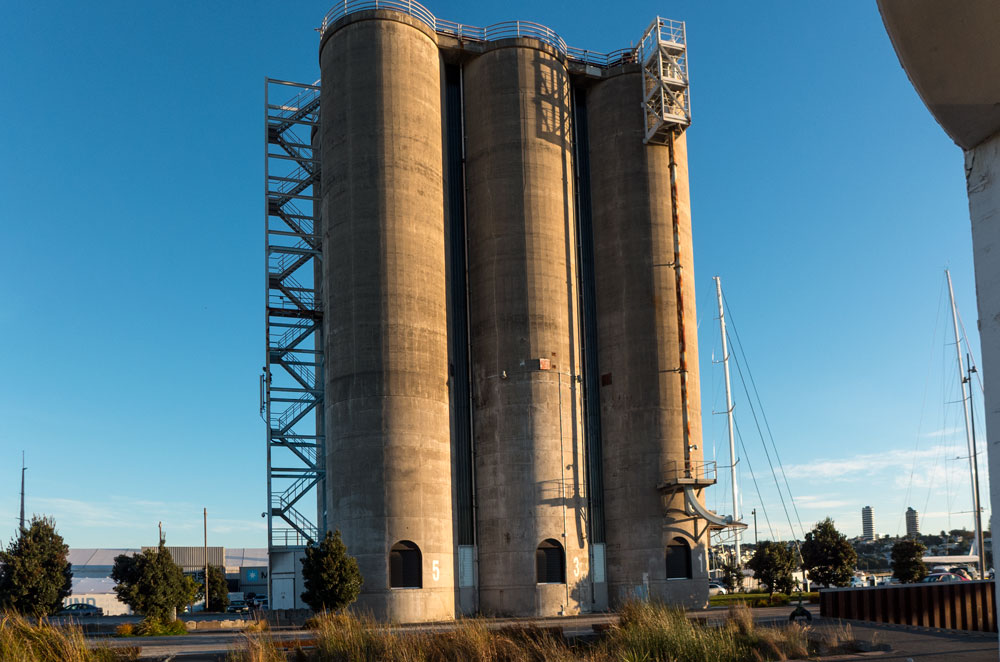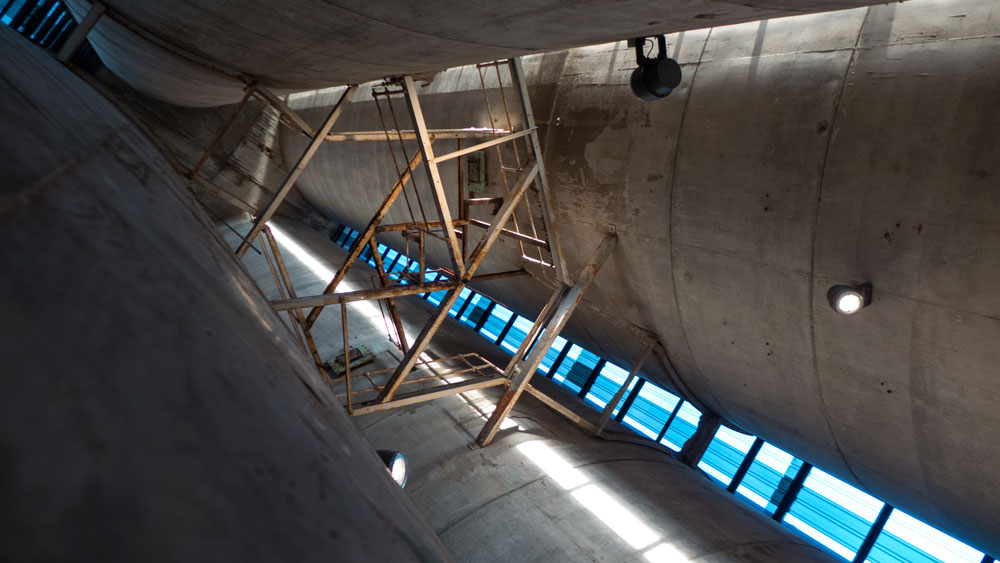 —————————————————–
FYI – here's the curator's statement:
"What is home? comes to us in a slow burn of revelation in the hands of the artists in this exhibition. The artists, each connected to the Australasia Pacific Region look at assumptions of home as a given. Questions of where we come from? and, how long have we been here? so pertinent to our region, are palpably raised in the artists' photographic works.
For some of the artists, they never came from – they were always here. Home as spirit. Home as land. For others their family was forced away from ancestral homelands and set adrift, hoping to find refuge and acceptance in lands new to them. Home as hope. Photographs of home past carried forward into new homes, reveal photography's paradoxical relationship with time. Home as return. Many of us within our region draw from multiple bloodlines. Home as heritage.
In other artists work, the disquiet of the suburban home where 'all is well' slowly dissipates into states of angst, into the DNA of our suburban dream. Houses lit up like cruise ships, houses constructed from memory. Doorsteps from which every one has departed, doorsteps at which no one can arrive.
It is a significant human experience to know home, and these artists powerfully suggest that home is not a fixed experience. Rather home is a shape shifter revealed through time, culture, and politics."
Simone Douglas, Associate Professor, Director MFA program, Parsons Fine Arts
---
Some final contextual comments:
The 2016 Auckland festival of photography was a wonderful event to have attended – I have said more about the festival previously – click here.