Comment: Apple Watch
Do we really need this?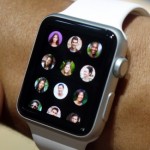 The other day Sydney Airport was evacuated because someone had been busy reading his iPad and had accidentally walked through the exit door and thus set off all forms of alarms. As I drive around town I notice that cars are often either slow to take off from traffic lights or at times commence wavering all over the place as the driver is trying to manage their iPhone at the same time.
I am also amazed just how many people cannot just go for a walk without having to check their phones for texts or messages. In recent years I used to attend meetings and had people sitting at the table who would be easily distracted from the business at hand because they needed to check and send messages and often do their twitter thing. Some of these people were just idiots but so many other people seem to have fallen under the spell of technology.
We have lost the art of being disconnected. Or in other cases of being able to concentrate on those things that are important – such a driving a car and not killing someone else.
And to the mix we now add the possibility of an Apple Watch. I can just fear that too many people will now be so easily distracted while driving as their watch is demanding their attention. I wonder how many conversations will never be completed because the other person's watch becomes more important than the other person in the conversation?
There's an article on this – click here.
——————————————————
Paul Costigan, 16 September 2014