Review: Book
Adelaide, Kerryn Goldsworthy, 2011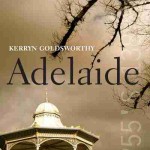 This is another of those smallish book  published about Australia's capital cities. I have already reviewed Hobart, by Peter Timms.
I have to confess that I did not take to the book on Adelaide and at times seriously considered giving up. In the end I had a move quickly through whole sections in order to see where the author was going.
The publishers blurb: A painting, a frog cake, a landmark, a statue, a haunting newspaper photograph, a bucket of peaches, pink shorts in parliament, concert tickets, tourist maps … Kerryn Goldsworthy's Adelaide is a museum of sorts, a personal guide to the city through a collection of iconic objects. Adelaide navigates her southern home, discovering its identifying curios and passing them to the reader to touch, inspect and marvel at. These objects explore the beautiful, commonplace, dark and contradictory history of Adelaide: the heat, the wine, the weirdness, the progressive politics and the rigid colonial formality, the sinister horrors and the homey friendliness. They all paint a lively portrait of her home city – as remembered, lived in, thought about, missed, loved, hated, laughed at, travelled to and from, seen from afar and close up by assorted writers, citizens and visitors – but mainly as it exists in her memory and imagination.
I was puzzled to see what sort of reviews the book may have received but struggled to find any real debate. There was one enthusiastic review that made me wonder that maybe I had got it that wrong. But then I noted that the reviewer was also from Adelaide and would have probably written a similar book.
This book was written from within Adelaide and its market has very much stayed within the Adelaide comfort zone –  being mainly for those from or attached to Adelaide. The tone seems to be a self assurance about how Adelaide people feel about themselves.
Before I say too much, I need to clarify that this book is about a certain section of Adelaide. It is not about the lives and stories of Adelaide outside the old Adelaide inner circle of a couple of miles. It is very much from one person's experience and interest. Her use of selecting objects as her starting point has been a strength and provides a useful and at times entertaining framework.
But it also became a limiting weakness. This is not a story of Adelaide told through a variety of voices or perspectives. So much more could have been mentioned to provide more insights into the complexity of this city of over one million people.
I have been to Adelaide for all sorts of work and cultural reasons many times in the last thirty years. I enjoy Adelaide and have come to appreciate many aspects of the city that are not even touched on in this book. One of them is not sport; I have absolutely no interest in sport; so no regrets that the author did not mention this.
But there are so many other cultural interests, many more stories from outer areas, and even many stories to do with development and in some cases the lack of development when the state went broke a couple of decades ago.
As I said earlier, I struggled with this book. I was looking to be taken into new places and to have some new insights. This just did not happen beyond some small revelations. I was not looking for the big stories and understand that any city requires time to get to know and to appreciate just how things happen. I have walked around the inner parts of this city many times. I have been to many of the other areas, up in the hills, over to the Port, to Glenelg, and many other areas. There is a lot to take in, interesting second-hand shops and markets, a variety of architecture, old and new and a certain buzz around particular spots. I do not find the Adelaide central markets all that special. North Terrace is over-designed; and as one local complains, there has been so much money spent on North Terrace over the decades, when so many other places are overdue for attention.
So Adelaide remains  a city of interest, but this book did nothing to enliven future visits.
About the Author – click here
Recommended: Rating 6/10
Reviews of this series: Canberra / Hobart / Adelaide
——————————————–