Review

: TV on DVD

The Young Montalbano – based on the short stories by Andrea Camilleri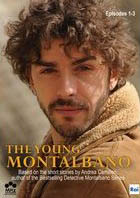 I have a couple of the original TV series Inspector Montalbano. Therefore I cannot comment much on the direct links to the later series from this prequel series. But I do remember seeing the seaside resident. One features. Lucky him.
This is a fun series. Each being two hours long. You just sit back as an armchair traveler and enjoy the scenery, the food and the atmosphere of Sicily. Oh and yes there are crimes to be solved.
There are six in the series. He likes his food and dining and cooking. Not good at house-keeping. And stumbles on a property to die for (maybe I should not use that term for a crime series).
This is not your fast paced action USA style crime series. This is paced differently. You have time to watch the eating, to take in the scenery and to enjoy the character and relationship developments. There are serious crimes, in fact one or two in each episode. There is a lot of dialogue. Therefore for those of us who are English reading and speaking, there is a lot of reading as you follow the sub-titles.
It is worth it. In fact the crimes are more the framework for the stories about the characters. In many series I get bored as they try to expand the characters and introduce us to their lives. In this series, this is what it is about. In this series the characters and their relationships all work. And did I mention the food and scenery.
I am now looking forward to exploring the original Inspector Montalbano. Just need to buy them one day soon. Well done Andrea Camilleri.
This is a very entertaining and relaxed and  – again – it is fun to watch.
Recommended: Rating 8/10
another review or two:
If you wish to be a real traveler: check this out.
Music?
or
———————————-
Paul Costigan