Review: Music
Willie Nelson
and

Wynton Marsalis

Two Men With The Blues (Live) 2008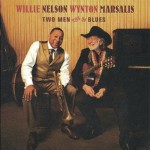 Take two musicians with different musical styles. One a jazz trumpeter and his band.
Then add an individually styled country singer, who has stayed outside the mainstream country music, and has produced a huge number of records often with different approaches and different bands.
But they do have a common ground around some jazz and blues numbers. In 2007 for two night both Willie Nelson and Wynton Marsalis appeared together on stage. The resultant CD is a truly fun piece of music. They make their way through some standards and put their stamp on them as if they owned them.
Want a fun piece of music to liven up your day – then this could be that record.
Here's the opening number – Georgia On My Mind
Hit The Road Jack with Norah Jones
here's the full concert
—————————————
Recommended: Rating 8/10
—————————————
Paul Costigan, 12 March 2014