Review: TV program
Utopia, eight part series on ABC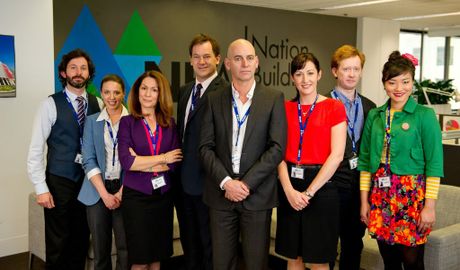 This series was much-anticipated given the success the same writing team had with their earlier TV series, such as The Hollowmen. After watching four of the eight, I am happy to report that the program started well and then, it simply got better, and then it continued to get even better! I am very much looking forward to the next for of the series.
For those who have not seen it yet – here's the simplest description. Utopia is an eight-part series set in the public sector offices of the government's Nation Building Authority (NBA), who oversee major infrastructure projects – that is nation building projects (to use the words of government). It portrays the reality of the working life of such people. It is a satire of what is happening in such places today and achieves this by portraying real situations.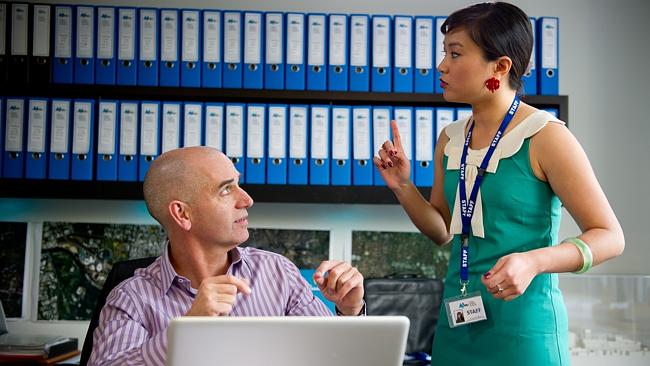 The hard part is that you do not know whether to laugh, because this is the reality of what is happening in our government departments and authorities; or to cry, because this is the reality of what is happening in our government departments and authorities.
Because of the political nature of decisions, the NBA staff deal with nation building projects that are typical of what happens today – the schemes are mostly grand, uncosted, inadequately planned, and fundamentally flawed.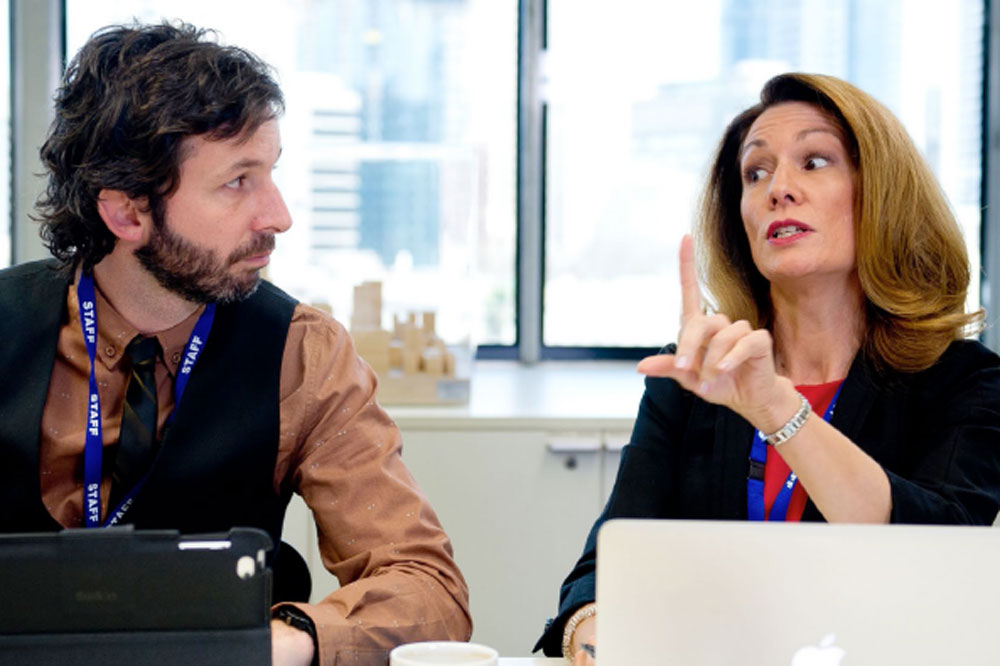 Last Wednesday we saw the ever-present property developer apply influence through the government man to get endorsement for his latest building monstrosity in Brisbane .  The reality is that given all the other monstrosities in Brisbane, this one would have not even be noticed. See my comments on architecture in Brisbane – click here. The reality is that many attached to government will give in to dodgy property developers in order to keep them happy and allow them to make huge profits, and then move on to the next one.
The program offered the reality of many urban projects. These are the projects that are marketed as being absolutely wonderful and that ever town should have one! The writing on these projects is usually done by writers who deliver project porn through magazines and media releases. The cast visited such sites and tried to match the reality to the words used to describe them by the designers/architects/developers. It was cringe making given that I have unfortunately had to read such project porn articles that all portray spin rather than the reality.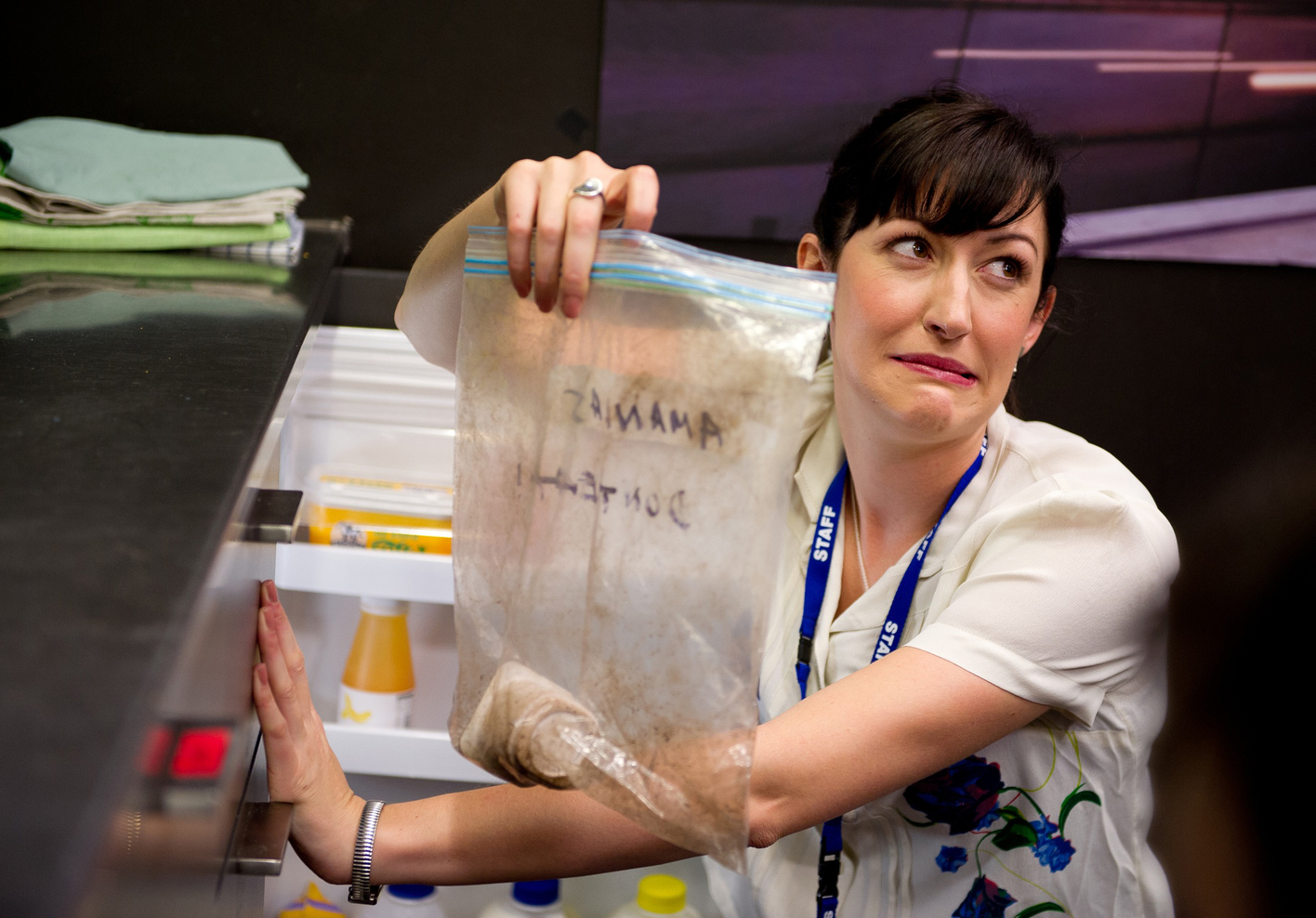 As the series has progressed all the characters have been allowed to develop wonderful portraits of people who work in and around these bureaucracies. I have met all of them in any number of government departments and consultant firms I have had to deal with in the last decade or two.
The marketing person, Rhonda (Kitty Flanagan) is a real worry. She knows the language of all those communications and marketing trained people who now pop up producing strategies and communications strategies for all the gullible executives out there. And there are plenty of gullible consultants and executives who accept such marketing spin and then adopt the words into their own reports and press releases.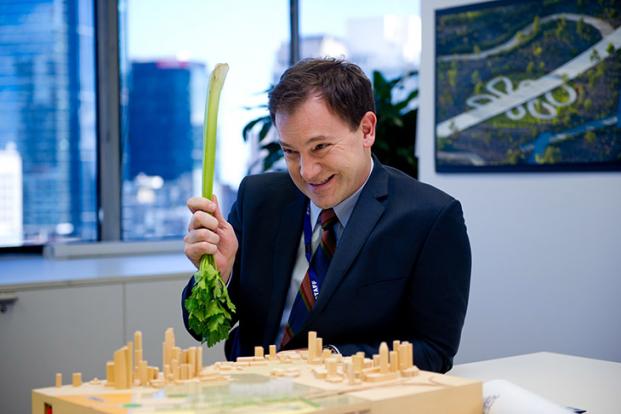 I think this show is just far too real. I was altered to a designer consultant bureaucrat type who could fit into this set. He is a bureaucratic designer consultant who always uses the language of this cast and to make matters worse, he proudly writes loads of project porn along the lines used to describe the projects in the series. To my amazement, he is on his twitter account telling everyone about how funny this program is. He has not seen that the series is about people like him. I don't think the series is too subtle for him, it is just that he is that dumb and entrenched in the marketing and spin world of such designer consultants and bureaucrats!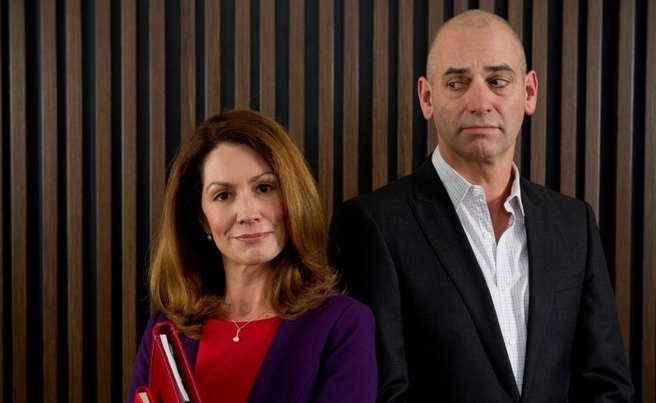 This show is just too subtle to be real!
Each episode is half an hour-long. I have to say that half hour flies past and seems far too short. Utopia is a winner.
—————————————-
the cast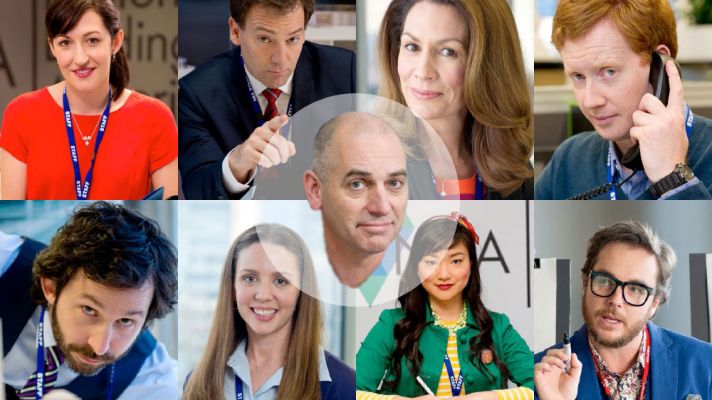 in the middle – Rob Stitch is Tony, the boss.
Top left to right
1. Celia Pacquola as Nat. She actually tries to be a sensible and down to earth office manager amongst all the comings and goings.  2. Anthony 'Lehmo' Lehmann  as  Jim the government man — with a picture of a project behind him that I know has been the subject of far too much project porn writing in far too many magazines and other media. 3. Kitty Flanagan as Rhonda, the devastatingly too true marketing and communications person. I have met this person in several jobs and the portrayal here is just too unsettling!  4. Luke McGregor as Hugh, worker usually next to Nat

Lower left to right
1. Dave Lawson  as  Scott, sidekick to Tony on many things. 2. Emma-Louise Wilson as Kati, Tony's assistant; 3. Michelle Lim Davidson as Amy, front desk. 4. Toby Truslove  as Karsten who gets a trendy designer beard later in the series. Otherwise his character is spot on for those designers who can design you anything and of course their concept must be accepted.
————————————
Here's a review from The Conversation – click here
————————————-
Recommended: Rating 9/10 (considering 10/10)
————————————-
Paul Costigan, 4 September 2014