Report: The Built Environment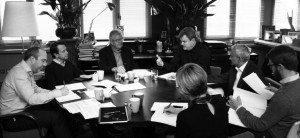 In January 2013 Ed Vaizey, the UK Minister for Culture, Communications and the Creative Industries, commissioned Sir Terry Farrell to undertake a national review of architecture and the built environment. The report is now available online.
Terry Farrell undertook this Review independently with his team at Farrells and advised by a panel of 11 industry leaders with a breadth of experience that covers education, outreach, urbanism, architecture, property and philosophy.
The recommendations covered: Education, Outreach and Skills; Design Quality; Cultural Heritage; Economic Benefits; and Built Environment Policy.
The report calls for a new understanding of PLACE; the following is from the report:
———————–
The built environment sector has come to acknowledge and champion the importance of "place" as a holistic way of viewing the built environment and the people who use it. However, this concept is not one that the wider public are readily familiar with and the cross-disciplinary approach that is implied by the idea of "place" has been taken up to very different extents by educationalists, professionals and government, perhaps because it is an abstract concept.
The concept of "place" should be driven by its real meaning and could also act to structure a methodological basis. As a methodology and to help align the institutions and reinvent the current system of Design Review, we suggest that the acronym PLACE should be used, based on the core skill sets of Planning, Landscape, Architecture, Conservation and Engineering.
Throughout the Review, we refer to the PLACE institutions (Royal Town Planning Institute, Landscape Institute, Royal Institute of British Architects and Institute of Civil Engineers) and to PLACE Reviews with all these professions represented to reinforce the multidisciplinary approach that is required to create the best outcomes.
We refer to national and local government and built environment agencies which includes English Heritage, Cabe at the Design Council, architecture and built environment centres, Civic Voice, the Campaign for Protection of Rural England, the Design Network, Building Research Establishment, the Academy of Urbanism and the Urban Design Group. 
Built environment professionals include surveyors, project managers, community engagement professionals and artists, as well as planners, landscape architects, architects, conservationists and engineers.
A wider concept of "place" could also be described as the key public activities of Politics, Life, Advocacy, Community and the Environment.
———————-
There's no doubt this could be a big step in the right direction for the UK in getting Design and Place recognised as fundamental to the built environment. Sad to see that despite the emphasis in words on PLACE, that the architects still managed to get key recommendations to be focused on their profession. They are not exactly known for their willingness to treat other professions with equity.
There are five cross-cutting themes which run throughout the Review:
A new understanding of place-based planning and design
A new level of connectedness between government departments, institutions, agencies, professions and the public
A new level of public engagement through education and outreach in every village, town and city, and volunteering enabled by information and communications technology
A commitment to making the ordinary better and to improving the everyday built environment
A sustainable and low-carbon future
——————————————
The recommendations include:
Education, Outreach and Skills
Teach the built environment across all subjects in schools
Develop online resources for teachers in schools
Every town and city should have an Urban Room
Practices should 'champion the civic'
Decision makers should receive training in design literacy
A common foundation for all built environment students
Improve access to architectural training and qualifications
All built environment institutions to have common responsibilities
Design Quality
Make the planning system more proactive
Free up resources by deciding more in advance
We should usher in a new era of PLACE review
Every public body should have access to a PLACE Review Panel
Recognise the private sector skills
Strengthen the role of public realm in making great places
Infrastructure panels to have design professionals
Design Quality needed for all public procurement
Industry leaders to connect with everyday places
Cultural Heritage
English Heritage and the Design Council to speak with ONE VOICE
Listed buildings process to be more open and transparent
What we build now must stand the text of time
Government should legislate to address VAT on retrofit
Economic Benefits
Promote our built environment professions globally
Recognise the link between design services and making things
PLACE institutions & agencies to promote success overseas
An international festival of Architecture in London**
Government and the industry must lead on sustainability
Maximise the benefits of our culture heritage
PLACE institutions to define standards for valuing quality
Business and finance should be taught in all architecture schools
Built Environment Policy
PLACE policy should be led independently by the industry
Form a PLACE Leadership Council
Appoint a Chief Architect**
Adopt a range of policies across departments to achieve consistency
PLACE Leadership Council to advise across government
—————————————————
** the asterisk are mine – this denotes that at times the report has favoured architecture above the other PLACE professionals – this approach is a remnant of 19th Century thinking. I suggest strongly that if anyone were to adopt these recommendations that the International Festival should be one of PLACE making; and the national appointment should be for a Built Environment Commissioner.
All warnings about any Institute of Architects – they will look after themselves and their members first no matter what friendly noises they make about cooperation and working together  – they just cannot do otherwise.
Australia has many years of experience with government architects. Look at the outcomes: With state based government architects in all states, has the government agendas changed to embrace real change and a 21st Century approach to climate change, design, aesthetics, cultural landscape, the environment, biodiversity, green infrastructure, PLACE, landscape values, residential development, public transport, urban in-fill programs, health and well being and all other innovative and creative thinking?
The short answer is  – no. Things have probably got worse except in particular local councils where innovative leadership has come from individuals  – not architects.
Elsewhere the government architects have become part of the great Green Wash whereby words are spoken and the on-going 'business as usual' bad decisions are now covered up with green wash spin.
Be warned – be very afraid of the rise of government architects!

—————————————————
—————————————————
The full Farrell information is available on their website – click here
or if you want the recommendations only – click here. (this is a large file – so allow time for the download)
————————————————–
We hope to reproduce and modify some of the recommendations for use within Australia – one day very soon
—————————————————
Paul Costigan, 2 April 2014