Review: Media
the SATURDAY PAPER
I am recommending that you read a couple of articles in last weekend's Saturday Paper. As a general comment, The Saturday Paper is a good read. At times the combined effect of their well written articles about current issues can be a little depressing.  Australia's has one of its worst governments and most commentators are doing the right thing in examining just how much trouble these people are causing the country. It is not good news. My preference is that I would like to see more regular articles on the visual arts!
The online version for non-subscribers usually allows a couple of articles before it locks you out. I do recommend subscribing to the hard copy version.
Here's a couple of good, but frightening, articles from last weekend.
A very good one by Rob Oakshot – click here.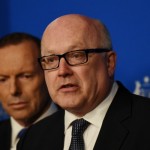 Another about George Bookshelf Brandis – click here. The title of the article is a good one: The Madness of King George. I know people who have observed this character for a while now, and they all say that his behaviour is usually very strange. One wonders how society ends up with such madness in such an important portfolio as Attorney General. And to make matters worse, this man is also the present Federal Arts Minister!
In previous posts I had been critical of the articles by a Sydney architectural writer, Laura Harding. She had a habit of writing puff pieces and project porn articles in the Guardian and The Saturday Paper about projects undertaken by her colleagues. She also writes in the relevant professional mags, but what I have seen of those is mostly is very project porn (must explain that term soon) so lacks appeal to a general readership.
Having said all that, there is a readable article by Laura Harding last weekend about the student accommodation at the NSW University – click here.
Based on her article, the new student buildings at the university are an interesting set of buildings and I like her notion that some of the solutions applied there could be applied elsewhere to public housing projects. I once heard a developer state with great authority at a public meeting that it is not possible to supply quality housing for public housing projects. The audience went silent for a moment or two, then bounced back with statements of disbelief! The developer shut up after that.
Laura Harding's article last weekend is not too bad although she can sound at times as though she is writing for an academic audience. The good thing is that having read the piece, I will take a walk through the campus next time I am in Sydney as well ask friends who work there what they think.
To finish, yes, The Saturday Paper is a good read. Why not subscribe?
Click here for a previous post on The Saturday Paper – and note that the problem mentioned is now resolved.
I would really like to see more visual arts commentary, the occasional review and regular news on exhibitions.
———————————————
Paul Costigan, 11 August 2014