Review: Book
Quarterly Essay 56 – Clivosaurus
The politics of Clive Palmer, Guy Rundle, November 2014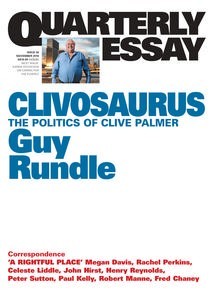 It has been extremely difficulty over the last year or so to get a clear picture of what the hell is going on with Australian Federal politics given the rise and rise of people such as Clive Palmer and his new PUPs – being the other members of the Palmer United Party. The  problem has been the reporting by the Australian media. They took the attitude early on to not treat Clive Palmer seriously. This book deals with this issue very nicely. It is a good read.
The strength of this essay is that it is an essay and therefore can be read in one sitting – or at least several short sessions.  What the essayist has done is to join the dots and to provide an intelligent perspective on the events from outside the mainstream media's biased and narrowed way of seeing things.
I totally agree with Guy Rundle when he explains how the Canberra political and media caste have come down heavy on Clive Palmer simply because he does not fit within their accepted way of operating within the Federal political sphere. This is the same media that followed the Murdoch lines of carrying on about the former government not being stable because it had negotiated a coalition with some independent members. And now they continue to follow the Murdoch line that Palmer is not to be treated seriously.
Guy does a great job explaining what Clive Palmer stands for. This is something that the Australian media have failed to do. They have failed the basic journalist task of researching their subject and getting to unpack his complex background. This essay provides many insights into Clive Palmer's methods and reasons for how he operates.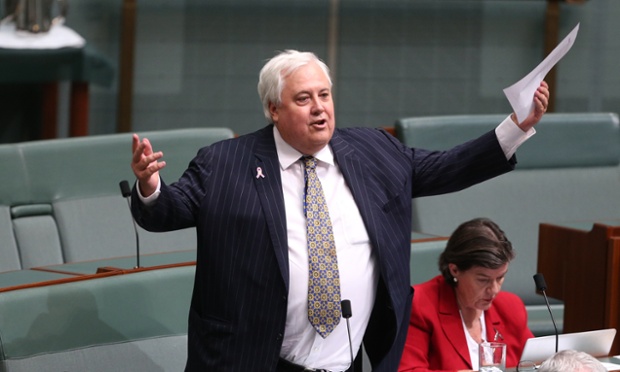 Much of what Guy Rundle presents you may have heard before. However, with his intelligent observations and research, Guy has joined many of the dots to present a much clearer profile of this national politician, who also happens to be a millionaire mining magnate. But as Guy points out, there are many in the present parliament that would share such conflicts. He point out for instance that the current Treasurer, who is making decisions about all manner of financial matters that affect banks and large corporations, is himself a very rich person who is married to a successful banker.
Clive Palmer's sometimes weird behaviour and questionable goings on are talked about but in the context of other more focused actions and negotiations.
Guy Rundle has approached his subject, being Clive Palmer, with respect while maintaining  his usual levels of cynicism and humour.
I loved Guy's comment that the National Party remains without a leader and so they have called the vacant position 'Warren Truss' in the same vein as people call an unknown body 'John Doe'.
Quarterly Essay:  Clivosaurus, The politics of Clive Palmer, Guy Rundle – is indeed a recommended read for anyone with an interest in the future of democracy in Australia. Guy Rundle and the publishers, Black Inc, are to be congratulated.
Recommended: Rating 9/10
————————————–
Paul Costigan