Places for Play
Referring to a posting on The Nature of Cities: Involving Children in the Design of Park Renovations to Create Green Places for Play with Urban Nature
Locally there have been several wonderful initiatives that have delivered wetlands to local neighbourhoods. These developments were very much welcomed and have become destination for people taking walks.
The new wetlands were primarily established to become catchments for run off water that had previously been channeled into 1960s concrete drains straight down through the suburbs into the lake. Water is now being partially diverted along the way to provide storage as well as being piped off site to other large water tanks for other irrigation purposes.
A side bonus has been the return of all sorts of wild life to the areas around the new wetlands.
The landscape design work around the wetlands was obviously not a major priority. This is not to say that the surrounding park lands and pathways are not a huge improvement on what was previously there. In the case of the Dickson wetland, the previous parkland had been neglected, becoming a park of weeds and in drought time, a dust bowl.
However the landscape design work is basic at best. The opportunities for some creative landscape design solutions were just not allowed for in the landscape engineering budgets. No surprise there!
The optimism now is that as budgets allow the surrounding landscapes to be enhanced, that maybe the landscapes will be subject to some new design initiatives and the provision of some new amenities. One outstanding lack is the provision for play.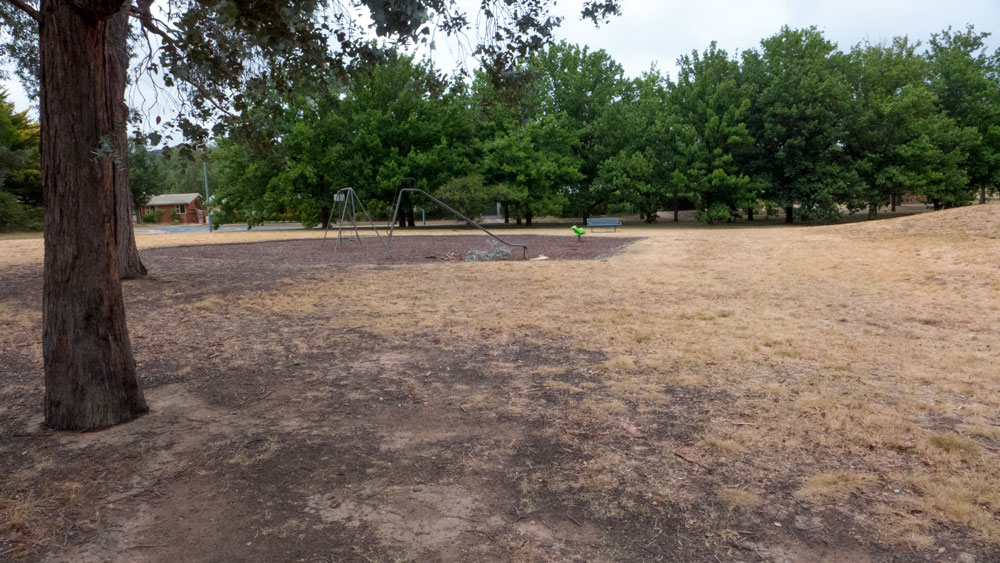 the above is the play equipment next to the Dickson wetlands.
Local parks are not being designed as natural playgrounds, so the basic design elements of the areas around the wetlands have suffered from this lack of planning for play.
I have yet to hear about any local parks being designed with the full participation of local younger people. This takes time. This time span may be years.  I suspect that local planners are not up to allowing for such engagement to happen.
I would also strongly urge that planners and the designers need to meet with parents, particular mothers of children, to discuss their ideas for landscape design that would suit the playing needs of their roaming children.
There's a recent posting on The Nature of Cities on one ecological landscape designers work with children in the re-design of a park. It is worth a read – and should be referred to when parks design or redesign are being discussed.
Places for Play are important for sustainable settlements. Click here.