Review: TV Program 2014
Parks and Recreation – viewed on DVDs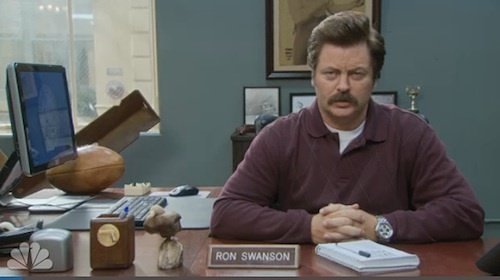 I have already reviewed this program and provided a notice about season five – click here. You can check out the background to the program –  click here. So why not do something unusual and talk about this program yet again. Yes it is that good.
Season six is currently showing in the US and so is yet to be available on DVD. But I have it booked to be purchased as soon as it is available.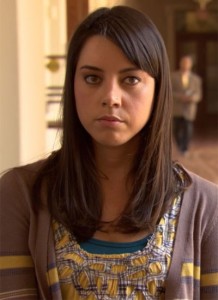 As I said earlier, this program starts of reasonably well in season one, but then hits its stride and never looks back. It is the sort of program that you can put on for the half hour program and be thoroughly entertained. The remarkable thing is that as a sitcom it has held its audience and keeps delivering great humorous entrainment. The character development is just fabulous.
Characters such as Ron Swanson (Nick Offerman – top image) and April Ludgate (Aubrey Plaza – right) are some of the weirdest people you could possibly meet. In fact the character for Aubrey was written especially for her, being based on her real life character being something else. There's a story that she wandered up on the stage during a recent award performance and tried to steal the award. To everyone's amusement or maybe wonder, dear Aubrey was then assured out of the awards ceremony. Good stuff!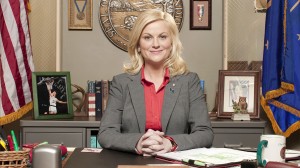 Leslie Knope (that would be Amy Poehler) is a middle manager who has an extraordinary commitment and love for her town  of Pawnee. Her ultimate aim is to be President of the United States. There's a great scene where she meets the Vice President, played by none other than the real Joe Biden.
In the later series, her political career does become the centre of the programs – with placards such as Vote Knope!
I have said it before, and say it again, this whole series is just pure good fun. I am looking forward to season six. I am aware of two casting changes mid way through the new series. Such is life! It will be interesting to see how they handle this.
Recommended: 9/10
——————————
Paul Costigan, 25 February 2014