Review: Music
Night: Simone Dinnerstein & Tift Merritt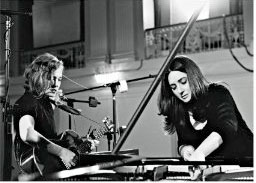 This is something I stumbled onto one late night.
Mix a country singer with a classical pianist and you get this wonderful music.
Admittedly songs about night always appeal.
Here are three You Tube clips – beginning with the main song from the album – night and dreams.


and the beautiful song – colours

only in songs/ night and dreams

say no more. This practice of pairing musicians of different styles has a long history around rock, folk and pop music. It works some times and other times it can be clichéd.
This one works most of the time. Definitely worth a listen (or two). I am about to buy the CD and expect to have some late night listens.
Here's a review from the Guardian