Review:
Food
along / near
Missenden Road Camperdown
Based on several stays along Missenden Road, building up a list of places to eat nearby.
—————————————————
If you have not been before, I have to recommend a visit to the Deus Cafe, on the north side of Parramatta Road, right on the corner with Lyons Road. It is opposite the exit of Missenden Road into Parramatta Road.
There's not much signage so it can be easily missed. Here's a review from a few years ago – still very relevant. (just be careful their map is a little off the mark).
Great atmosphere. Used by casual business types, lots of people meeting up, couples, and families and almost anyone else. Good service. Food always great. Ideal meeting place for breakfast and lunch. Had a very special dinner here once. Good coffee.
The downside is that it VERY popular and there often far too crowded and noisy.
Lots of art work – much by Reg Mombassa.
Recommended: Rating 8/10
—————————————————
IRO Cafe Restaurant
While the local hoards head for Deus (above) for breakfast and lunch, the downside is that the place can be very crowded and sometimes noisy.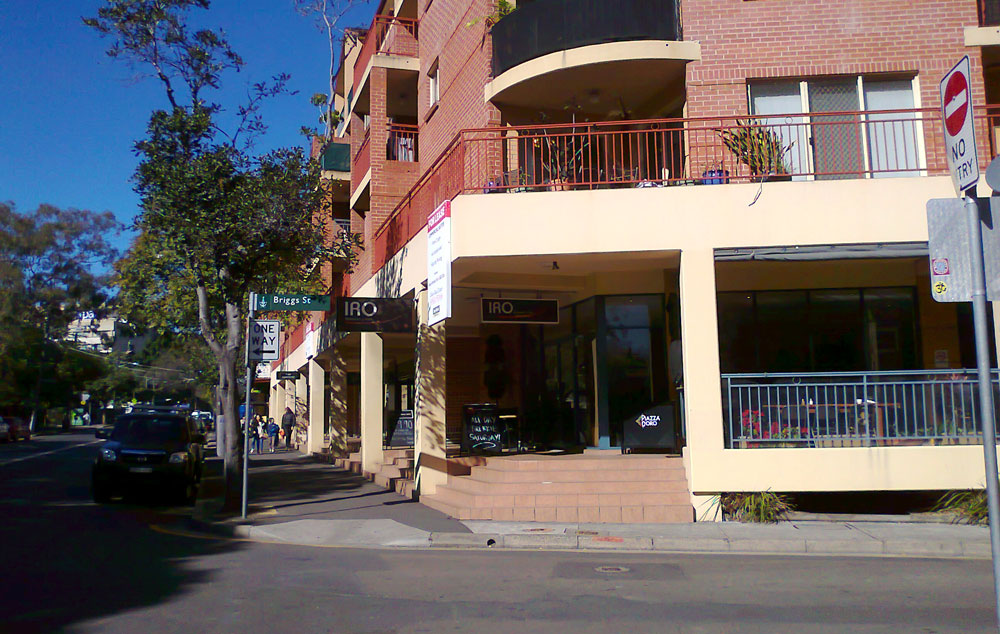 Meanwhile just up Missenden Road is one of the local gems for a good breakfast, coffee and service. IRO is family run affair with a relaxed atmosphere and it's where local Italian families meet and have their morning coffees. There's also an outside area for those sunny mornings.
Good hot coffee. Generous turkish toast  – with butter on the side. Everything you want with very friendly service.
IRO has all the basics for a good breakfast and has lunch time specials that are worth checking out. Highly recommended for breakfast.
Recommended: Rating 9/10
—————————————————
Situated about 100 metres in from Parramatta Road on Missenden Road. We have had dinner here numerous times. A simple decor cafe/restaurant. No fuss friendly service. More a cafe style than restaurant; and that's not a criticism.
Food always fresh. Good range of dishes to choose from with a few house specialties. We always eat here when in the area.
Recommended: Rating 8/10
—————————————————
154 Missenden Road – up towards City Road end.
This is new for us. Ate there for brunch during last visit. Friendly and very efficient service. Good food. Going by the clientele, looks to be very popular with a whole range of people for breakfast and lunch ( I think it closes for dinner).
Recommended: Rating 8/10
—————————————————
Aydin Turkish House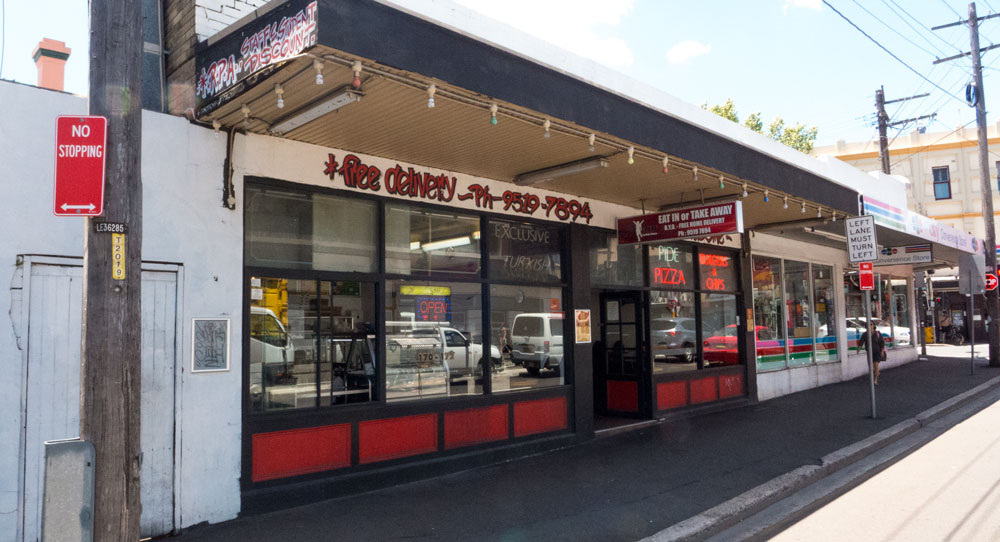 I have a had a take away from here in the past.  Standard style of Turkish/middle eastern food. Would have to say that if you are looking for middle eastern food that this one was OK but maybe check around the corner on City Road for other choices.
But – last weekend we called in here for an earlish take-away. I was feeling the urge for a middle eastern hit of food. But instead we had a Fawlty Towers experience!
It looked as though the usual boys had the day off and left mum to look after the shop and she was in a BAD mood. Glared at us as we walked in. Then asked before we had time to think or even glance at the large menu.
Can I help you? We quietly explained that we were looking at the menu. No – not good enough. She asked again: Can I help you?
We said we were yet to make up our minds. She grumped something and stared at us. Luckily someone else walked in and she immediately went after him. He knew what he wanted and ordered.
We then tried to get her attention. She was ignoring us. Eventually she paid some attention and yet again said: Can I help you?
I started to reply – Could I have a lamb Keb….
Before I finished, she said something like – no lamb  – only chicken and beef (I think that is what she said). Then she walked around ignoring us again. We tried to get her attention. She was having none of that.
Basil Fawlty had returned in the form of a Turkish mum. We looked at each other, laughed, gave up and walked out and back up the street for another yummy meal at Papaya Thai.
Recommendation: avoid!!! and ignore the middle eastern restaurant across the street. It serves ordinary middle eastern food at much higher prices. Strongly recommend you head around the corner on City Road , Newtown, where there is an amazing number and variety of eateries. They are very busy most nights.
—————————————————
There is no Indian restaurant on Missenden Road. There is one not too far away. While not strictly in Camperdown, this one is on King Street, Newtown. Go to the top of Missenden Road with King Street, cross the road and walk a few minutes to the right.
Tamana's is a reasonably large place, it is casual, and the food is served from the main counter. There are many choices and at very reasonable prices. Many times with these places the food seems to have too much salt. In this case the food seemed to have not so much salt.
We had the two curry selections which comes with rice and a Naan.
Tamana's is recommended for what it is – easy Indian food. Click here for more
Recommended: Rating 7/10
—————————————————
There is no Japanese food on Missenden. While not in Camperdown, this one is on King Street, Newtown. Go to the top of Missenden Road with intersection with King Street, staying on this side of the street, walk a few minutes to the right.
Moshi Moshi Gyoza has a reasonable selection of food with several key Gyoza (dumpling) dishes. The service is very attentive. The trouble is that the service is over the top exaggerated Japanese; it is if they are a pantomime. The food is reasonable – but nothing special.
We had a selection of entries and one main course. As I said above, the food was OK. Click here for more
Recommended: Rating 6/10