Review: TV on DVD
Inspector Montalbano on DVD – originally aired in 1999 and still being made.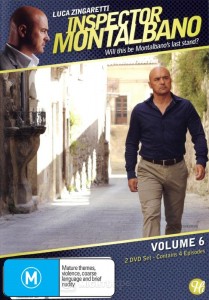 This is a follow-up to my previous post  on Inspector Montalbano – click here for that review.
We have just finished watching all the available programs of Inspector Montalbano. I stand by the former recommendation, that is a fun series. Totally recommended.
This program was a big boost for Sicilian tourism. The best news is that there are now stories starting to appear of more being made later in 2014. This is good news indeed, if it is true.
I refer back to the former comments – click here – especially those around the emphasis on food. The directors had fun when the main actor, Luca Zingaretti, is anywhere where good food is being prepared. The idea of there being a meal available, always distracts the inspector, Salvo Montalbano, no matter how serious the crime investigation. Towards the end of the series, there seemed to be even more time devoted to his sitting down to eat, both at home and in his favourite restaurant. Although, this usually means the phone rings!
There's quite a bit of comedy throughout the show with a cast of characters that we get to know and enjoy. If you enjoy the pleasure of working around bureaucracies and foolish chiefs of departments, then you will enjoy watching how Salvo deals with these.
As I said in the earlier review, the scenery is to be enjoyed. His home on the Mediterranean is to be envied.
One curious note is on the use of technology. It is only in the last series that mobile phones appear. He uses those of other people, but does not have one himself. Also he or his main staff do not have computers on their desks. In one very last program which would have been made in 2012, they are taping phone calls and they play it back on large reel to reel tape decks. Have not seen one of those in use for years!
But all is forgiven. It is a series I look forward to watching again.
Remember there is also the later produced prequel series – The Young Montalbano which was reviewed earlier – click here.
Recommended: Rating 9/10
—————————————-
click here for previous review.
Paul Costigan,  31 January 2014