Review: book
Hope,

Refugees and their supporters in Australia since 1947

,


Ann-Mari Jordens, 2012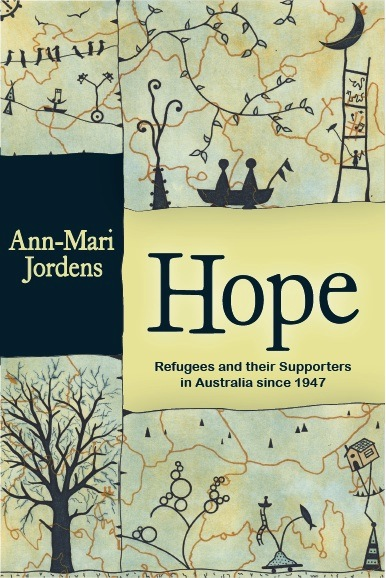 I have mentioned this book in an earlier blog – click here.
I make reference to this great piece of research again as I have been recently disgusted how particular media voices continue to express pride in the current government claims in that they 'stopped the boats'. This phase has been used in a totally unfeeling manner as if there were not real people involved.
To repeat what I said in the earlier post:
————————————-
Australia's history of taking refugees is long and much of it is something about which we can be proud. Ann-Mari Jordens in her 2012 book, Hope: Refugees and their Supporters in Australia since 1947, documented the stories of refugees to this country since WWII. Her text is based on very sensitively made oral histories of individuals, groups and government employees. The work is thorough and you cannot help but be moved deeply by the stories people have told about their journeys.
This book is recommended as a reminder to us all of the recent histories of refugees. I suspect for the rest of our lives, there will be refugees from somewhere. Ann-Mari Jordens' book looks back and provides that insight into these people's lives and by doing so confronts us with the fact that the refugees are people with families, with their own histories and with cultures that could enhance our own. Refugees have become part of this once great nation throughout the whole history of the country since WWII, if not before.
————————————-
The catalyst for this more recent post on this book has been the appearance on the ABC program, The Drum, of some particularly not so nice panelists. I'm not sure under what rock the ABC keeps finding such low life, but I hope that there is no more.
One of the panelists is famous for his remarks about the use of free labour in the form of people looking for work in his field of work. He sees no need to pay interns as they should be happy to have the chance to gather experience – while receiving no pay for periods up to a year. As for his dumb views on crucial issues such as climate change , they have to be heard to be believed. I am referring to Rowan Dixon who also happens to work for the Spectator, that wonderful right-wing rag.
The other one I wish to mention is Brendan O'Neill. This character has surfaced recently in Australia. He pretends to be an independent thinker. Yes, we have yet  another Andrew Bolt and Gerard Henderson amongst us. It is worth reading this background to him. Click here.
On recent The Drum programs both these characters have dumped on anyone who stands up for the human rights of refugees who make their way to this country by boat. They seem to have no shame about this country's efforts to put people in concentration camps. All their rhetoric is around having the right form of ideologically driven program rather than recognising that people are being harmed through these being thrown into these off shore inhuman concentration camps.
Ann-Mari Jordens' book does an important job of reminding us of the stories of refugees and the efforts to be part of this country. Click here for information on the book.
The current refugees should be embraced by Australia. It remains hard to believe that such a rich and open country has managed to have a political situation that sees nothing wrong with throwing refugees into prisons located in other countries.
—————————————–
Paul Costigan, 15 April 2014