Review: DVD
Inspector Soneri: Fog and Crime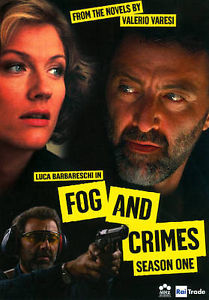 I sat and watched the first of these and was amazed just how much fog and rain there was to be seen. My view of Italy changed.
This is a great series. Nice to wander about the shores of the River Po and to be in the historic city of Ferrara. Inspector Soneri is the usual distinctive detective type with relationship problems and his own individual ways of doing things.
The setting of the old city and the River Po really adds flavour to the stories. Yes I had to go online and look up where Ferrara , more about its history, and to check on the reality of all that fog and rain. The crimes often involve very Italian matters, such as the issues left over from World War II.
An interesting procedural matter is the way the police chief work to a magistrate and judge who are very much part of the investigations. Seen this often in foreign films. Makes it that little more interesting.
The last set, series three, moves the story away from Ferrara and I am not sure that it worked as well. But still good to watch.
In summary, this is an Italian detective series out on DVD, it is in Italian with English subtitles. There are three in the series, and each episode is movie length, so they are longer than the usual TV program.
As far as I can work out, the main character, Luca Barbareschi, has gone into politics. Although he seems to have lost out in recent elections. There is no news of more programs; so three series only for now.
After you have watched them all, I suspect you will also be thinking about where your next holiday should be. I hope Ferrara has some good apartments for holiday rentals.
Recommended: 8/10