Notice: New photography book
Fashion Photography Next, Magdalene Keaney
With contributions by Eleanor Weber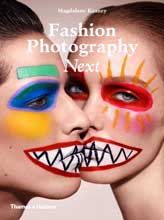 I have just seen this new book on the tables at Readings in St Kilda, Melbourne. So that means you can order in Australia and they deliver it for free.
This is a WOW book. It is about photography, about contemporary practice of  fashion photography, and it is published in a lavish and stylish book.
I am yet to read it cover to cover. I have just come back from sitting for a while in Readings to read sections and to take in the breadth of coverage of the practice of fashion photography. I am recommending this to all of you with a passion for good photography.
If you are in Europe then you get along to the photography exhibition that this is based on.
Curiously in Readings, they have it on the table with fashion and knitting and such books. It should have been on the next table with those about photography. Such is life!
Here's a link to Thames and Hudson: click here
And a link to the Guardian – and some nice pics – click here
Here's a link to Readings – click here for the search – or here for the generic link.
Recommended!
——————————————–
Paul Costigan, 21 August 2014.