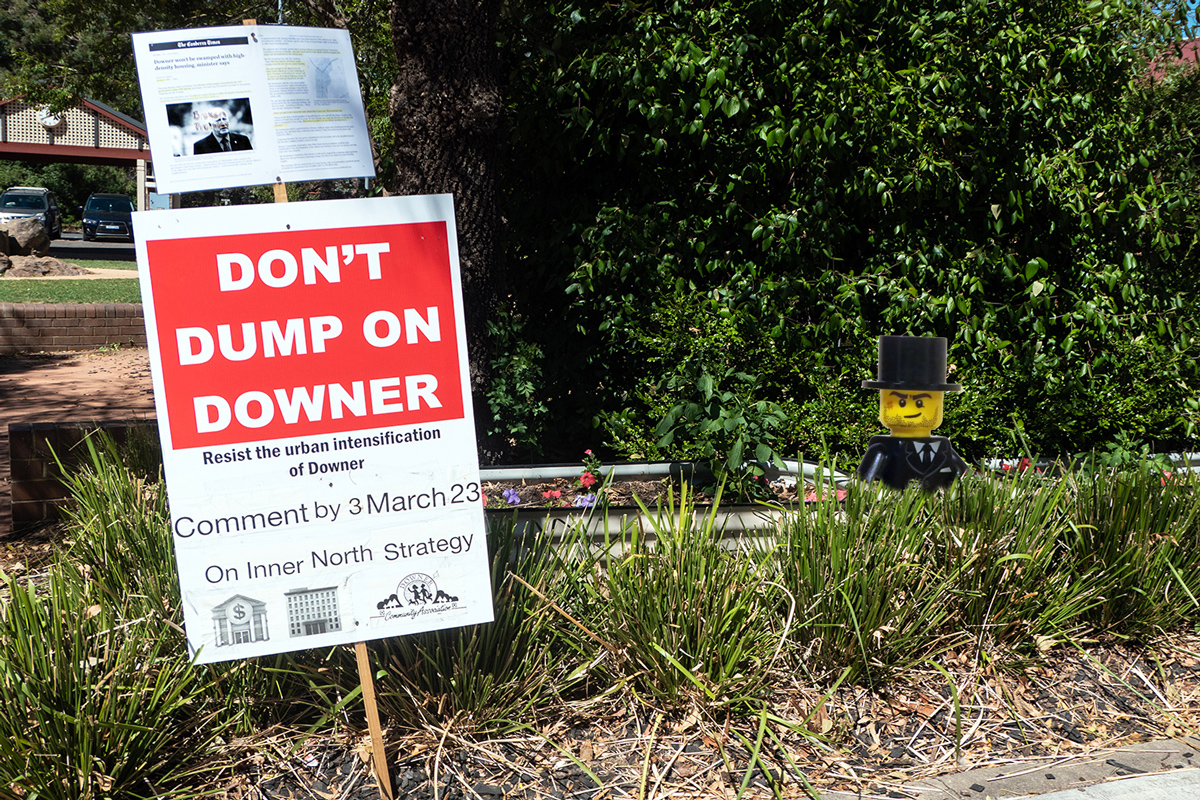 Community groups who have studied the Greenslabor planning reform plans and strategies know that the chief minister's deregulation reforms will devastate the suburban characteristics that attract people to this city.
Even though he is the chief minister, Andrew Barr continues as the real planning minister. This ensures his planning bureaucrats deliver according to his misguided neoliberalism ideology.
The city is now to developed according to Barronomics. This is a skewed form of neoliberalism that was adopted by Andrew Barr in his youth. This naïve view of the world remains with him to this day. According to Barr, the development industries know what is best for this city and their investors must be able to exploit all suburban areas.
Barronomics is not about addressing inequality or looking after urban environments, biodiversity, greenery, birds, heritage and stuff that hinders developers. Anyone who thinks that Barronomics is about having a priority on housing affordability, social housing, greenery, community facilities and social welfare programs has missed the point, is extremely naïve or simply trapped intellectually by the cult of Andrew Barr's and Shane Rattenbury's Greenslabor.
Barr's ideology is not about looking after pesky residents who cherish their homes, streets and neighbourhoods. According to Barr, residents need to get real and stop fussing about the clearing of suburbs for more cookie-cutter monsters to be built and sold. As he said to Dickson residents a decade ago, residents who do not like what is happening in their suburb need to move on and make way (for investors). Barronomics is about money.
The minister who nominally carries the can for these horrible proposals is the planning minister known for not doing much, Mick Gentleman. The residents had this bloke's photograph in the village centre with the words 'Broken Promises' across his face. That should have been Andrew Barr as he is the real planning minister and the elected Labor representative who does little to represent his electorate – unless they are friendly developers.
He was most likely lurking in the flower beds enjoying the rude message about Mick Gentleman.
Suburbs have their own characteristics and their own histories. The submission on the planning strategy by the Downer Community Association clearly makes the case that this government has misunderstood established suburbs. More than a decade of promises has delivered almost nothing to Downer. They make the evidence-based case that what is being proposed under the new District Strategies will not deliver on the issues concerning residents. The proposed District Strategies applies a set of vague development outcomes to all established suburbs without serious consideration of the nature of things on those suburban streets.
The seven-page submission can be found on the Downer Community Association website. It is a good submission written by people who have a set of values relating to the people in the suburbs and the aspects of the natural environment within their suburb. The submission writers have assumed that these values and aspirations are shared by the politicians and bureaucrats who called for this feedback.
This is the serious disconnect. This error is shared among most of the feedback sent in as a response to the draft planning documents. The reality is that the city operates to an agenda set by Andrew Barr and those within his inner circle. That inner circle does not include residents who want to talk about things that matter to them.
How many times recently has Andrew Barr shown up at community meetings to discuss and empathise with their vision? Most likely zero. Contrast this with the frequent attendance by Andrew Barr and his planning bureaucrats to property and business forums where they are treated as special people. These events are about stroking egos and joint commitments to an ideology. This is something Canberra's community groups do not offer. So why would the chief minister bother?
What should be considered when providing feedback is that Andrew Barr, the bureaucrats and their investor allies regard the suburb as land banks waiting for the most profitable redevelopments. The Greenslabor agenda is about the deregulation of development, investors and land banks. There is little concern if residents are directly or indirectly 'encouraged' to leave their homes.
Barr's planning reforms, if implemented, are destined to be a success as they will deliver on his simplistic and devastating Barronomics principles. Residents need to monitor who votes for these deregulation reforms and then remember those names at October 2024 ACT elections.