Mike Hettinger and the so called LDA–Tradies win win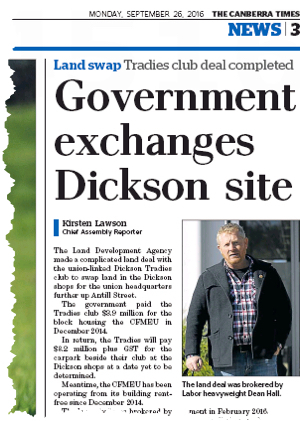 The revelation by the Canberra Times of a land swap between the Land Development Agency and the CFMEU-linked Dickson Tradies Club opens the way for more dodgy deals that will harm the community.
Canberra Community Voters Candidate Mike Hettinger noted, "The land swap itself isn't necessarily the problem. It's what it enables the LDA and the Tradies to do in the future that should really concern us."
"The LDA is getting land in between the Dickson pool and the Majura playing fields, part of Section 72, also known as Dickson Parklands. This is part a longer term plan for the ACT Government to develop the entire area as it sees fit," continued Mr Hettinger.
"Meanwhile, the Tradies will obtain the carpark adjacent to it and consolidate the land bounded by Sullivan's Creek, Dickson Street and Badham Street for the Tradies. This is a part of a longer term plan for the Tradies to develop the area as it sees fit."
Mr Hettinger acknowledged, "CFMEU Boss Dean Hall is right to describe the deal as a win-win. It's a win for the LDA and it's a win for the CFMEU and Tradies. It's not a win for the surrounding community, who face more intense development at the cost of community facilities and green space."
"The Canberra Times article says that the Tradies' carpark in Dickson was valued based on building a six-storey building. Meanwhile, rumours say that the Tradies plan to build something much larger; up to ten storeys. I'm guessing any extra money earned won't be going to Canberra taxpayers."
Mr Hettinger continued, "Meanwhile, the LDA's record with the community on Dickson Parklands is dismal. Consultations in late 2014 showed that the community opposed residential development in Dickson Parklands, instead supporting reserving and developing the area for further community use.
The LDA then went to ground and didn't meet with community representatives for seven months."
"When community reps finally met with the LDA to what they thought was to further negotiate a mutually acceptable option, the LDA had already prepared and sent out a media release with its own preferred option. That option was – you guessed it – residential development," said Mr Hettinger.
"This is no way to govern a territory. Dealing with the bureaucrats has been a waste of time, and it shows how shambolic the governance arrangements have become. The only way left to make a difference is through the Legislative Assembly.
If ACT citizens want to return effective governance to Canberra, they must vote for an independent crossbench. That means voting for Canberra Community Voters, preferencing other independents, and leaving the three major party columns blank," concluded Mr Hettinger.
——————————————————
This was originally posted to Mike Hettinger's  community voters site – click here