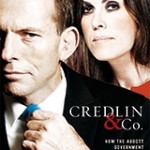 Waiting for this one – a book about one of the weirdest periods of Australian politics. From the publishers:
Credlin & Co. How the Abbott Government Destroyed Itself by Aaron Patrick. Tony Abbott and his chief of staff, Peta Credlin, ran a brilliant opposition campaign. But their approach led to disaster in government.
When Abbott became prime minister, he and Credlin ruthlessly controlled ministers, backbenchers, the public service and the media. They shut out voices that questioned Abbott's way. Everything started to unravel.
Credlin & Co. is the story of a relationship that determined the fate of a government. It shows in stunning detail the disastrous consequences of power abused, and the broken people left in its wake.
The book is due out 26th February 2016 – published by Black Inc.