Review: Public Art
A review of the artwork at the Cotter Dam site.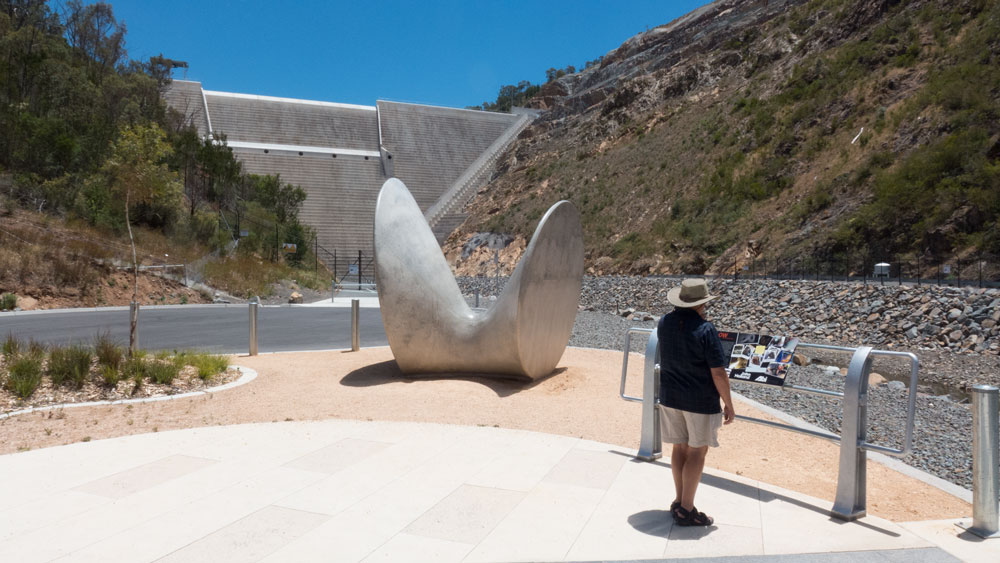 There is just one lone piece of art at the new Cotter Dam site.  I am not sure of its placement on the fairly bare site in front of the very dominating new dam wall. Seems no creative landscape design was employed to enhance its placement.
The art piece has educational signage beside it to explain the artist's intentions and how the artwork was made and what the link is to the new dam and the storage of water.
I watched people who passed by and have to say that there were just a few who stopped to look at the work. Kids climb on and dad or mum take photographs.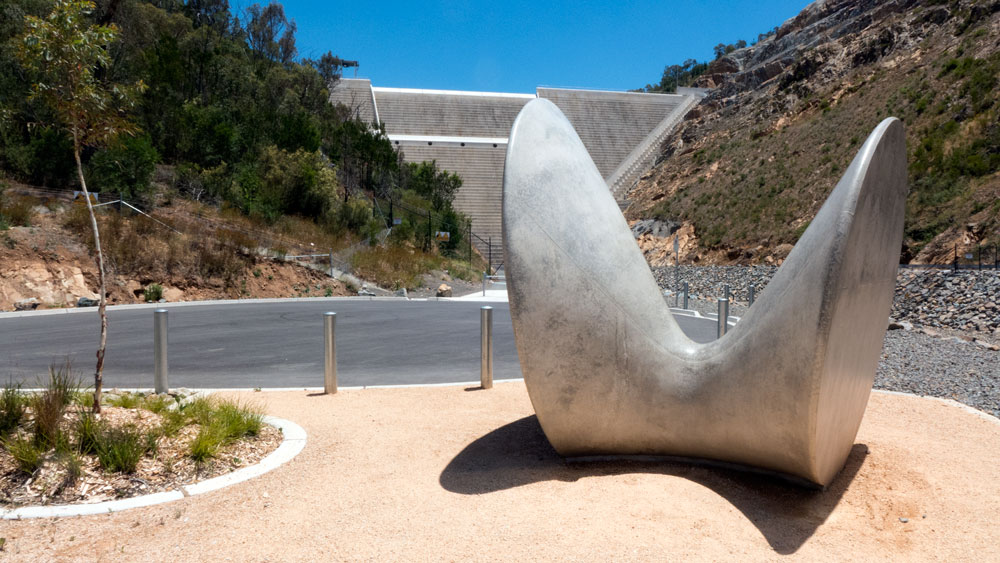 Several read the signs and then moved on without any real contemplation of the artwork. But this reaction is often seen in gallery exhibitions whereby people spend far more time on the signage than actually looking at the art.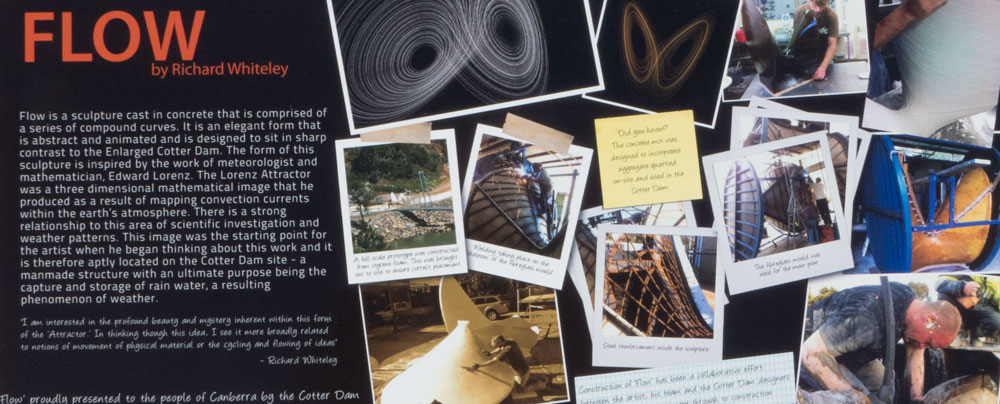 Public art in such locations does end up serving another purpose for tourists. And yes, this one filled that usage. It is the photo-stop for tourists looking for a place to take that locating photograph.
Several sets of people spent time with the work using it as a prop for their photograph of each other. One lot made a short video of people ducking in and out from behind it.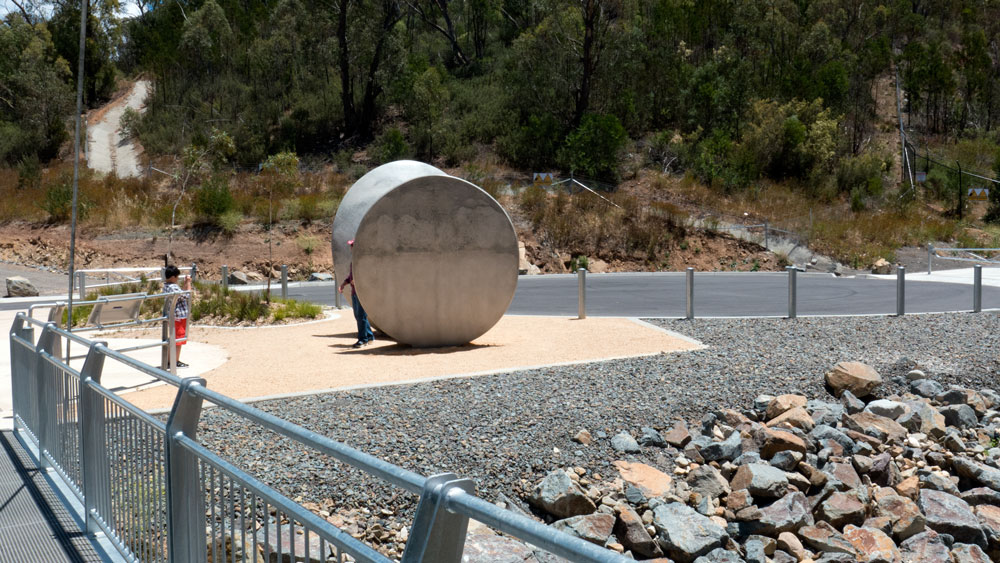 So you will have gathered that there has been very little use of public art on this site.
This is a shame, given that this large site presents numerous opportunities for some really stunning environmental site specific artwork. Seems no-one had the creativity to seize the obvious opportunities.
One day maybe some creative bureaucratic soul will be motivated to commission a range of environmental works that could be developed across this whole site. By environmental works I suggest that they could be composed of various materials, rocks and other materials, not just the usual sculptural pieces built elsewhere and brought in and plonked down to fill a space.
The overall site, beside the engineering features, is a bit of a mess. Some more creative and intelligent leadership may have delivered innovative design solutions that could have been integrated with a range of artworks; as well as Flow.
But this would have required a budget and imagination. I suspect the engineering budget was stretched as far as it could just to get this one piece of art.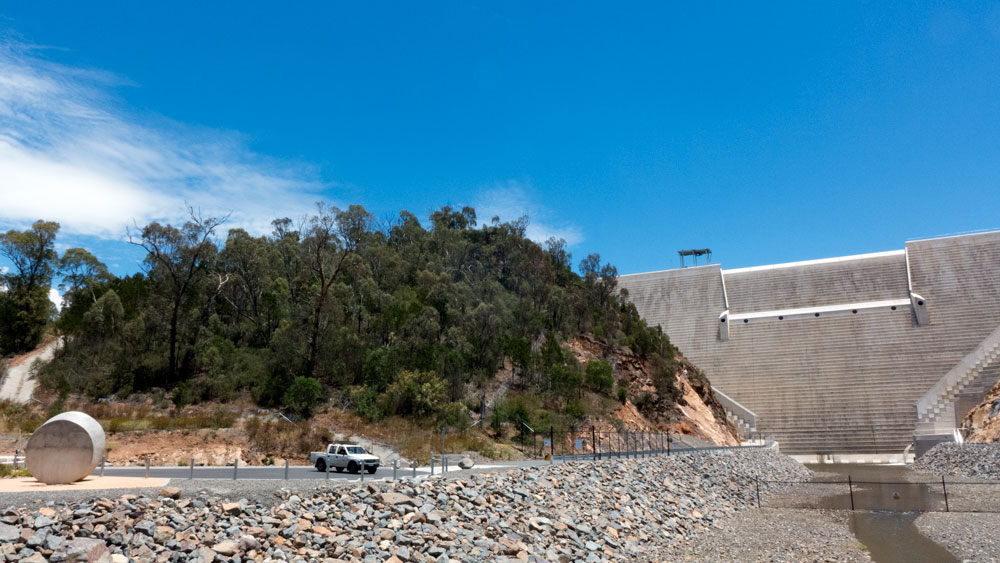 The work presently on the site, Flow, by Richard Whiteley, is a reasonable start. My problem is that the work looks desperately lonely stuck out there in this very engineered environment with very little efforts made to surround it (and the whole site) with any form of innovative landscape design.
I am not sure that I bought the artist's line of how the work fits in with the site. After looking at the work and walking around it several times, I remain of the view that it is not a site specific work. I suggest that maybe it belongs somewhere else.
The site itself is needs to be made more friendly with the application by some far creative approach to the landscape design than has been applied so far. This lonely artwork may also come into its own once more works are introduced onto the whole site across the landscape in front of the dam wall, down the sides of the stream as well as along and besides the extensive pathways.
Rating: 6/10
Please read this in conjunction with the review of the Cotter Dam site – click here.
————————————————–
Paul Costigan, 28 January 2014